In the modern world of smart phones, business meetings between conference calls and on-the-go everything, it's easy to get caught up in the search for the next best thing, and how to be the first to get it. But there is something more important to keep in mind: there's wealth, and then there's WELLTH—
Jason Wachob's
redefinition of success that associates prosperity with wellness. As Jason summarizes, "The good life is no longer just about the material—instead, it can be found in a lifestyle that is devoted to mental, physical and emotional health."
While it is easy to get caught up in the former, Beverly Hills invites each visitor to pamper their mind, body and soul. The city has long been known as an authority on five-star experiences. But at its heart is a more mindful ethos that takes a holistic approach to happiness and wellbeing, enlivened by health experts who champion the city's WELLTH-focused programs.
Beverly Hills harnesses personalized experiences and a warm, friendly environment to create a springboard for WELLTH by guiding visitors through five essential building blocks: move, eat, restore, gratitude and explore. This conscious effort to achieve success through wellness has made the city more than a luxury destination; it is the City of WELLTH.
move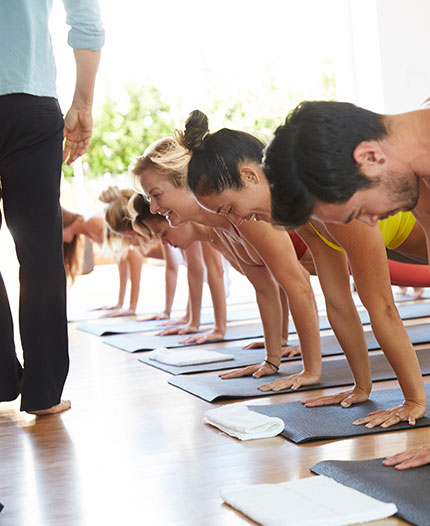 Inner beauty and outer beauty start with overall health. Movement isn't only a physical benefit, but an emotional one as well. For example, area yoga guru Caley Alyssa created a life of meaningful connections and empowerment through her yoga practice, and now shares her knowledge to help others thrive.
To that end, regular movement is a must. Whether you're just getting started with a daily 15-minute walk, a yogi working hard on perfecting an eight-angle (Astavakrasana) pose or a dancer who likes to get his or her blood pumping to a musical beat, Beverly Hills has a little something for everyone, often within walking distance.
The free all-age, all-level classes available once a month through August during Dance Sundays at The Wallis are popular to attend. The Alo Yoga flagship location (where Alyssa teaches on occasion) in Beverly Hills has been inspiring the community with mindful movement since opening in 2016. Plus, in the city's mild climate, where running a few miles through city parks can be just as pleasant as a visit to an air conditioned gym, options fit all lifestyles and activity levels.
"The good life is no longer just about the material—instead, it can be found in a lifestyle that is devoted to mental, physical and emotional health."
eat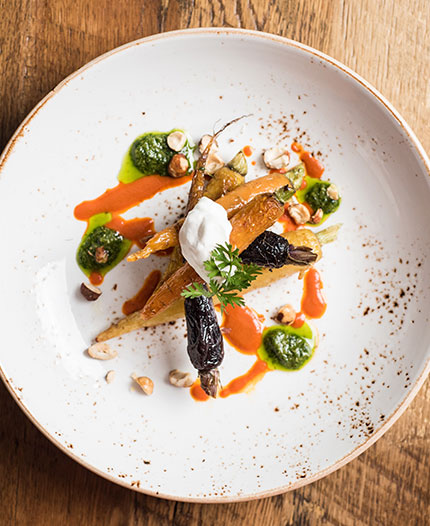 Every person has his or her individual nutritional needs, but what everyone has in common is the need to eat mindfully and with purpose. That's easily said and done in Beverly Hills, where expert chefs mix gustatory sensation and sophistication with nutritional balance.
Chef Matthew Kenney's celebrated vegan restaurant, Matthew Kenny NM, at Neiman Marcus in Beverly Hills pairs locally sourced ingredients with innovative kitchen techniques to deliver carefully crafted food experiences. Nearby, M Café is a favorite for meal-planners and diners on-the-go. This eatery's macrobiotic cuisine offers a menu that is as balanced and nutritious as it is creative. Healthy eats can also be found at Kreation Organic, where tasty juices take nourishment to another level: never pasteurized and only using organic ingredients to deliver clean fuel for the body. From locally sourced to carefully crafted nutrition, Beverly Hills' exceptional restaurants will always have visitors eating well.
restore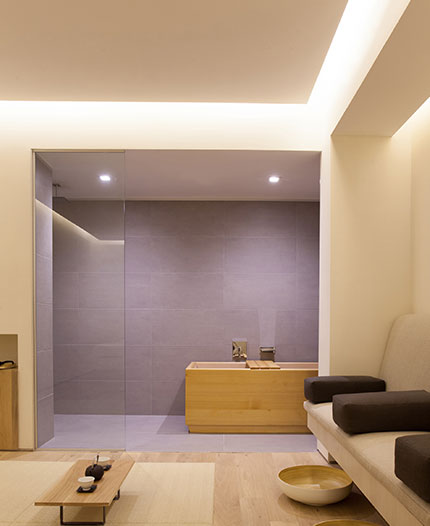 Feng shui master, expert space curator and lifestyle designer Dana Claudat knows that comfortable, beautiful spaces are key to cultivating physical and mental happiness. How spaces are experienced help to refocus from the negative to the positive and create an ever more secure sense of wellbeing. And while the superb quality of Beverly Hills' lodging and spa options are already well known, the city is also taking ownership of a reputation for creating spaces for relaxation, warmth and caring.
Beverly Wilshire, Beverley Hills (A Four Seasons Hotel) offers the sleeping sanctuaries of the coveted Four Seasons sleep experience as well as five-star spa treatments to pamper the body. Just a short walk down Wilshire Boulevard, Waldorf Astoria Beverly Hills—which will open its doors in June 2017—offers the Spa at Waldorf Astoria by La Prairie, a luxury retreat offering an array of signature services and nourishing treatments. You'll find more luxurious pampering at Tomoko Spa, which tailors its signature treatments to the unique physical, mental and emotional requirements of each visitor. These are just some of many relaxing offerings found throughout the city's elegant hotels and spas.
"The City of WELLTH embraces this philosophy of personal connection with yourself and environment, giving visitors the chance to explore their mind and the city."
gratitude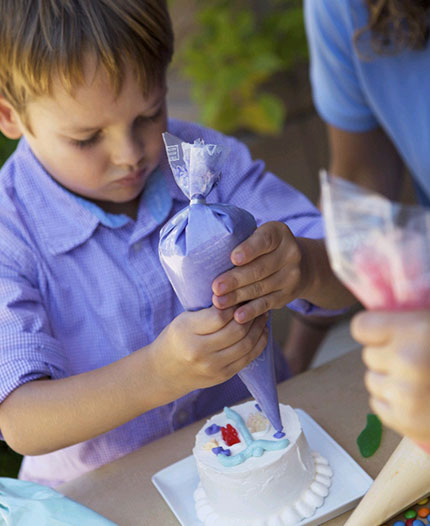 Giving is a two-way street. Donors and volunteers often claim their actions do more for their sense of wellbeing and purpose than they do for recipients. Wellness expert and fitness trainer James Duigan realized this nearly ten years ago when he made it his life's mission to help others live their best lives. Acknowledging the positives in your life and practicing self-compassion, he says, are integral to wellbeing. And in the City of WELLTH it is a chance to share your best self with a community that encourages personal growth.
In Beverly Hills, this giving back is done through innovative, thoughtful, everyday actions like The Peninsula Beverly Hills' partnership with ENVi. Without using a drop of water, ENVi offers an environmentally sustainable, waterless car wash and detailing service. The socially responsible company is also committed to empowering the hearing-impaired community with the hopes of creating meaningful employment opportunities for them. The annual Lupus LA Hollywood Bag Ladies Luncheon is widely anticipated each year, combining fashion with fundraising to support Lupus research, and hosts support groups and raises awareness of the autoimmune disease. Another large program, Hearts of Montage, a service organization supporting community programs, leverages the charitable spirit of the Beverly Hills community.
explore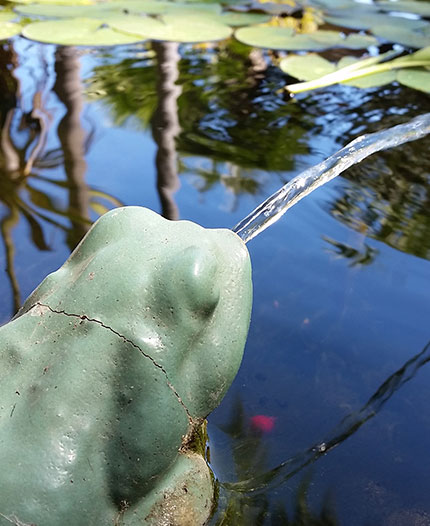 Meditation fosters the mind-body connection; it is a state of profound deep, peace that occurs when the mind is silent and calm, yet completely alert. Charlie Knoles, a Vedic Meditation teacher, has found that with the help of his instruction, practitioners can find lasting fulfillment and inner peace if they have the courage to explore a state of thoughtless awareness. The City of WELLTH embraces this philosophy of personal connection with yourself and environment, giving visitors the chance to explore their mind and the city.
Visitors can literally explore WELLTH, discovering new paths to wellbeing with a simple stroll through the city or walking along Beverly Gardens Park. Experiences such as taking a four-day meditation course will offer a lifetime of benefits. Transcendental Meditation taught by the Maharishi Foundation allows visitors to explore their minds as well as their surroundings using a simple, natural technique to relax your body and mind. Meandering through unique historic estates like Greystone Mansion & Gardens: The Doheny Estate or Virginia Robinson Gardens always brings a sense of calm. And it's all in Beverly Hills, working in tandem to create a distinctive atmosphere of health and wellness.