Love Beverly Hills Spring 2022
Spring symbolizes new beginnings and a return to a technicolor world. Jacarandas blossom in bursts of purple hues and the air feels clear and bright. Whether you are seeking a more vibrant environment or some time to relax and rejuvenate, Beverly Hills embraces a lifestyle that inspires everyone to be their best self. Plan your visit today!
View our spring video and the locations featured.
---
Palm Tree Lined Streets
The commercial opens with a beautiful late afternoon, sunsoaked aerial view of cars gliding down a residential palm tree-lined street of Beverly Hills. You can find iconic vistas of palm trees at North Beverly Drive and Carmelita Avenue, Carmelita Avenue and North Hillcrest Road and North Canon Drive and Park Way.
Please adhere to city ordinances and not impede traffic when taking photos in these residential areas.
---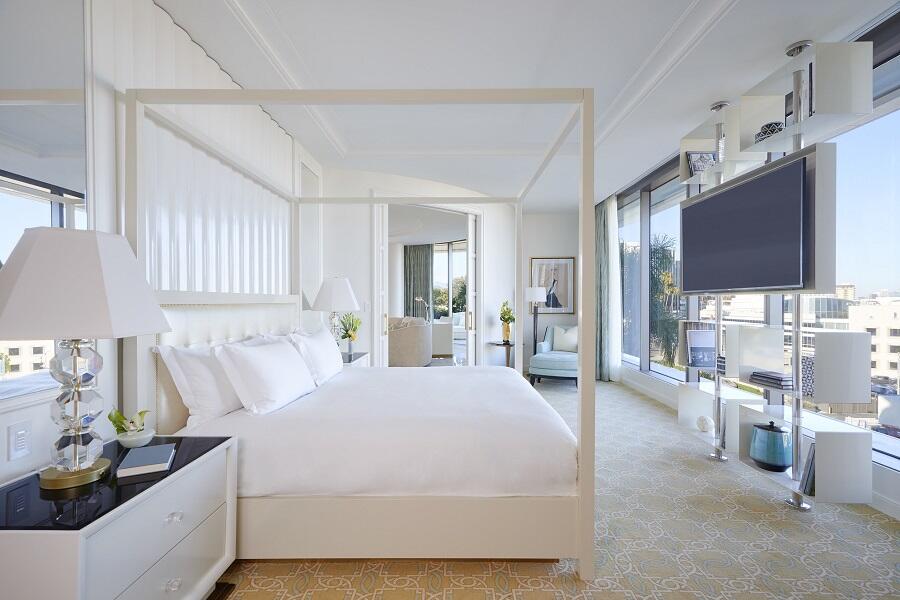 Waldorf Astoria Beverly Hills Villa Suites
Perfectly located at the gateway to Beverly Hills, Waldorf Astoria Beverly Hills exemplifies the very best of the California good life. From the moment you step inside, you will know you've arrived at the center of extraordinary. The Waldorf Astoria's Villa Suites allow guests to unwind in this spacious suite with a private dining room, oversized terrace, floor-to-ceiling windows, plush king bed, powder room, private dressing room, walk-in closets and other premium amenities.
LEARN MORE
---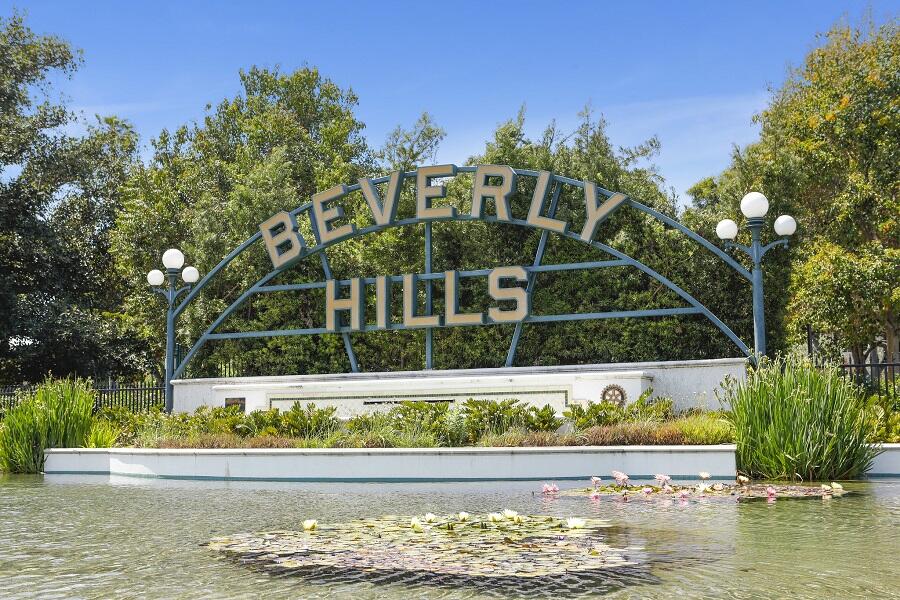 Beverly Hills Sign & Lily Pond
Originally built in 1907, the Lily Pond served as an early Beverly Hills landmark and one of the first major features of Beverly Gardens Park. In the mid-1970s the pond was removed and the site was replaced with a lawn. However, the Beverly Hills Sign remained and over the next several decades, it became a backdrop of the city and continues to draw thousands of tourists each year for the quintessential travel photo. Beverly Hills city officials and community historians wanted to restore the pond and after a year of reconstruction, the Lily Pond was returned and unveiled at the start of the city's Centennial year in 2014.
LEARN MORE
---
Favorite Daughter
For the commercial, we wanted to feature a local business unique to Beverly Hills where three friends would take on some retail therapy. Sisters Erin and Sara Foster opened the first brick-and-mortar store for their women's clothing brand, Favorite Daughter, in Beverly Hills. The store features a feather chandelier by artist Maurice Harris of Bloom & Plume floral design in Echo Park (Los Angeles), lush light pink carpeting and a bright mix of art deco furniture. Erin and Sara are the daughters of Grammy-winning producer, David Foster, and launched the Favorite Daughter brand in late 2020.
VISIT FAVORITE DAUGHTER
---
The Terrace Restaurant
Sit beneath blue skies and bright white parasols at The Terrace at The Maybourne Beverly Hills, in a peaceful garden setting that brings the Californian countryside to the city. You'll have front row seats to a beautiful vista of Beverly Hills, where the cascading fountains are the soundtrack to alfresco meals with family and friends.
VISIT THE TERRACE
---
Beverly Cañon Gardens
The beautiful and tranquil Beverly Cañon Gardens is located in the 200 block of North Cañon Drive. Situated alongside The Maybourne Beverly Hills, the 33,000 square feet of public gardens and open space features public outdoor dining areas, including The Terrace, Tommy's Beverly Hills and Sweet Beverly, water features, landscaped gardens, and public colonnaded walkways connecting North Beverly and North Cañon Drives.
LEARN MORE
---
Two Rodeo
Elegance and charm surround you in this serene escape on Rodeo Drive. Indulge yourself with a luxury shopping experience along this European inspired walkway.
VISIT TWO RODEO
---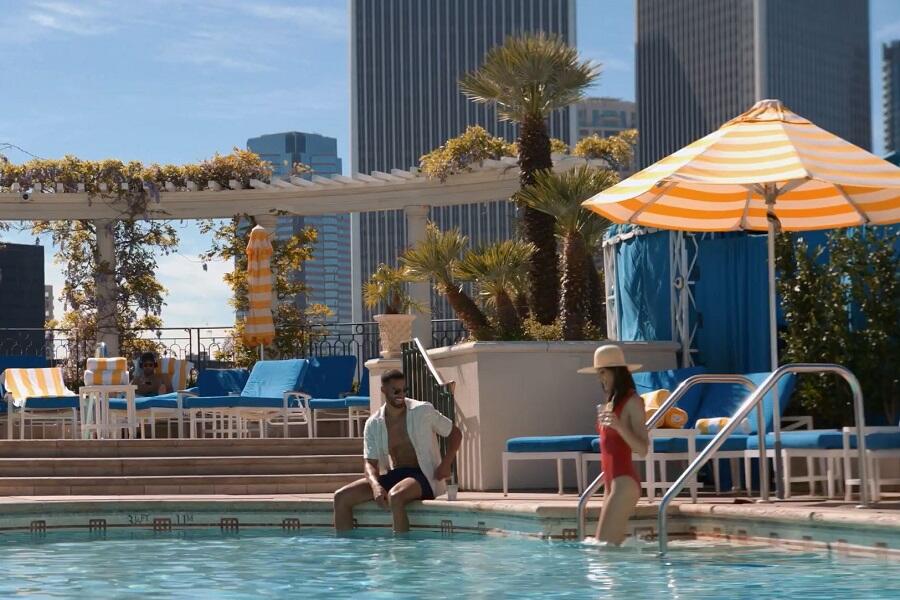 The Peninsula Beverly Hills
The Peninsula Beverly Hills embodies the California dream in an exclusive urban resort. The only AAA Five Diamond and Forbes Five Star-rated hotel in Southern California every year since 1993, The Peninsula Beverly Hills offers 195 guest rooms, including 38 suites and 17 private villas, nestled among lush tropical gardens in the heart of Beverly Hills.
VISIT ROOFTOP POOL
---
Greystone Mansion & Gardens
Built in 1928 for the son of a prominent oil baron, the majestic Greystone Mansion & Gardens is surrounded by 18.5 acres of lush, city-owned parkland. Formerly known as the Doheny estate, it is now a registered historical landmark in Beverly Hills. Greystone often serves as a stunning backdrop for cultural and educational activities, photo and commercial shoots, weddings and public events. Additionally, since 1965, when the property was leased to the American Film Institute, Greystone has had featured roles in numerous movies and television shows, including The Big Lebowski, Eraserhead, The Witches of Eastwick, Death Becomes Her, Batman & Robin, The Bodyguard, Dark Shadows, The Prestige, The Social Network, X-Men and Gilmore Girls.
VISIT GREYSTONE MANSION
---