Best Italian Restaurants in Beverly Hills
In Beverly Hills, you'll find cuisines from around the globe, with Italian being our specialty. Whether you're searching for more traditional dishes or classics with a modern twist, a bustling family-style restaurant or something a bit more romantic, we promise you'll find any of these eateries a truly wonderful experience.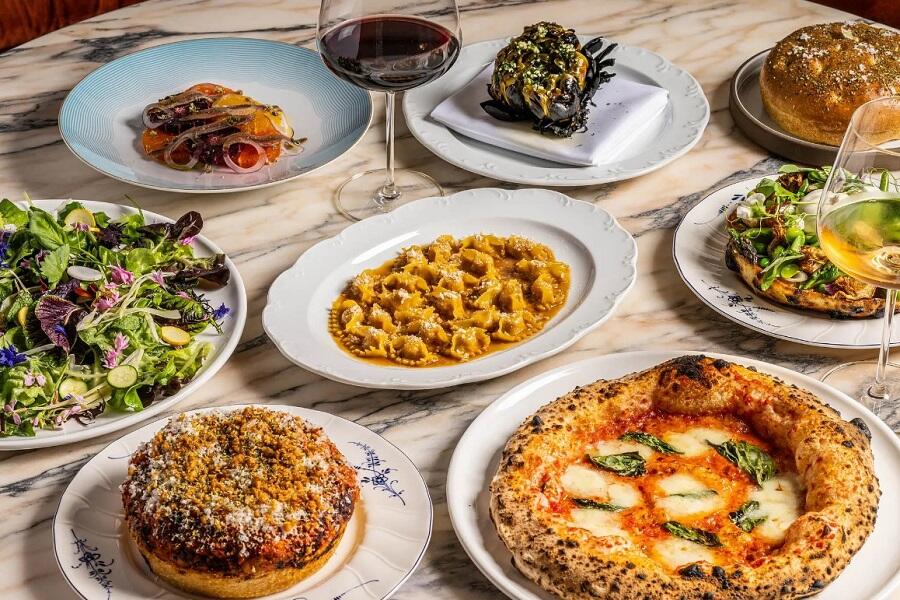 Pasta maestro Evan Funke presents Funke, serving a variety of bespoke pasta dishes and seasonal vegetable antipasti from recipes learned by cooking in remote corners of Italy. The restaurant represents the culmination of more than 20 years of the chef's career, including six years at Spago Beverly Hills. The interior design has a very clean, Italian, contemporary feel. At the center of the restaurant is where Funke and his team make bespoke pieces of pasta by hand the way it was done 150 years ago. Rounding out the savory portion of the menu are a half a dozen or so Neapolitan-style pizzas.
MAKE RESERVATION
---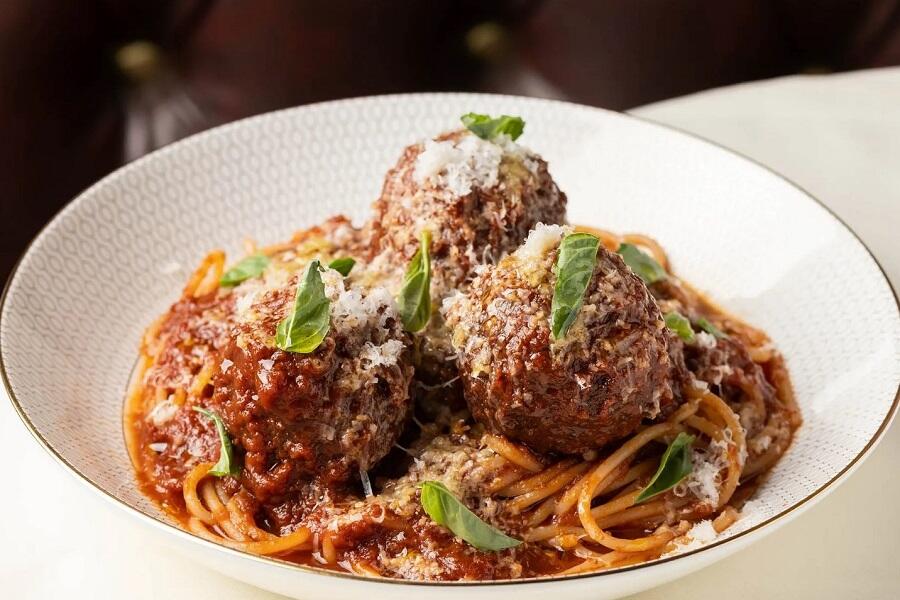 With its retro Italian décor like a cheetah-printed carpet and refurbished chairs from nearly 50 years ago, it's no wonder why Frank Sinatra, the Rat Pack king himself, was a frequent visitor to La Dolce Vita. Sinatra dined at the restaurant so often that his favorite booth was dedicated with his name. The restaurant turns out classic spaghetti and meatballs as well as chopped salads, tuna tartare and veal parmesan. The menu is reflective of classic red sauce Italian dishes.
MAKE RESERVATION
---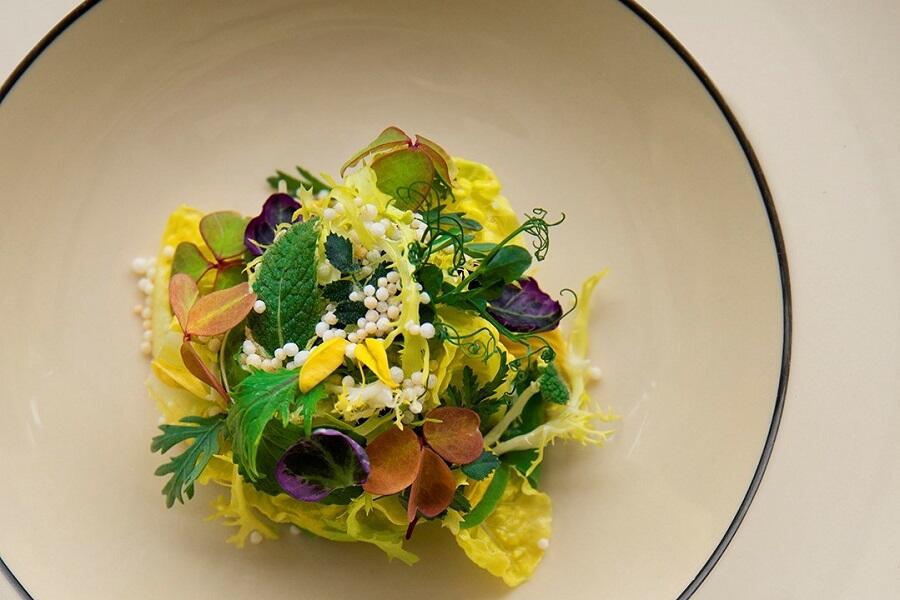 Gucci Osteria Beverly Hills is the second Gucci Osteria da Massimo Bottura to earn a MICHELIN star following the success of the first one that opened in Florence, Italy. Embracing both modern Italian cuisine and local Californian ingredients, Gucci Osteria is led by Italian chef Mattia Agazzi, under the guidance of chef Massimo Bottura of three-star Osteria Francescana in Modena, Italy. The talented Agazzi does wonders in the kitchen. Seafood salad is served warm and tender, dressed with lemon, olive oil and shaved radish. Risotto is camouflaged as pizza comes with tomato, stracciatella and burnt caper dust. Thumb-sized tortellini, filled with the classic mortadella, veal and prosciutto mixture, sits in a glossy pool of Parmigiano Reggiano-enriched sauce.
MAKE RESERVATION
---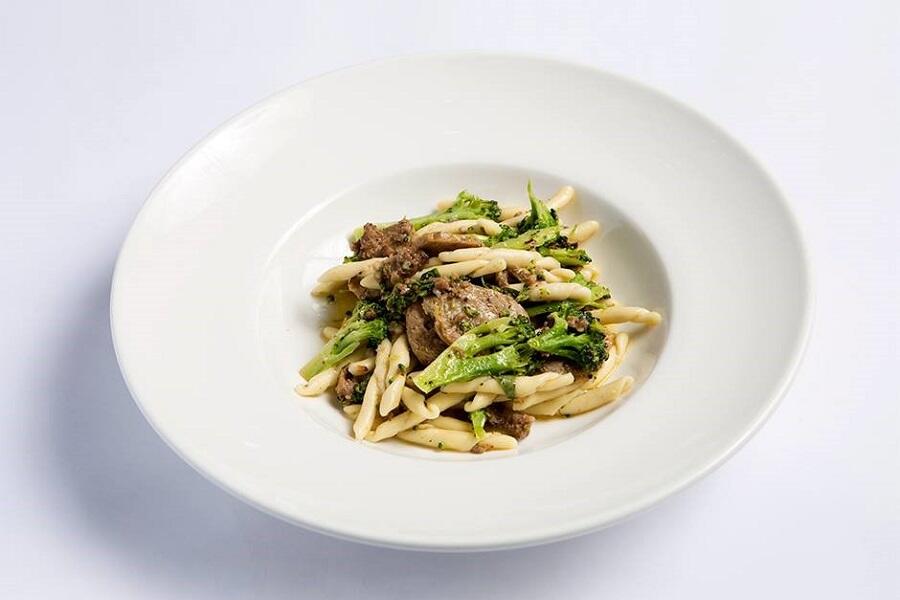 Gourmet magazine called Il Pastaio "A Taste of Heaven" and it's no wonder why at this popular neighborhood-style restaurant on Beverly Hills' Little Restaurant Row. The bustling patio is the place to see and be seen. The restaurant takes pride in its homemade pastas, which is evidenced by the more than 20 pasta dishes listed on the menu, everything from butterfly pasta interlaced with smoked salmon to linguine topped with lobster and crab in a pool of spicy tomato sauce. For something a bit lighter, select from more than a dozen different salads, such as mixed baby greens with balsamic vinaigrette or arugula with tomato and hearts of palm, sprinkled with shavings of parmesan and mozzarella.
MAKE RESERVATION
---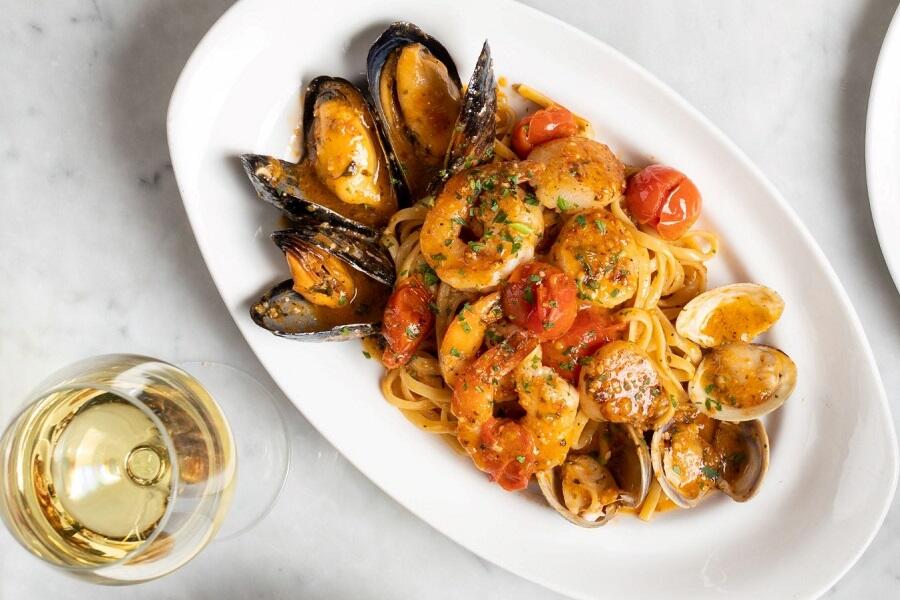 Using the freshest ingredients and traditional cooking techniques, Il Fornaio offers a wide variety of premium-quality Italian food paired with an award-winning wine list and crafted cocktails. In the kitchen, pastas and flavorful sauces simmer, while meats and vegetables roast over hot coals. The kitchen's pizza is especially noteworthy, using the freshest, crisp bread that will crackle upon each bite, all overlaid with an assortment of fresh toppings and a thin layer of cheese. You can't go wrong with any of the pastas, each perfectly executed so that they are slightly firm and chewy.
MAKE RESERVATION
---
Often hailed as one of Los Angeles' most romantic restaurants, Il Cielo's menu is just as enticing as its outdoor courtyard, which features a transparent rooftop so you can see the stars while dining. Enjoy well executed Northern Italian dishes such as tortellini intermixed with a dash of burrata cream and basil oil, showered with pesto sauce or grilled Norwegian salmon and Sardinian fregola speckled with olive oil and sea salt. You can't go wrong with the homemade pappardelle mingled with shreds of roasted wild boar and splattered with Barolo wine.
MAKE RESERVATION
---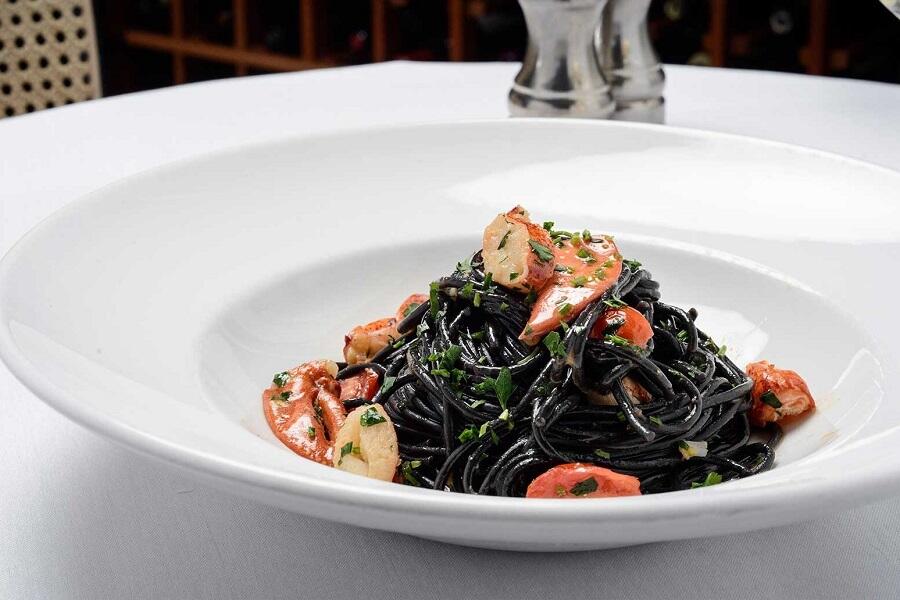 In 2013, Andy and Carlo Brandon-Gordon stumbled onto the little town of Nerano, Italy while on their honeymoon. They fell in love with the town and the food. The couple decided they wanted to share the tastes of the Amalfi Coast in Beverly Hills, so they opened Nerano in a brick building that once housed a hair salon. Today, the ultra-chic Italian restaurant is where craft cocktails and international wines can be enjoyed alongside signature dishes such as home-made orecchiette with slices of mild Italian sausage and showered with flaky parmigiano or whole fish branzino, garnished with thyme, garlic and parsley with a side of sautéed red cabbage and roasted potatoes.
MAKE RESERVATION
---
For nearly 20 years, Piccolo Paradiso has been delighting patrons with authentic Italian cuisine and a one-of-a-kind dining experience on South Beverly Drive. In the intimate dining room, waiters greet local diners by name as they serve delicious dishes such as the classic Caesar salad made of cold and crunchy romaine lettuce and sprinkled with shreds of parmesan or linguine swimming in a pool of white wine sauce and scattered with fresh manila clams. Any of the thin-crust pizzas from homemade dough is also excellent.
MAKE RESERVATION
---
Renowned restaurateur, Giacomino Drago, owns Via Alloro, which is an upscale Italian restaurant with a popular patio and a celebrity clientele. On any weekend, expect seats to be packed for no other reason than its delicious food and precise, well-attended service. Mouthwatering dishes, like the classic pizza margherita, topped with fresh mozzarella and tomato and basil, or the fettuccine boscaiola, homemade pasta with meat sauce, cream, green peas and mushrooms, are the norm at this restaurant. All the pastas are firm and chewy, and nicely mixed with the perfect blend of sauces and seasonings.
MAKE RESERVATION
---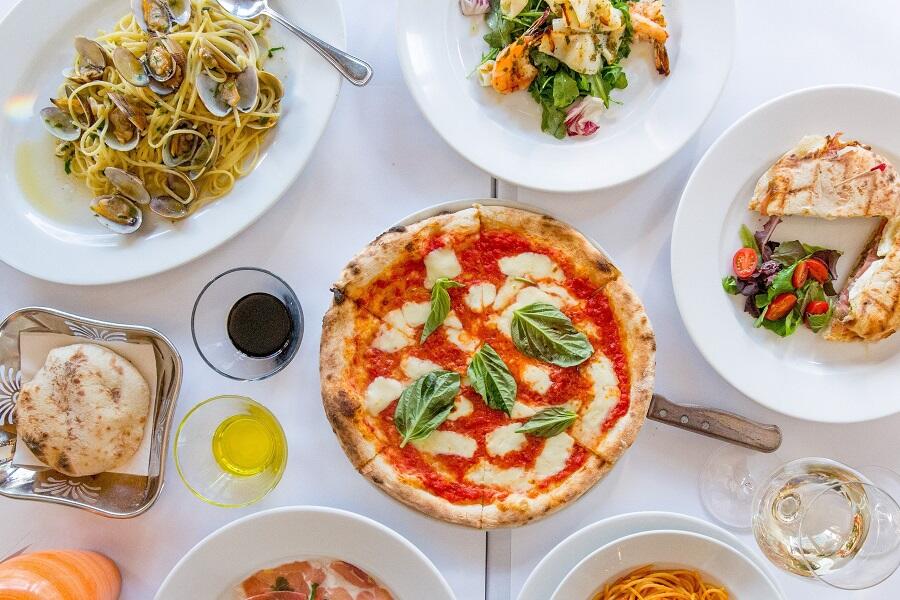 A family run restaurant since 1989, Da Pasquale Trattoria is a classic Italian restaurant that stays true to the recipes from the southern Italian region. Enjoy dishes such as handmade gnocchi alla sorrentina with smoked mozzarella and basil in a tomato sauce, zuppa di pesce, a seafood soup with clams, mussels, shrimp, calamari and fish cooked in a fish broth with tomatoes and hot peppers, or go for a more hands-on approach and order the margherita pizza topped with fresh buffalo mozzarella imported from Italy.
MAKE RESERVATION
---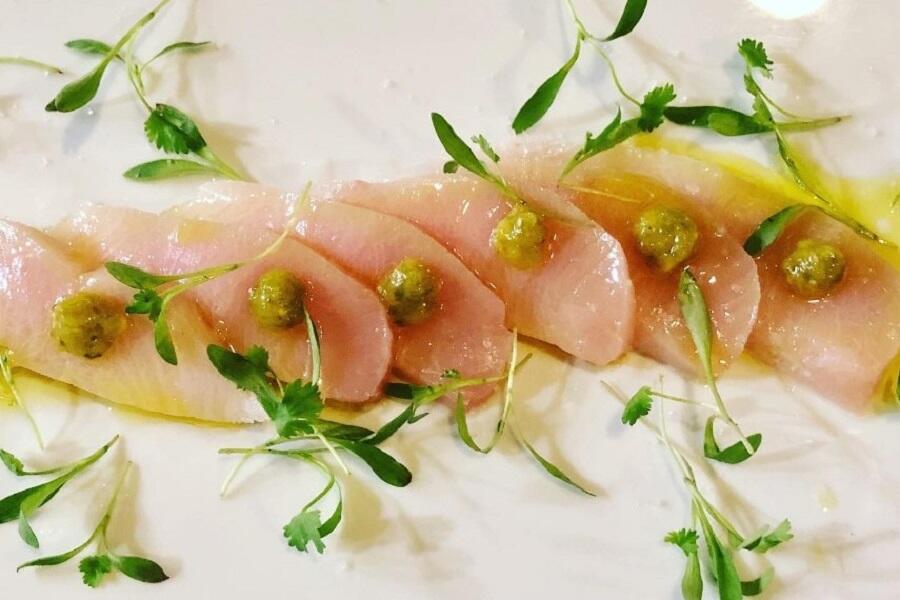 Born in Seravezza, Italy and raised in Tuscany, Edoardo Baldi credits his passion and skill for making Italian dishes to his mother and grandmother. The menu at e.baldi is made up of dishes that remind Chef Baldi of different parts of his life. Flavors at this restaurant tend to be restrained with a minimal use of heavy sauces and seasonings. Instead, expect subtlety flavored sauces on pastas and other main courses, such as veal tortellini in a veal broth, potato gnocchi with cherry tomatoes and Maine lobster or Napoletana pizza showered with oregano, capers and anchovies, all presented in a sleek, modern decor. At night, expect flickering candle lights to accentuate the romantic mood.
MAKE RESERVATION
---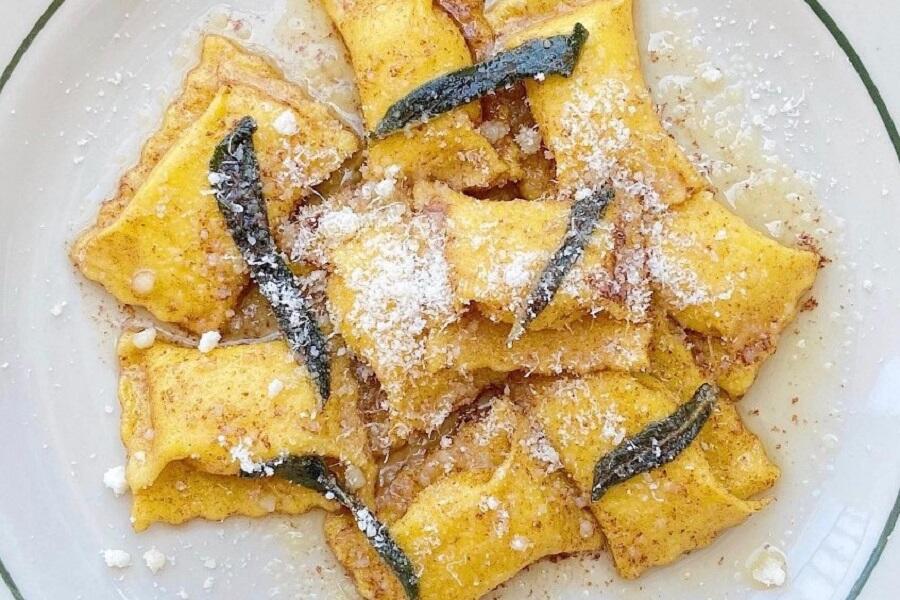 Jon & Vinny's, a little gem in Beverly Hills with inviting ambiance, is known for its pizzas, such as Brooklyn Dodger, white lightning and Bronx bomber or any of the salads, such as arugula with lemon and olive oil. You also can't go wrong with any of the freshly made pastas made in house from scratch. There's also a wonderful breakfast menu, serving pizza and more traditional items like buttermilk pancakes with fresh butter and maple syrup.
MAKE RESERVATION
---
For a full list of restaurants in Beverly Hills, click here.
Updated August 22, 2023