Best Restaurant Patios in Beverly Hills
In the midst of the beautiful Beverly Hills year-round weather, our abundant selection of restaurants feature menus that are perfect for outdoor dining. Whether you're satisfying your inner foodie, craving a refreshing meal, or are simply an avid people watcher, we've come up with the perfect guide to the best restaurant patios you can find in Beverly Hills.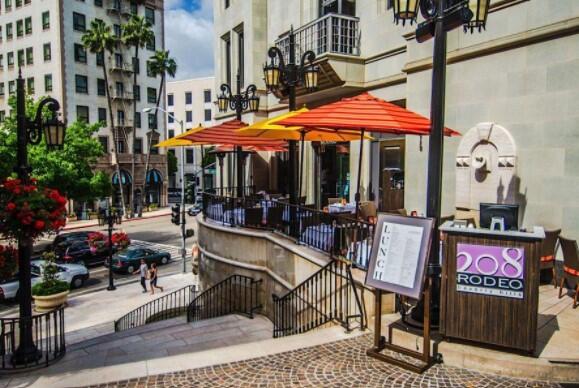 208 Rodeo
Perched on the corner of Wilshire Boulevard and Rodeo Drive, there's no better place for a Beverly Hills outdoor dining experience than 208 Rodeo. Serving California cuisine with pan-Asian and French influences, the restaurant's patio seating also has views of the cobblestone walkway, called Via Rodeo, as well as the iconic Beverly Wilshire, A Four Seasons Hotel.
View Website
---
The Farm of Beverly Hills
Located at the tip of North Beverly Drive, The Farm of Beverly Hills serves up fresh and comforting American cuisine for breakfast, lunch and dinner. Their open patio provides a relaxed atmosphere while dining on a Chicken Farro Salad or Flat Iron Steak Frites, paired well with a glass of wine from their seasonal wine menu.
VIEW WEBSITE
---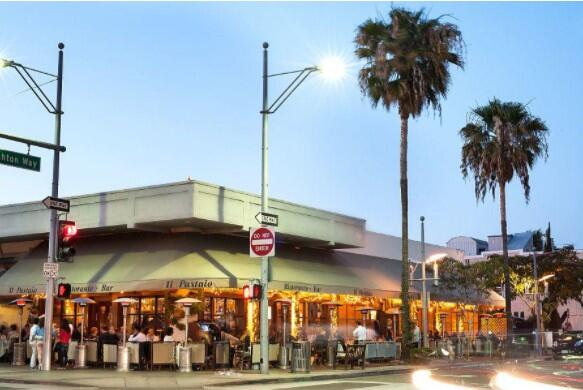 Il Pastaio
Il Pastaio's bustling wrap-around patio attracts power players and Hollywood stars for lunch and dinner daily. Paparazzi regularly camp out on adjacent corners, waiting to snap a shot of one of the many celebrities that dine here regularly. You can't go wrong with any of their perfectly executed Italian fare, but many are partial to their Risotto Nero, which gets its inky black hue from squid ink flown in twice a week from the coastal waters of Italy or France.
VIEW WEBSITE
---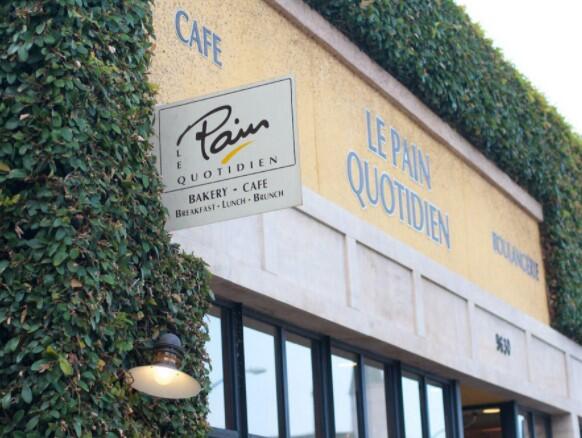 Le Pain Quotidien
Enjoy a rustic meal at one of Le Pain Quotidien's famed locations nestled amongst some of Beverly Hills' best blocks for shopping. A Belgium original, this international bakery-restaurant group opened their Beverly Hills location as their first boulangerie on the west coast. It is well-regarded for their seasonal organic fare ranging from hand-baked bread made with organic stone-ground flour to a family friendly platter of original jams, butters, and spreads. Simple yet elegant, their outdoor patio is the perfect spot to recharge with a glass of lemonade iced tea.
VIEW WEBSITE
---
Le Petit Belvedere at The Peninsula Beverly Hills
For well over 20 consecutive years, Le Petit Belvedere at The Peninsula Beverly Hills has been the only AAA Five Diamond rated restaurant in Los Angeles. Enjoy Le Petit Belvedere's beautiful terrace alongside its Mediterranean-inspired menu. Whether it's an occasion for an intimate evening, a group dinner or a business meeting, an experience at Le Petit Belvedere could begin with complimentary house made Focaccia bread accompanied with a Lobster Paella entrée or an order of a refreshing Charred Caesar Salad with peppercorn-white anchovy dressing. The chic European courtyard is the perfect al fresco dining destination with its French limestone fountains and outdoor fireplace situated amongst its stunning 30 foot Italian Cypress tree centerpiece. Lush greenery of overflowing planters surrounding the perimeter of their expansive garden patio provides for cool evenings that embody the Southern Californian lifestyle.
VIEW WEBSITE
---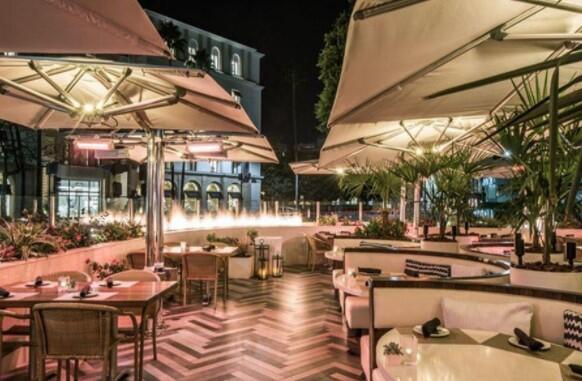 Ocean Prime
Just moments from Rodeo Drive, Ocean Prime provides the perfect environment to dine on fresh seafood, prime steaks and signature cocktails. Named one of the best steakhouses in town by Eater LA, the restaurant's vast space encompasses a vibrant dining room that includes a sushi bar and an open door bar that leads to a large outdoor terrace. Spacious rounded booths and stunning herringbone floors set the stage for a special evening featuring their signature Dutch Harbor King Crab or a 10-ounce Filet Mignon served with a creamy Béarnaise sauce.
VIEW WEBSITE
---
The Roof Garden at The Peninsula Beverly Hills
On the fifth floor of the stately Peninsula Beverly Hills, resides their poolside restaurant, The Roof Garden. Here, Executive Chef David Codney nurtures a rooftop garden, where you'll find produce and herbs, such as basil, thyme and jalapenos, which are used in dishes both in the restaurant and at other dining outposts throughout the hotel. Begin your day with a healthy breakfast option like their Strawberry Banana smoothie or visit for an evening around the fire pit with a glass of the Charred Pineapple Mojito in hand.
VIEW WEBSITE
---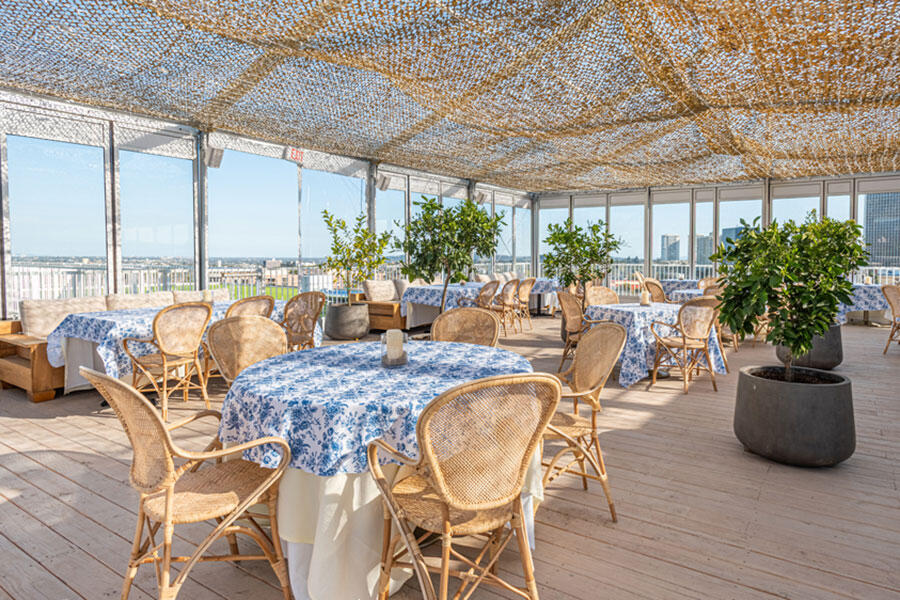 Sant'olina at The Beverly Hilton
Sant'olina is a melting pot of Mediterranean cuisine with a Southern California spin. Chefs Michael Teich and Burt Bakman combine vibrant herbs and spices to create a healthy menu packed with flavor. Each dish tells a different story - from the traditional recipes straight out of the Tel Aviv shuks to the modern Californian touches.
Located atop the historic Beverly Hilton, Sant'olina will offer dinner service nightly and brunch service on weekends.

View Website
---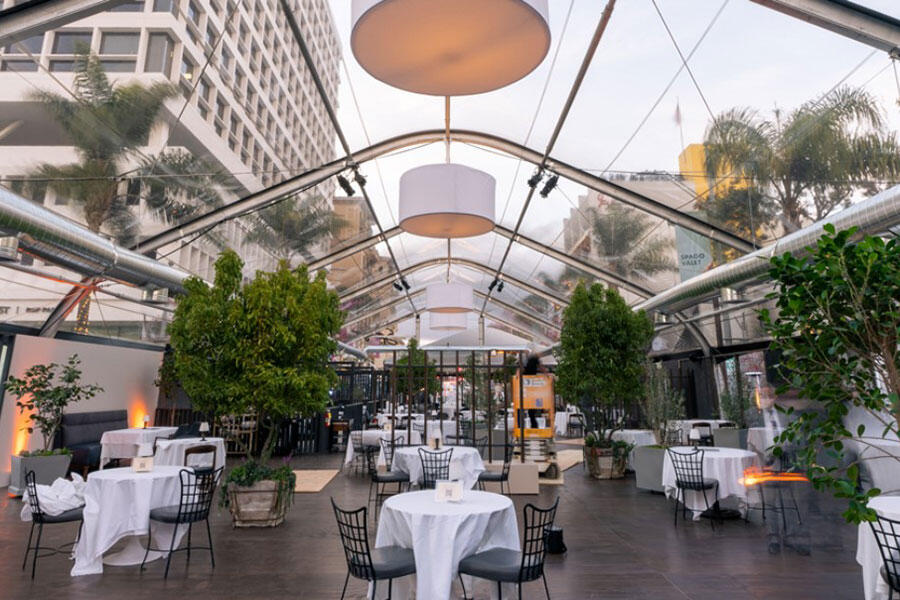 Spago L'exterieur
Experience Spago L'exterieur, the 6,500-square-foot transparent tent – more like an outdoor garden – an extension of one of the most iconic and popular restaurants in the city. Located in the heart of Beverly Hills on Canon Drive, enjoy Chef Wolfgang Puck's innovative market-driven menus and exceptional level of service for which the restaurant is best known.
VIEW WEBSITE
---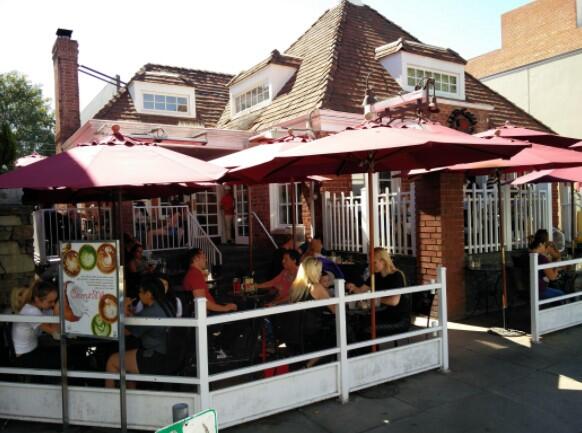 Urth Caffe Beverly Hills
With seven unique locations throughout the Greater Los Angeles area, Urth Caffé features a lively patio with ample outdoor seating set by the bustling street of South Beverly Drive. Their menu offers 100% Certified Organically Grown heirloom coffees and fine teas complemented with an array of seasonal, local and health-conscious cuisine. Their exclusive signature coffee blends are available for purchase in light, medium and dark roasts.
VIEW WEBSITE
---
Via Alloro
If you've driven down the Beverly Hills streets of Dayton Way and Cañon Drive, you may have discovered Via Alloro, a family owned Italian restaurant featuring original and authentic cuisine. Named after the street on which their founding family resided, Via Alloro features two fountain-adorned outdoor garden patios and expansive windows that look out to the city. Their Sicilian dishes are available for lunch and dinner, including savory selections like Branzino with capers or Vitello Tonnato, chilled veal in a tuna sauce.
VIEW WEBSITE
---
View all restaurants in Beverly Hills or discover more dining experiences.
Revised June 1, 2021