Best Rooftops in Beverly Hills
There is nothing "more LA" than sipping cocktails and watching the dreamy California sunset at one of the city's hottest rooftops. Beverly Hills offers a myriad of rooftops with its central location offering stunning views of Beverly Hills, Downtown Los Angeles and the Hollywood Hills. Here are some of the best rooftops in Beverly Hills where you'll want to be seen all year long.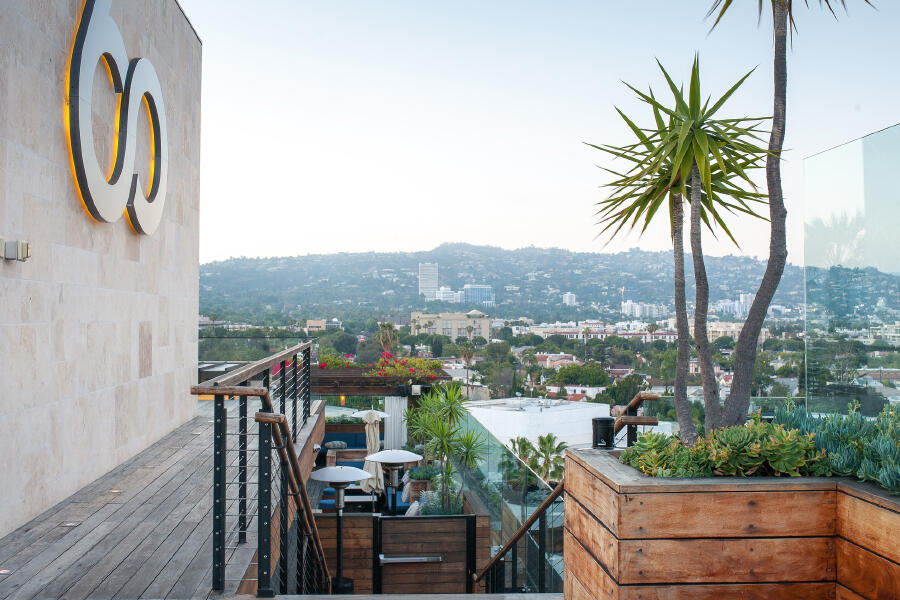 Above SIXTY at SIXTY Beverly Hills
Located within walking distance from Rodeo Drive and other world-class shopping, SIXTY Beverly Hills offers Above SIXTY, a rooftop deck with stunning panoramic views of Los Angeles' hills and canyons, as well as the downtown lights flickering in the background, with access to a pool, lounge and bar, all with cinematic views. The Pool Deck features five private cabanas individually equipped with couch seating and low tables, well suited for an intimate gathering, semi-private meals and cocktail gatherings. On the lower tier of the rooftop, enjoy a sip, indulge in light bites or simply socialize on the Umbrella Social Club deck. From the club's rooftop terraces complete with cozy fireplaces, hanging wicker chairs and bar set amongst luscious greenery high above the glittering city, you can enjoy Beverly Hills at its best, while snacking on delicious food and sipping on drinks.
VIEW WEBSITE
---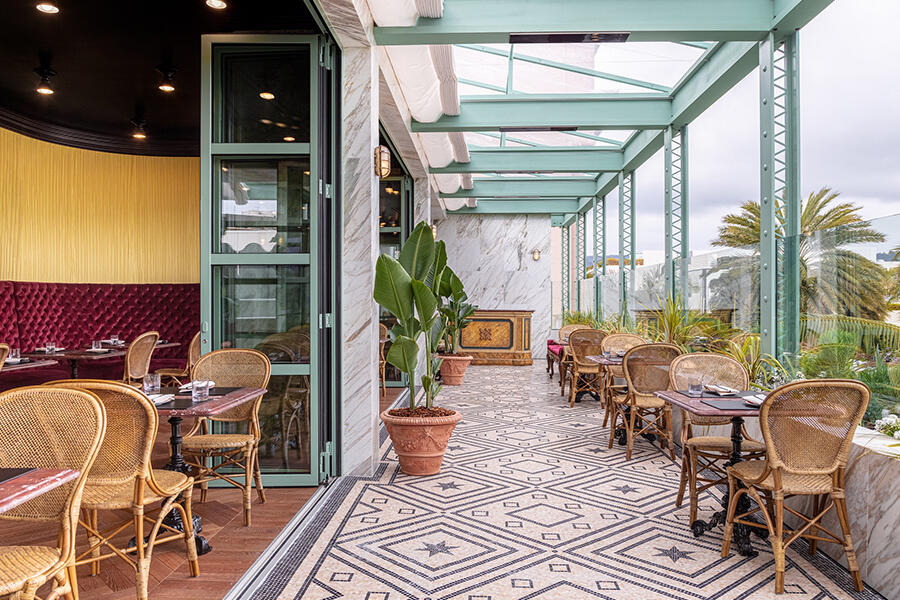 Gucci Osteria da Massimo Bottura
Set on the roof of Gucci's Rodeo Drive store, Gucci Osteria is an intimate restaurant by world-renowned three-Michelin-star Chef Massimo Bottura. The space boasts outdoor seating and sprawling views of Beverly Hills and is an exciting addition to the dynamic and culturally diverse Los Angeles food landscape. Using organic produce sourced from local farmer's markets, the plates at Gucci Osteria Beverly Hills da Massimo Bottura honor the complex variety of culinary influences from around the world, everything from seafood salad paired with seasonal greens and risotto camouflaged as pizza to cod as Milanese and white asparagus with burrata, blackwheat and seaweed. The menu also includes signature dishes such as Chef Massimo's famed tortellini with parmigiano Reggiano cream and the legendary Emilia burger.
VIEW WEBSITE
---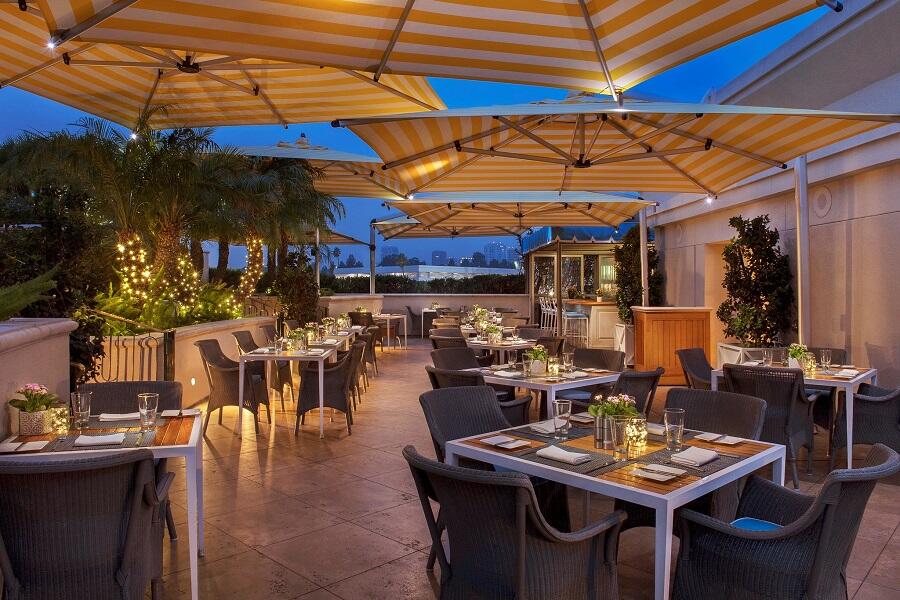 The Roof Garden at The Peninsula Beverly Hills
The Roof Garden is a lush, skylit escape atop one of Beverly Hills' most prestigious addresses at The Peninsula Beverly Hills, with views overseeing the top of the city. The restaurant's menu features a fusion of California classics with delightful flavors from around the globe, whether it's shrimp lettuce wrap and ahi tuna crudo or charred corn salad and yellowtail hamachi. The plates incorporate fresh, hyper-local ingredients, highlighted by herbs and vegetables grown in the hotel's garden. Accented by its iconic yellow and white striped umbrellas, the rooftop bar offers a curated selection of wine, champagne and imported beer, plus a collection of handcrafted signature cocktails. Whether you are seeking a casual dining experience bathed in California sunshine, or a cozy night with a cocktail under star-filled skies, the hotel's refined rooftop is your year-round retreat.
VIEW WEBSITE
---
The Rooftop by JG at Waldorf Astoria Beverly Hills
Enjoy a cocktail with striking 360-degree views of the glamorous city of Beverly Hills at this rooftop garden bar. The rooftop sits atop the 12-story Waldorf Astoria Beverly Hills and is the largest rooftop of its kind in Beverly Hills. Sip one of the rooftop's ever-changing hand-crafted cocktails or nibble on some of the kitchen's light and bright small plates, curated with a Latin and South Asian flair, under the watchful eye of Jean-Georges Vongerichten, one of the world's most famous chefs who has won Michelin stars and authored many cookbooks. You can't go wrong with his juicy lobster burger paired with a side of fries. This place is the perfect location to see, be seen and admire those iconic sunsets, while dining and drinking on celebrity chef-driven food and drinks.
VIEW WEBSITE
---
Sant'olina at The Beverly Hilton
Sant'olina is located atop the historic Beverly Hilton, with aerial views of the glittering skyline, and is a melting pot of Mediterranean cuisine with a Southern California spin. Chefs Michael Teich and Burt Bakman combine vibrant herbs and spices to create a healthy menu packed with flavor, whether it's the mouthwatering lamb burger and chicken kebabs or the braised lamb shank and prime grilled hangar steak. No matter what, each dish tells a different story, from the traditional recipes straight out of the Tel Aviv shuks to the modern Californian touches. Sant'olina offers dinner service nightly and brunch service on weekends.
VIEW WEBSITE
---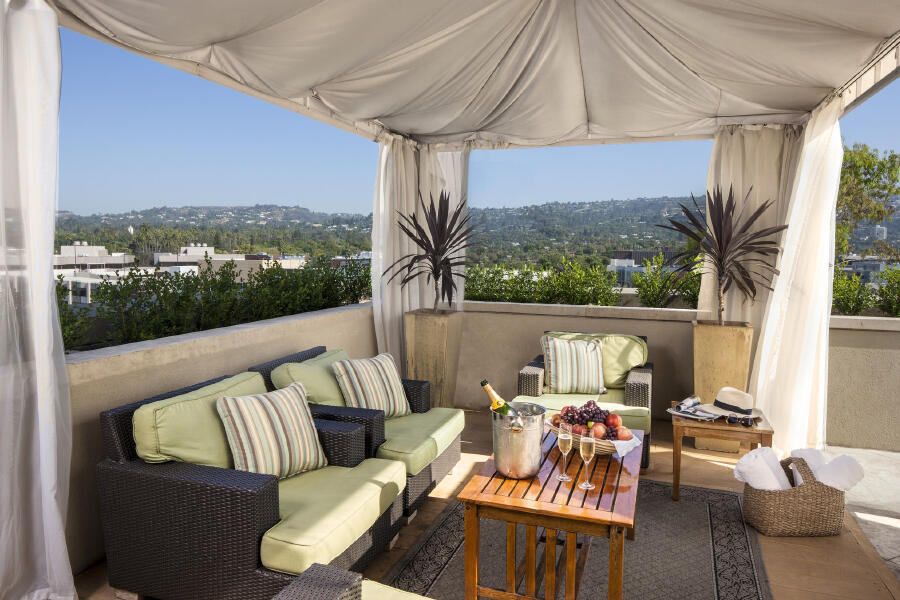 L'Ermitage Beverly Hills
Guests of L'Ermitage Beverly Hills are invited to take in the sweeping views of Beverly Hills in all its glory at the hotel's swanky rooftop pool. This breathtaking venue offers a heated year-round pool, private cabanas and an intimate bar that makes for an excellent vantage point to watch the sunset over the city and Hollywood Hills.
VIEW WEBSITE
---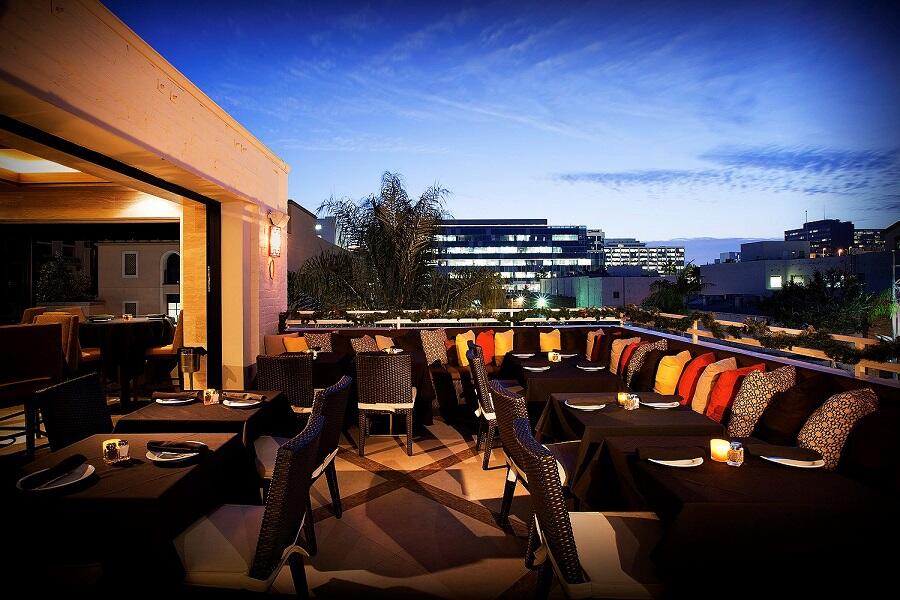 The Penthouse at Mastro's
Located right above the illustrious Mastro's Steakhouse, The Penthouse at Mastro's in Beverly Hills essentially offers the same menu as downstairs but with one key difference. The indoor-outdoor venue upstairs is sleek, modern and gorgeous, with an outdoor, rooftop patio, complete with pillows and comfy chairs. The quality of the steaks and seafood, as well as the service, is exceptional. Try any of the mouthwatering appetizers such as crispy garlic tuna sashimi, lobster cocktail and seared bigeye tuna. You can't go wrong with the seafood main dishes, anything from Chilean seabass to Alaskan halibut to Bering Sea king crab legs. The steaks and chops are the true standouts, especially the Wagyu Tomahawk.
VIEW WEBSITE
---