Beverly Hills Bars and Lounges
Beverly Hills offers plenty of nightlife options each night of the week. The iconic city houses sophisticated bars and lounges, offering a variety of fine cocktails and spirits, lavish décor and memorable experiences that only Beverly Hills can deliver. Whether you choose to explore the city's exclusive luxury bars, hip and trendy lounges or its quintessential favorites, your next happy hour or other nighttime excursion in Beverly Hills will surely be unforgettable.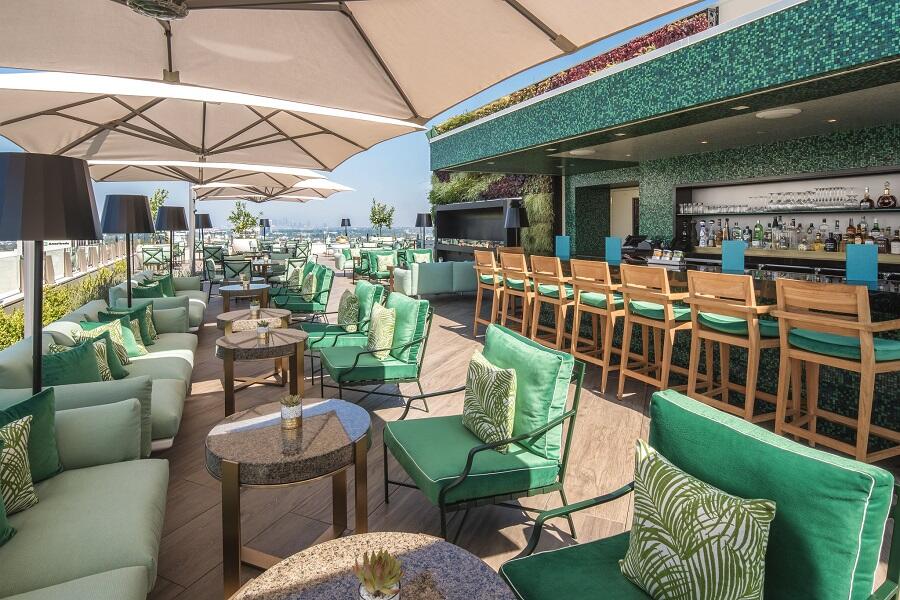 Luxury Bars
Jean-Georges Beverly Hills Bar
Lively, passionate and personal, this cocktail lounge is the perfect accompaniment to Waldorf Astoria Beverly Hills' signature restaurant, Jean-Georges Beverly Hills. Set just next door, slip into this stylish bar any time of day for your favorite appetizers and craft cocktails. Or visit The Rooftop by JG, this pinnacle social venue features panoramic views of Beverly Hills and Hollywood from 12 stories aloft in an impeccably styled rooftop garden setting.
THEBlvd Lounge at Beverly Wilshire, A Four Seasons Hotel
A destination set in the enviable heart of Beverly Hills with legendary views of Rodeo Drive, THEBlvd Restaurant and Lounge features a specialized Californiae Cuisine, pulling inspiration and techniques from global influences, in a cosmopolitan, yet approachable see-and-be-seen environment. THEBlvd is also known for crafting unique and fanciful cocktails and libations. Sit and sip on a light and refreshing cocktail such as the Feeling Pretty. Want something with more of a "punch"? Try the Forbidden Fruit.
The Club Bar at The Peninsula Beverly Hills
Featuring dark wood panels made of California birch and deep leather chairs that circle a wide fireplace, The Club Bar is reminiscent of classic gentlemen's lounges from the early 1900's. This elegant bar exudes luxury, attracting high rollers and power players from across the globe and serving only the finest whiskies, scotches, tequilas and cognacs, as well as an extensive selection of wines, including the hotel's private-label Keller, The Peninsula Sonoma Pinot Noir. The Club Bar has been honored as one of the World's Best Hotel Bars by Forbes Travel Guide.
CUT Lounge at Beverly Wilshire, A Four Seasons Hotel
CUT Lounge is a sophisticated, yet modern, lounge located adjacent to Wolfgang Puck's CUT and offers delicious snacks, appetizers and innovative, specialty drinks. Frequenters of CUT Lounge, formerly known as sidebar, rave about the "Xiang Li" (meaning "Fragrant Pear" in Mandarin) cocktail, a pear martini with vodka, ginger liqueur, and lime juice, as well as its "Pepino's Revenge," a tequila cocktail created with Patrol Silver, cucumber, basil and lime juice.
---
Cool & Casual
Heritage Fine Wines
Enjoy a bit of France while in Beverly Hills. Winemaker, Jordane Andrieu, the owner of a biodynamic wine estate near Meursault in Burgundy, is also the owner and operator of Heritage Fine Wines. Sitting at the zinc bar, a bistro table or in the homey wing chairs in this cozy, comfortable yet very stylish boite, you will leave with the delightful feeling that you spent the evening in Paris. Wines are organic, biodynamic or natural and the food is French. The staff's knowledgeable service offers an interactive education in fine wines, with exceptional hospitality.
Honor Bar
Honor Bar is an excellent choice for a well-made concoction in a sleek, relaxed environment. While the overall focus is on drinks, boasting an entirely different menu for wines by the glass, Honor Bar's food menu also beckons with traditional finger foods for lunch and dinner. Regulars come back time and again for the bar's Honor Burger and its famous Ding's Crispy Chicken Sandwich, in addition to their creatively delicious cocktail menu.
Above SIXTY at SIXTY Beverly Hills
Above SIXTY is an exclusive rooftop bar and lounge located at SIXTY Beverly Hills, offering stunning views of Beverly Hills, Century City and downtown Los Angeles. Above Sixty Beverly Hills offers wine, beer and cocktails, including their refreshing signature Lemonade Chill, crafted with vodka and housemade lemonade until last call. Although the pool is exclusive for SIXTY Beverly Hills guests, the bar and lounge is open to the public. Guests can also uncover a unique underwater view of the rooftop swimming pool, using a secret porthole that can be found in the hallways leading to the bar's restrooms.
The Lounge at Ocean Prime
The Lounge at Ocean Prime Beverly Hills balances raw materials with polished details to create a sophisticated yet comfortable atmosphere. Take a seat in a comfy booth or at the sleek bar. Sip on a hand-crafted cocktail or enjoy a glass of wine from their Wine Spectator honored wine list.
---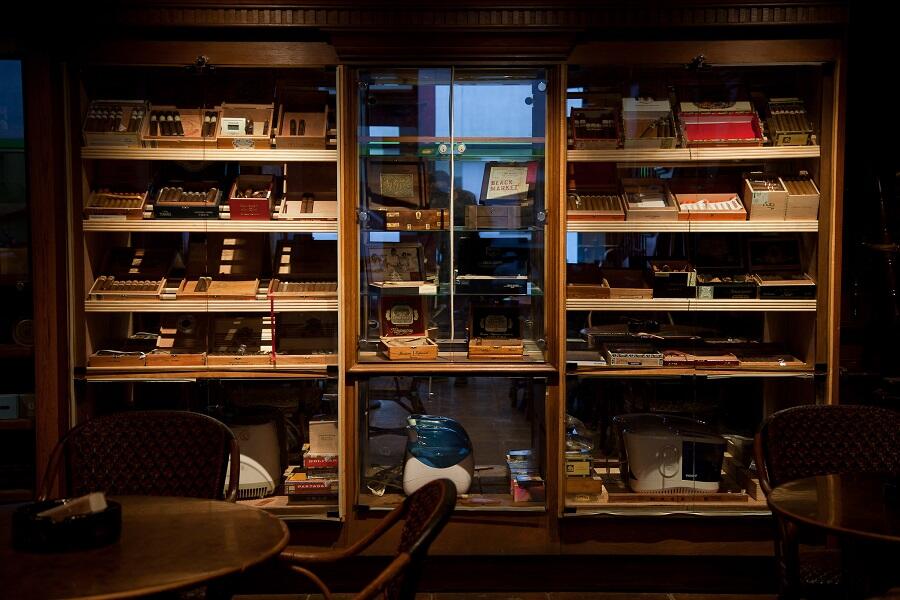 Cigar Bars & Lounges
Buena Vista Cigar Club
The Buena Vista Cigar Club is a distinctive establishment in Beverly Hills, offering an extraordinary variety of carefully selected tobacco products. Guests can indulge their fragrant habit in a spacious and comfortable lounge environment, complete with music and television screens covering major sporting events.
Grand Havana Room
The exclusive, members only Grand Havana Room in Beverly Hills was always intended as a high-end haven for serious cigar lovers. Members include some of the biggest names in Hollywood. The club's interior includes a huge lounge area with panoramic views of the Hollywood Hills, a beyond-impressive humidor, large screen TVs, a gourmet dining menu, libations from a well-stocked bar and, of course, expansive space to enjoy your favorite cigar.
Nazareth's
Nazareth's Smokelounge, the original smoker's lounge in the United States, was established in 1985. The lounge features individual lockers to maintain cigars in peak condition. Enhance your smoking pleasure with Nazareth's complimentary beverage. The lounge's décor is understated, with dark leather chairs and couches, a maroon floor and private cigar lockers lined with Spanish cedar. The accompanying gift shop is stocked with a wide selection of cigars, house brand Nazareth's Cabinet Selection and smoking accessories.
---
Whiskey Bars & Lounges
The Cigar and Whiskey Bar at The Maybourne Beverly Hills
Beautifully intimate and unforgettably atmospheric, The Cigar and Whiskey Bar is home to some of the world's most precious whiskey, sourced from the finest makers – including the famed Macallan distillery in Speyside, Scotland. Guests of The Cigar and Whiskey Bar can also choose from a carefully-assembled menu of the finest spirits and handcrafted cocktails – and sip them in style on the bar's outdoor terrace, overlooking Beverly Canon Gardens.
The Double Barrel
The Double Barrel is a members-only whiskey lounge in the heart of Beverly Hills. To become a member, guests must purchase a bottle (minimum 1 bottle every 3 months). Enjoy a curated whiskey experience with a knowledgeable team that will guide guests through a selection of hundreds of hand-picked new, vintage and rare whiskeys. Explore hundreds of bottles or try The Double Barrel's barrel-aged cocktails and seasonal cocktails.
---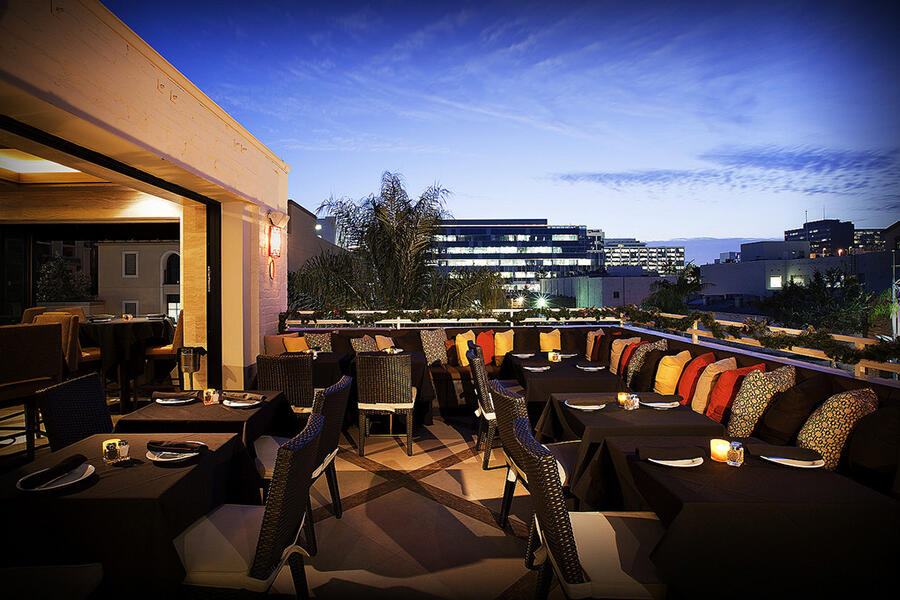 Local Favorite
Mastro's Penthouse
Mastro's Steakhouse may be one of the finest steakhouses in Beverly Hills, but they are also highly regarded for their extraordinary cocktails. The celebrated Mastro's Penthouse is located on the top floor of the restaurant and features an open air rooftop patio. Their famous Mastro's Martini is the signature cocktail to order as it is shaken with dry-ice, creating a cool mystical effect, perfect for photos and starting off the night right. Mastro's enforces a strict upscale dress code; proper attire is required.
---