Beverly Hills' Meeting and Event Spaces
With its central location and walkability, combined with year-round beautiful weather, Beverly Hills is an ideal destination for your next meeting or special event. Whether you are planning an intimate gathering or a large-scale event, these unique indoor and outdoor spaces provide flexible options for savvy planners seeking incomparable bespoke service and luxury for their next event.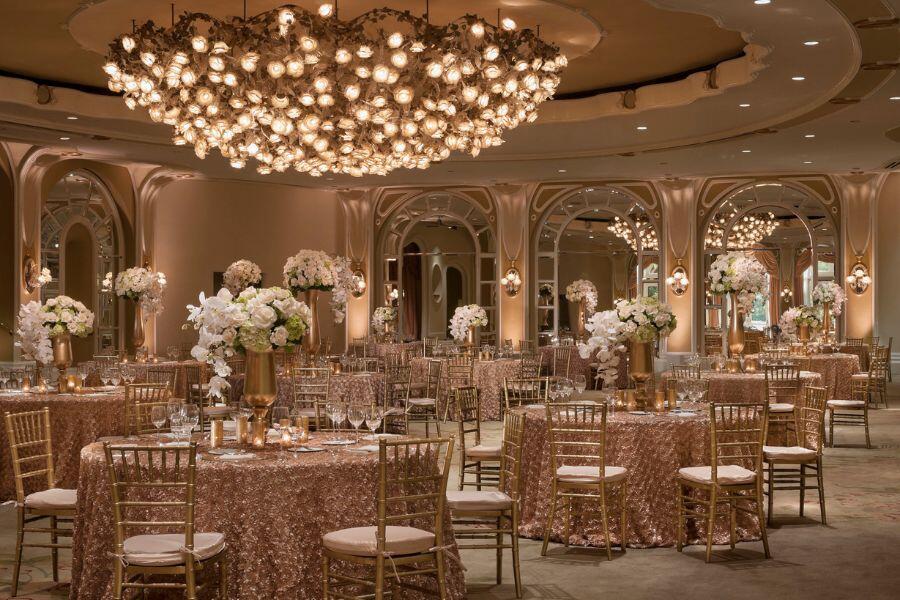 The Beverly Hills Hotel
Events at The Beverly Hills Hotel begin with the red carpet and its famous exterior. The beautifully appointed meeting rooms and versatile spaces are suitable for various functions, from corporate events to weddings and grand social occasions. Each event space is equipped with state-of-the-art equipment and a dedicated events team.
Crystal Ballroom: The largest of three ballrooms, spanning over 7,500 square feet, featuring a built-in stage, dance floor, rose chandeliers, and abundant natural light.
Rodeo Ballroom: Offering 5,213 square feet of space, the Rodeo Ballroom includes an adjacent pre-function area and a built-in stage.
Polo Private: With 1,040 square feet, this intimate space is adorned with rich wood paneling and a touch of Hollywood sparkle. French doors lead to a private patio in the gardens when booking events in the Polo Private space.
---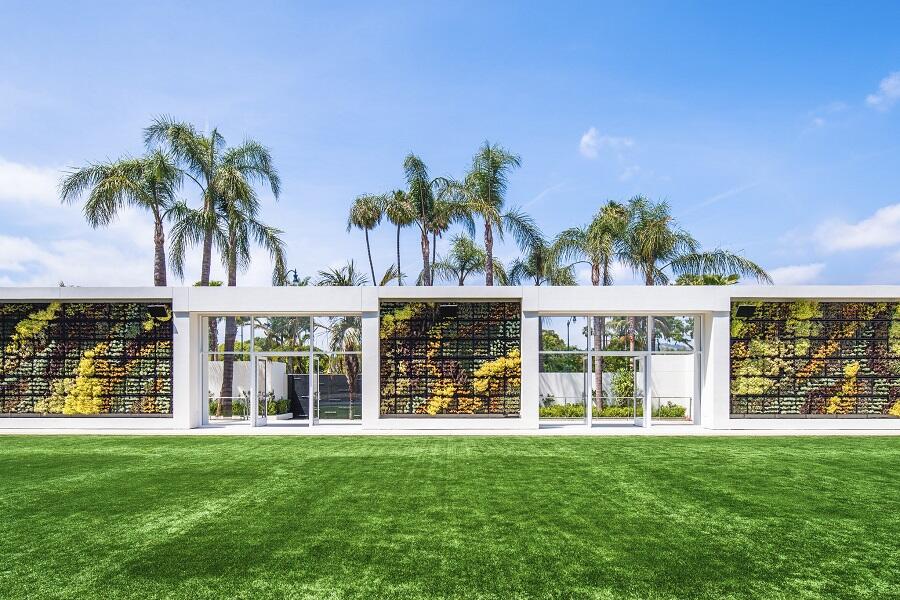 The Beverly Hilton
The Gardens at The Beverly Hilton are the perfect venue for glamorous weddings, corporate events or intimate gatherings. The outdoor space is divided into two distinctive and versatile settings: the Wilshire Garden and its connecting Secret Garden that can be utilized together or reserved separately.
Wilshire Garden: Covering 6,650 square feet, this area boasts a lush Astroturf lawn and living succulent walls. It can accommodate up to 350 guests with banquet-style seating or 600 guests for a reception.
Secret Garden: Located just off Wilshire Garden, the Secret Garden provides a private and charming space spanning 1,760 square feet. It features a waterfall and intimate nooks beneath palm trees, accommodating up to 100 guests.
---
The Beverly Wilshire, A Four Seasons Hotel
The Beverly Wilshire, A Four Seasons Hotel, offers a total of 38,351 square feet of event space and 395 guest accommodations with coveted views of Rodeo Drive and the Hollywood Hills. Whether it's a red-carpet gala, a rooftop product launch, or an intimate celebration, your event feels like it's been plucked from the silver screen.
Ballroom: This two-level ballroom with a formal stage, backstage area, and Italian crystal chandeliers offers 14,300 square feet of space.
Mezzanine-Level Options: The Burgundy Room, an elegant and flexible space, allows for versatility when hosting intimate events. You also have the option to open connecting doors to the adjoining Bordeaux Room
---
L'Ermitage Beverly Hills
L'Ermitage Beverly Hills is the perfect venue for exceptional events, whether large or small. Experienced planners at L'Ermitage curate every detail, ensuring your event is truly bespoke and extraordinary.
Garden Suites 1, 2, and 3: These 627-square-foot spaces can accommodate between 10 and 40 guests, based on your event's requirements.
Library Boardroom: A 240-square-foot space, suitable for more intimate meetings with a capacity of 6 guests.
L'Restaurant, The Rotunda, and Burton Terrace: These spaces can be transformed to suit various events, from banquets to gatherings.
Foothill Terrace, North & South: The largest event space at 3,160 square feet, accommodating up to 175 guests and offering breathtaking views of the city.
---
The Maybourne Beverly Hills
The Maybourne Beverly Hills offers a myriad of event spaces for a glamorous gala for 500 to a private dinner for ten. Whatever event you have in mind, they have a unique space to match.
Ballroom: Haute elegance and Hollywood glamour suffuse this nearly 5,000 square foot Ballroom, offering your gala, reception or award ceremony a spectacular level of grandeur. From the opera balconies to the chandeliers, the soaring ceiling to the museum-worthy art, this stately setting will dazzle at any formal dinner or drinks reception.
Gallery: Eminently exclusive with an old Hollywood feel, the Gallery has a flexibility that allows for an arrivals moment in an adjoining foyer before proceeding to an opulent dining room of over 3,000 square feet. Capable of seating up to 190 guests, the room lends itself to manifold occasions from conferences to luncheons, and can be split into three smaller rooms, with separate arrival and reception area for a discreet, VIP entry and exit.
The Garden Terrace: Grand and glorious, our Garden Terrace captures the quintessence of Old Hollywood with 5,000 square feet to play with. Framed by palm trees, planters and box hedges, it provides a lush blank canvas for any event, whether it's wedding nuptials, a milestone celebration or an al fresco reception to remember. Overlooking Beverly Canon Gardens with a panorama of Mediterranean-inspired architecture and all under a wide L.A. sky, this venue at the heart of the city's Golden Triangle couldn't be more awe-inspiring for your treasured guests.
Canon: Enhance your formal dinner or off-site in this atmospheric room with a private patio overlooking Beverly Canon Gardens. Situated on the second floor, Canon is 450 square feet, seating up to 24 guests with an opportunity to take a breather on the balcony without ever leaving the room.
Wilshire: Natural light bounces off the soft blue walls within the majestic Wilshire, creating an inspirational backdrop for a pitch presentation or business lunch. With space for 12 to 30 guests, and at nearly 500 square feet, the second-floor vantage point looks lovingly onto Beverly Canon Gardens.
Beverly: At 550 square feet, Beverly is a popular choice for intimate business meetings, presentations and seminars – not to mention private lunches and dinners with up to 50 guests. Located on our second floor, the space is decorated in calming, neutral tones with an abundance of natural light, making it the perfect destination for any event.
---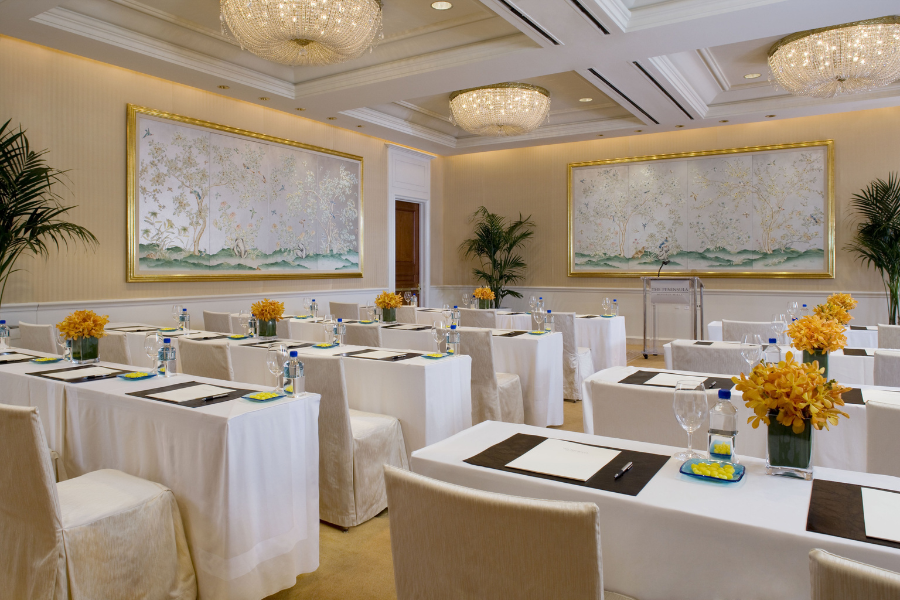 The Peninsula Beverly Hills
The Peninsula Beverly Hills provides 3,398 square feet of versatile meeting and event space, catering to a wide range of small events.
The Verandah Ballroom: An exceptional setting for indoor-outdoor dinners for up to 30 guests, featuring a spacious terrace with a fountain, a formal foyer with a grand piano, and a ballroom.
Additional Event Spaces: These include the area surrounding the rooftop swimming pool with a dramatic city skyline backdrop, a wood-paneled boardroom, and private dining rooms.
---
Waldorf Astoria Beverly Hills
The 12-story Waldorf Astoria Beverly Hills is comprised of 170 guest rooms and suites, a rooftop featuring panoramic city views and The Rooftop by JG, Espelette Beverly Hills created by Michelin Starred Chef Steve Benjamin, as well as two stunning indoor meeting spaces.
The Astor Ballroom consists of 2,945 square feet and features large windows and diamond chandeliers, hand-selected for the hotel. With a 12-foot ceiling, the room offers ample space to deliver a variety of set-up options and can accommodate up to 400 guests. The ballroom foyer features a bar and can serve as guest check-in or a reception space for 150 guests.
---
---