Coffee Connoisseurs
Sip your way through Beverly Hills
There's nothing like a fresh cup of coffee to kick start your day or provide a boost when your afternoon starts to slow. From espresso and French press methods to organic and single-origin beans, these 8 coffee shops around Beverly Hills provide some of the best brews in town.
1. Aharon Coffee & Roasting Co.
Aharon Coffee & Roasting Co. prides itself on its coffee beans from countries such as Colombia, Panama, Costa Rica, Ethiopia, El Salvador and Kenya. It creates blends that would excite any coffee lover's taste buds. To create its incredibly smooth flavor, Aharon's Cold Brew coffee, available on tap, is extracted in room temperature water for sixteen hours. The shop takes cold brew a step further with its "Nitro Cold Brew," a nitrogen-infused version of the drink. The slow bar offers additional brewing methods, such as pour over, French press and Turkish coffee. If you prefer something sweet with your coffee, we suggest you pick up a handmade macaron at 'Lette, located just across the street.
---
2. Blue Bottle Coffee
The Bay Area's popular Blue Bottle Coffee recently opened its first Beverly Hills location on South Beverly Drive, just across the street from Chaumont Bakery & Café. Order up a shot of Hayes Valley which is the brand's darkest espresso, in either a macchiato or caffe latte. If you're out for something a little less strong, we'd recommend the New Orleans iced coffee. This sweet and creamy drink is cold-brewed with roasted chicory, and then cut with whole milk and organic cane sugar after it's poured. Enjoy with an order of avocado toast or a made-to-order Liège waffle, Blue Bottle's caramelized, contemporary take on the Belgian waffle.
---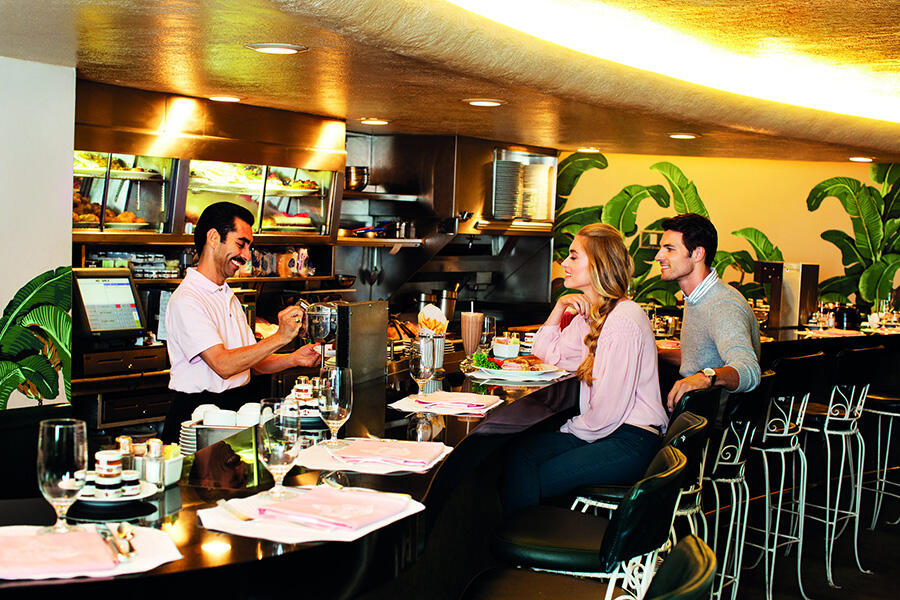 3. The Fountain Coffee Room
Take a step back into the 1940s when you visit The Fountain Coffee Room, tucked inside the iconic Beverly Hills Hotel. Order a smooth house coffee or indulge in an espresso or cappuccino as you sit atop one of the restaurant's 19 restored bar stools at the curved soda fountain counter. The menu, which was inspired by the soda fountains of the 1940s, features hot and cold sandwiches, salads, omelets, root beer floats and more, making this restaurant a popular take-out option for Beverly Hills locals.
---
4. Comoncy
Comoncy's Beverly Hills location was one of the first third-wave coffee shops, joining a movement where coffee is considered more than just a commodity, but a craft beverage that brings out the bean's true flavor. Skilled baristas serve espresso and coffee beverages using locally roasted coffee and custom-built third-wave gadgets to further enhance the flavor in your drink. In addition to its espresso offerings, cold process iced coffee, drip coffee and even hot chocolate, Comoncy serves up breakfast dishes, salads and sandwiches, along with a homemade vegetable barley soup and a soup of the day. As part of the Gilmore Girls revival in 2016, Comoncy Beverly Hills was transformed into Luke's Diner for one day, where actor Scott Patterson made a surprise visit to serve drinks and pose for photos with fans.
---
5. Nespresso
Beverly Hills' 7,500 square-feet Nespresso boutique on North Beverly Drive is the brand's largest flagship in the United States. Guests may take a seat in the café and order hot and iced espresso-based drinks, from beloved classics to the latest Nespresso creations like the Espresso Banana Shake with Kahlua coffee syrup or the Mini Macchiato Cone, served in a dark chocolate-lined waffle cone. A menu of light bites and desserts is also available to accompany your drink.
Of course, a Nespresso boutique wouldn't be complete without giving guests the option to purchase machines and pods to recreate the experience at home. The back wall of the store is colorfully lined with every Nespresso flavor available and the easy-to-use machines are displayed throughout the boutique, where the knowledgeable staff can help shoppers select the perfect machine for their home.
---
6. Urth Caffé
A popular hangout for the characters on HBO's original series, Entourage, Urth Caffe's espresso menu offers 16 different drinks with your choice of dark or light roasts. Additionally, this Beverly Hills coffee shop serves a special coffee of the day, organic house blends and varietals, French press coffee, blended ice drinks, tea lattes, smoothies and even Boba drinks made with organic tea. If you have time to enjoy a meal, we suggest grabbing a table on the front patio, as this is a perfect location to see and be seen on Beverly Hills' trendy South Beverly Drive.
---
7. Euro Caffé
Strolling through The Courtyard at 427 North Canon Drive and breathing in the scents from Euro Caffé will leave you feeling as if you've traveled to Rome, Italy. The Italian coffee shop, previously located on South Santa Monica Boulevard, offers a variety of Italian coffee drinks, along with freshly baked cannoli, paninis and pastries imported from Italy. Euro Caffé is also a popular spot for Serie A soccer fans to gather in the courtyard and cheer on their favorite clubs as they watch the matches on the large TV screen.
---
8. Brighton Coffee Shop
Beverly Hills' oldest coffee shop sits on the southwest corner of Brighton Way and North Camden Drive. Open since 1930, the quaint diner serves breakfast all day, offering classics such as their "2X2X2 Breakfast Special" with two eggs, two pancakes, 2 slices of bacon and 2 pieces of sausage for just $9.95 and the ½ Sandwich and cup of soup lunch special, also available for $9.95. The coffee menu includes macchiato, frappuccino, mocha and chai latte, with the option to select from soy, almond, whole or skim milk. Whether you're seated outside or at one of the classic booths inside the restaurant, you're sure to enjoy your cup of Joe at Brighton Coffee Shop.
---
A few more: Starbucks, Peet's Coffee & Tea and The Coffee Bean & Tea Leaf
Of course, you can always count on coffeehouses like Starbucks, Peet's Coffee & Tea and The Coffee Bean & Tea Leaf to pour your morning brew! Starbucks has multiple locations throughout Beverly Hills for you to stop at and order a coffee. The Coffee Bean & Tea Leaf is located on North Beverly Drive and you will find Peet's Coffee & Tea on South Beverly Drive.
---
For more ways to experience the best in Beverly Hills, visit our Discover Beverly Hills section.
Updated: March 19, 2020.