Cuisine & Couture
Honoring Beverly Hills, where couture fashion, fine cuisine and some of the most luxurious hotels in the world converge, Beverly Hills Conference & Visitors Bureau has launched a new series, 'Cuisine & Couture.' In true Beverly Hills style, the initiative celebrates some of fashion's greatest events with the best the city has to offer. The series launches with an homage to The Met Gala and this year's theme - Karl Lagerfeld: A Line of Beauty. Locals and visitors alike can experience the late fashion designer throughout the month of May with videos and special dishes at participating hotels.
'Cuisine & Couture' will continue with new culinary offerings inspired by September's New York Fashion Week and the 2024 Awards Season.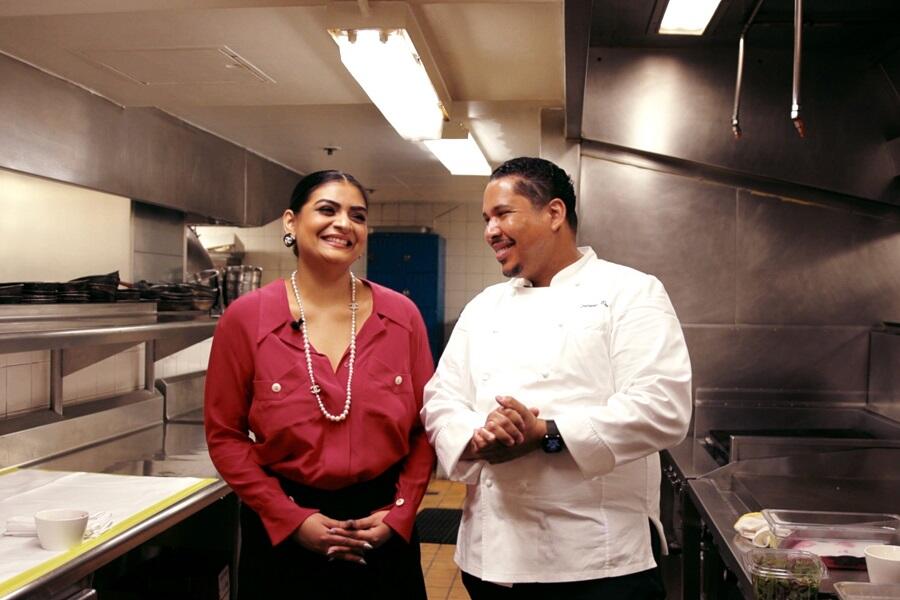 Executive Chef Dameon Evers and Rini Jain
Newly welcomed Executive Chef Dameon Evers of THEBlvd at Beverly Wilshire, A Four Seasons Hotel presents a Pastrami Smoked Beet with Barbecue Tomatoes, Watercress, Beet Vinaigrette and Roasted Hazelnuts. The hearty beet dish celebrates Karl Lagerfeld's penchant for a pop of red, which would become even more significant in his career as countless muses, models and actresses walked the red carpet in his designs. Digital creator Rini Jain of @rinisphere accompanied Chef Evers to create the bold dish together, where they discussed how Beverly Wilshire's setting along Rodeo Drive continually inspires his work.
---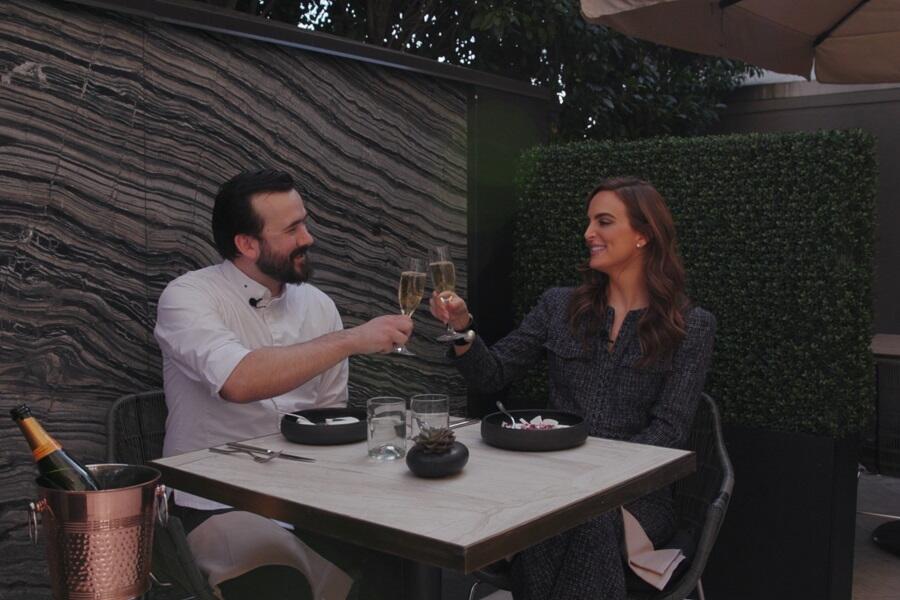 Michelin-Starred Pastry Chef Nick Muncy and Caitlyn Chase
At L'Restaurant of L'Ermitage Beverly Hills, Michelin-starred pastry chef Nick Muncy introduces Whipped Coconut, featuring coconut whipped into a marshmallow ring – resembling Karl Lagerfeld's tall white shirt collar – with coconut tapioca pudding at the center, seasoned with citrus zest and layered with blackberries and mint. Blackberry sorbet will finish the dish, topped with a dehydrated meringue disc spotlighting an airbrushed image of Karl's iconic sunglasses. Chef Muncy joined Caitlyn Chase of @caitlynchase – Caviar & Cashmere founder and long-time admirer of L'Ermitage – to prepare the delicacy and share fond memories in Beverly Hills, finding high design and gastronomic moments in all directions.
---
Executive Pastry Chef Mathias Boirie's Chocolate Old Fashioned Cocktail
Beverly Hills visitors who want to continue their epicurean journey through the lens of Mr. Lagerfeld can visit the Lobby Lounge at Waldorf Astoria Beverly Hills, where Executive Pastry Chef Mathias Boirie created a Chocolate Old Fashioned cocktail – complete with a chocolate Chanel inspired garnish – nodding to Karl Lagerfeld's classic and timeless creativity.
---
New CHANEL Flagship Store is Now Open
Speaking of legendary designer Karl Largerfeld, who served Coco Chanel's couture fashion house for over 35 years, the new 30,000 square-foot Chanel flagship store has opened at the intersection of Rodeo Drive and Brighton Way. With its four-story, white-polished marble home designed by Peter Marino, Chanel now hosts its largest boutique in the United States in Beverly Hills.
---