Best Restaurants in Beverly Hills for Celebrity Sightings
Beverly Hills is widely known as a playground for the Hollywood elite and many of these stars, ranging from Meryl Streep to Taylor Swift, often frequent the city's hotels, salons, boutiques and of course, its restaurants. If you're hoping to not only catch a glimpse of your favorite celebrities, but perhaps dine just a table away from them, we suggest you make a reservation at these six restaurants.
The Palm
Since its opening in November 2014, The Palm has become a top dining spot for celebrities, executives and steak lovers alike. A-listers like Channing Tatum, Gwyneth Paltrow, Ron Howard and Scarlett Johansson have been spotted dining at the restaurant on North Canon Drive. Following the 2015 Oscars, Meryl Streep, Cate Blanchett, Nicole Kidman, Keith Urban, Neil Patrick Harris and David Burtka shared a table while recapping the night and likely making predictions for next year's award show. Paying homage to the L.A. scene, the restaurant features a colorful mural of popular Los Angeles attractions on one side of the dining room, while caricatures of celebrities like Audrey Hepburn and Steven Tyler can be seen on other walls throughout the restaurant. Whether it's an in-person sighting or a caricature on the wall, you're sure to spot a celebrity in one form or another when you dine at The Palm.
---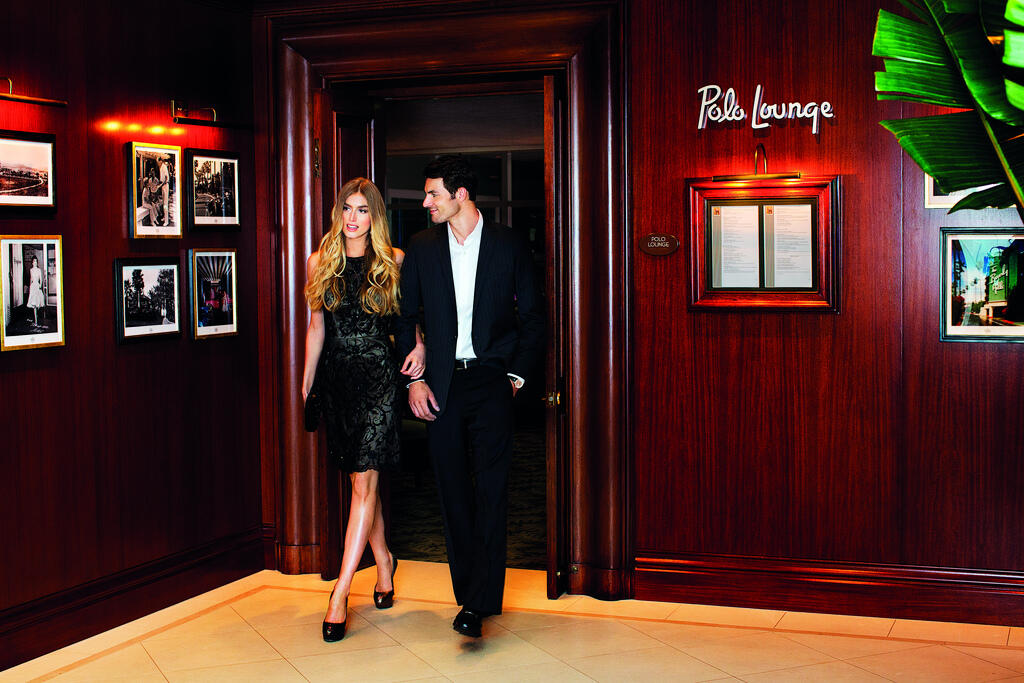 The Polo Lounge at The Beverly Hills Hotel
Located inside of the lavish Beverly Hills Hotel, The Polo Lounge has been a favorite amongst old and new Hollywood stars alike. In its early days, stars including Will Rogers would come to the hotel to enjoy a cocktail after polo matches. This inspired the name of the restaurant, The Polo Lounge, which was bestowed in 1941. Later, the restaurant began to attract Hollywood starlets such as Elizabeth Taylor and also became one of the Rat Pack's go-to drinking dens. The trend continues today, where handfuls of A-list celebrities continue to frequent The Polo Lounge. Steve Martin and Lorne Michaels have been spied relaxing on the outside patio, while the Osbournes, Heidi Klum and Chris Rock are some other famous patrons to add to the list of The Polo Lounge's regulars. Part of the thrill of eating inside this iconic restaurant is not knowing whom you'll see dining at the table beside you. Make your reservation today!
---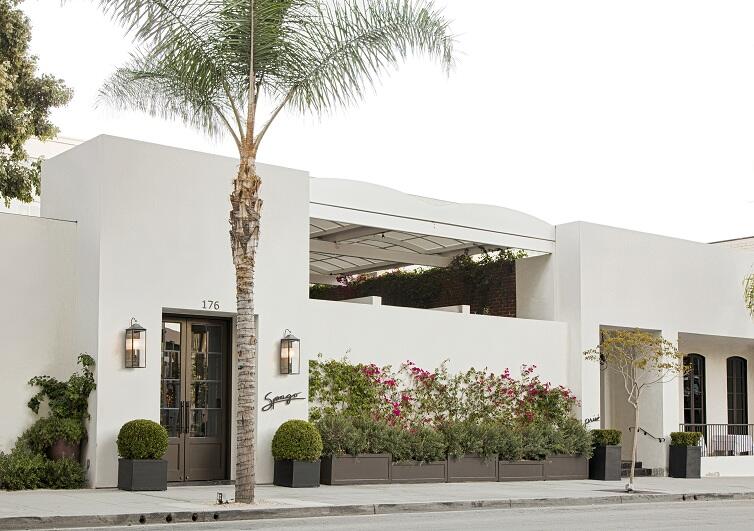 Spago Beverly Hills
As Wolfgang Puck's flagship restaurant, Spago Beverly Hills is frequented by many stars seeking a taste of the celebrity chef's delectable California cuisine. From actors to politicians, the restaurant has hosted celebrities ranging from Justin Bieber to Bill Clinton. Spago also comes alive with after-parties and celebrations during awards season, which in recent years included Elton John's famous post-Oscar party. A host of stars were spotted inside of Spago during The Hollywood Reporter's latest Oscar Nominees Night VIP event, including Bradley Cooper, Robert Duvall and Dreamworks' head, Jeffrey Katzenberg. Spago Beverly Hills is a must stop for diners hoping to spot a celebrity while enjoying a meal prepared by one of the biggest culinary talents in the world.
---
Mastro's Steakhouse
Consistently hailed by critics as one of the "Top 10 Steakhouses in the U.S." and "The Preferred Steakhouse of Celebs and Locals," Mastro's Steakhouse is the restaurant for steak and seafood lovers alike. The Penthouse, the restaurant's chic rooftop bar and lounge, has celebrities and locals flocking to this hot spot for hand crafted cocktails and a late night bite. The restaurant's iconic aqua blue sign can be spotted in the background of countless celebrity interviews that air on television nearly every night, as droves of Hollywood stars have made this restaurant a favorite of their own including Brad Pitt, Jessica Simpson and rapper T.I. It's no wonder why paparazzi stand positioned outside the restaurant each night, waiting to catch a glimpse of the next star heading inside.
---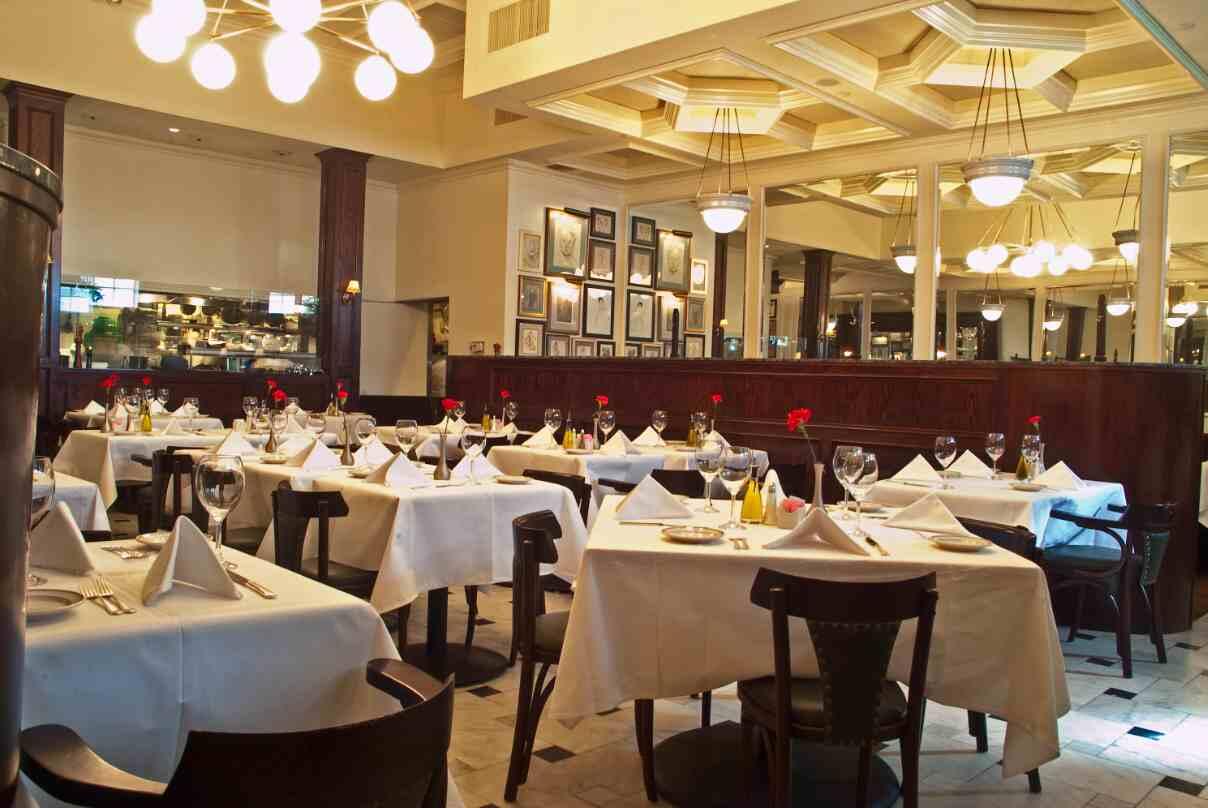 The Grill on the Alley
The Grill on the Alley is home of the entertainment industry's "power lunch" and is one of the most popular restaurants in Beverly Hills. Diners visiting The Grill on the Alley regularly see stars, power-brokers, producers and agents all in one lunch sitting. The restaurant is a favorite of TV personality and Beverly Hills resident, Larry King, who dines at the restaurant weekly. Other notable celebrities include David Geffen who requests the second booth from the left every time he visits and President of Sony Pictures Television, Steve Mosko, who meets regularly with former Seinfeld producers Howard West and George Shapiro. "We will only have lunch in the same booth and sit in the same seats and order the same thing," he says. "It's been that way for 15 years." With a rich tradition of great food and service, there is no question as to why this legendary restaurant is where Hollywood does business.
---