Fireside Dining for Chilly L.A. Nights
Although Beverly Hills offers perfect weather all year long, there's something satisfying about heading inside and curling up by the fire when temperatures start to cool down. If you're in need of a fireside respite, consider one of these restaurants.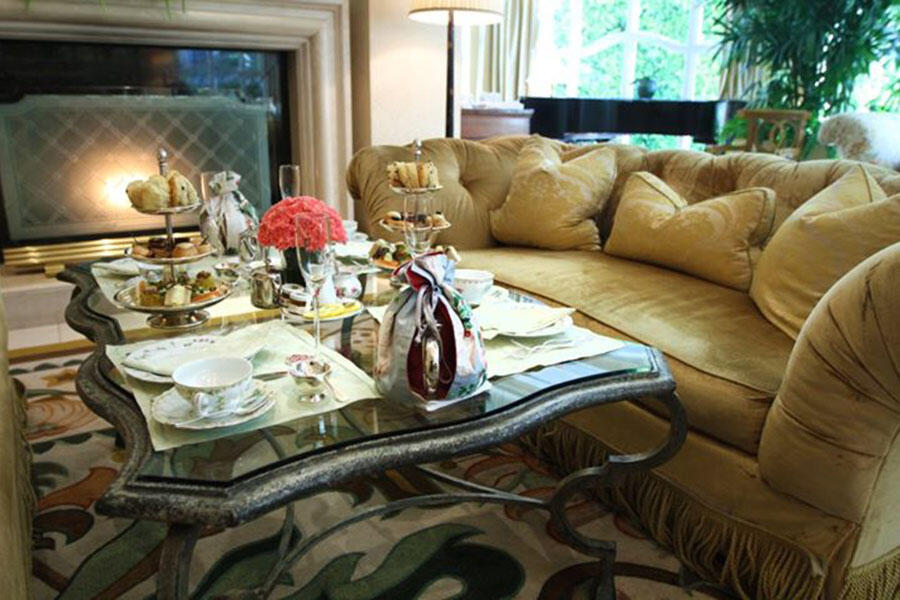 The Living Room
As the name suggests, The Living Room at The Peninsula Beverly Hills is decorated to resemble a cozy estate. With two large fireplaces located on either side of the room and sumptuous couches and armchairs perfectly positioned around glass coffee tables, the Living Room will have you feeling right at home the moment you walk in. The popular Afternoon Tea menu includes an optional glass of Champagne and a tower of delectable sweet and savory delights.
---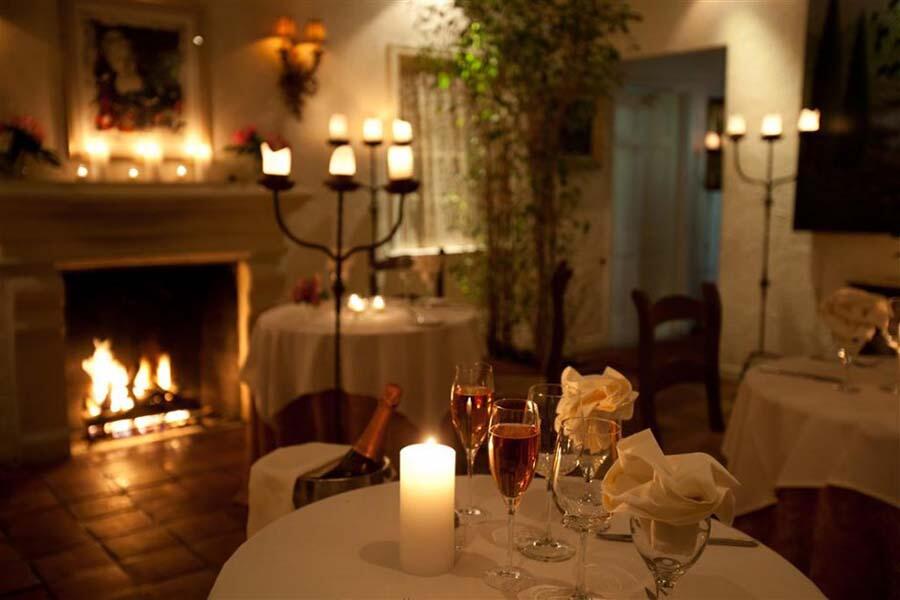 Il Cielo
Known for being one of Los Angeles' most romantic restaurants, Il Cielo's candlelit tables and fireplaces warm those dining inside. Meanwhile, guests dining under the stars on the restaurant's patio are kept toasty in the heated structure. If it's someone's heart you're hoping to warm, the restaurant offers several romantic packages. To complete your dining experience, Il Cielo's special offers range from rose petals and a tapered candle to the heart-shaped flourless chocolate cake with a special message of your choice written across the plate in chocolate script.
---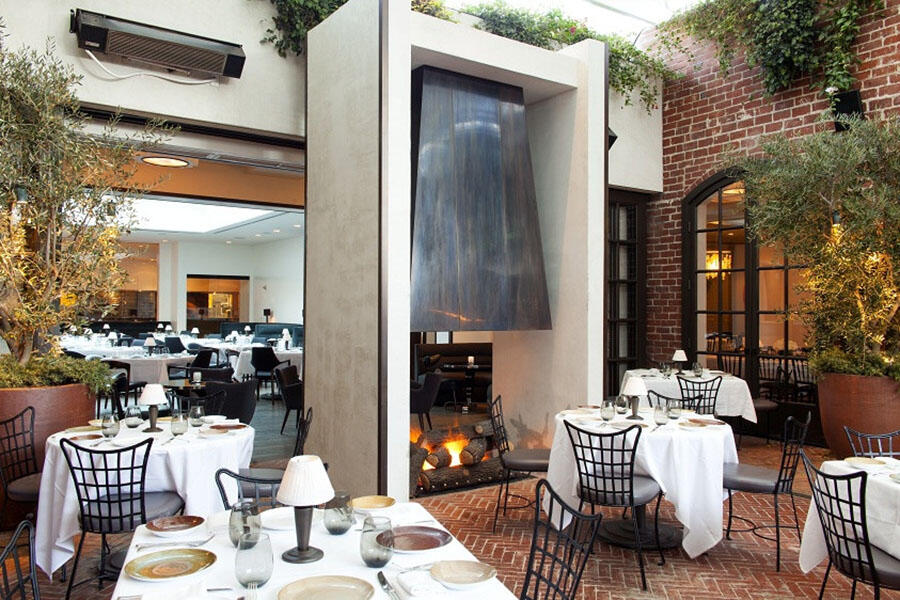 Spago
Spago, the flagship eatery of celebrity Chef Wolfgang Puck, is named one of the 99 essential restaurants in Los Angeles by LA Weekly. With an innovative menu of farm-to-table California cuisine and an exceptional level of service, it's no surprise the restaurant is frequented by celebrities, locals and travelers. The restaurant has an intimate, outdoor dining room featuring two large fireplaces. No matter where you are seated, with one double-sided fireplace in-between the patio and main dining room, and another freestanding in the patio, Spago is perfect for a cozy dinner by the fire.
---
Lawry's The Prime Rib
Since opening in 1938 on La Cienega Boulevard's Restaurant Row, Lawry's The Prime Rib has been a favorite among Beverly Hills locals and visitors alike. When you dine at Lawry's, the succulent Roasted Prime Ribs of beef are served tableside from silver rolling carts as well as the famous Original Spinning Bowl Salad. The legendary steakhouse is made up of many rooms, one of which houses a large stone fireplace set between wooden French doors.
---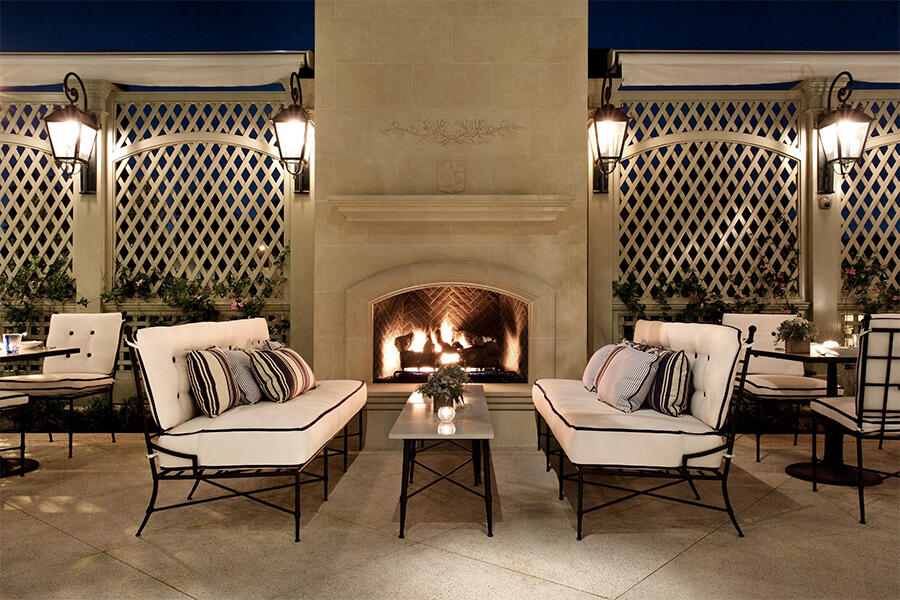 The Belvedere
For the best patio dining, visit The Peninsula Beverly Hills' signature restaurant, The Belvedere. A defining feature of the space, The Terrace is an al fresco dining destination in the heart of Beverly Hills. The beautifully landscaped restaurant is surrounded by large trees, French limestone fountains and a flickering fireplace that adds the perfect warm glow to its expansive environment.
---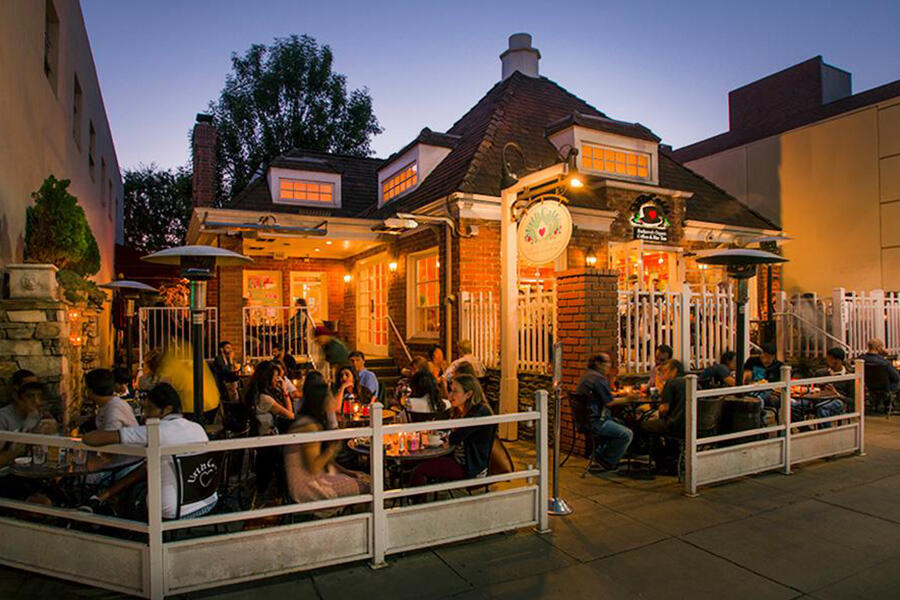 Urth Caffé
Urth Caffé provides the perfect pick-me-up, carrying its own brand of premium, fresh roasted whole bean organic coffee, and hand selected fine teas sold under strict quality and ethical standards. The café also offers a selection of healthy entrées, soups, salads and sandwiches. Experience Urth Caffé's cozy homelike atmosphere by the warm fire inside.
---
L' Restaurant
This restaurant highlights signature dishes and local-first ingredients, creating an elevated dining experience in an elegant retreat that offers a laid-back, yet upscale ambience. Dine, drink and celebrate by the warm fireplace at L' Restaurant inside the L'Ermitage Beverly Hills. Enjoy the serene setting and exquisite locally focused menu. This is a place for lingering over long meals and for sharing good food with good friends.
---
Visit our Restaurants page for more dining options.
Updated: December 15, 2022