Historic Restaurants in Beverly Hills
Ranging from art and architecture to notable dishes and signature drinks, Beverly Hills is filled with many historic treasures. The city turned 100 years old in 2014 and some of its most popular restaurants have been around nearly as long! Visit these iconic restaurants below to experience an authentic taste of Beverly Hills past, present and future.
The Cheesecake Factory
The Cheesecake Factory in Beverly Hills is the very first Cheesecake Factory restaurant. In 1978, David Overton opened the restaurant to showcase his mother Evelyn's cheesecakes. At the time, Evelyn and her husband Oscar had a small wholesale cheesecake shop in Los Angeles and sold cakes to restaurants across the city. Somehow, David just knew that a restaurant with an extensive dessert menu would be a hit. So, without any restaurant experience but with great intuition, he opened The Cheesecake Factory on North Beverly Drive, offering a simple and straightforward menu with generous portions, made from scratch dishes, and of course, a large selection of Evelyn's cheesecakes. The restaurant was an immediate success! Without any advertising, there was a line out the door on opening day. Nearly 45 years later, The Cheesecake Factory is a beloved brand with restaurant locations around the world, and many say the line has never stopped!
---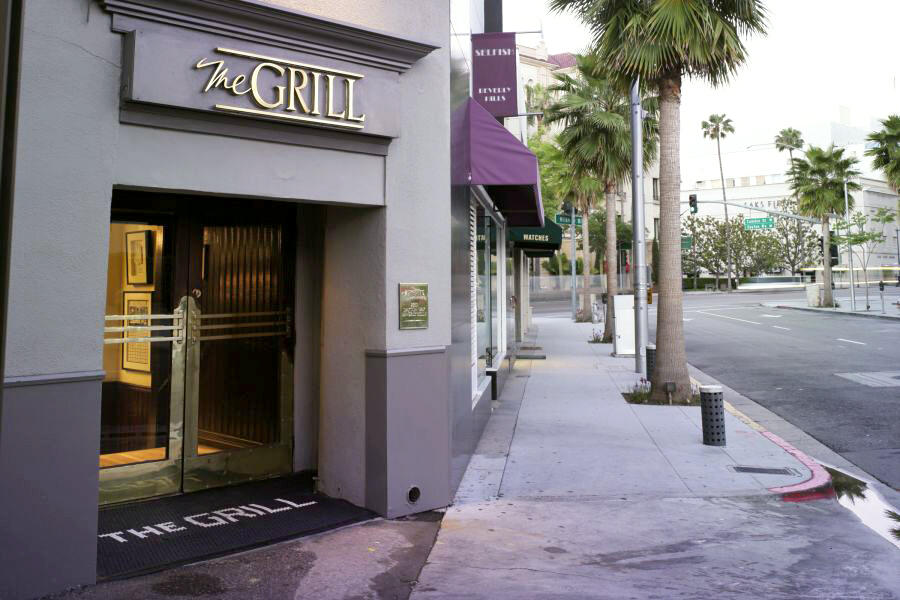 The Grill on the Alley
A few steps from Rodeo Drive, The Grill on the Alley opened its doors in 1984. As one of the most iconic restaurants in Beverly Hills, The Grill on the Alley has an interesting story of how it got its start. Originally, the Beverly Hills Planning Commission denied moving the restaurant's entrance from Wilshire Boulevard into the narrow alley on Dayton Way. In return, the co-founder then nailed a mailbox onto the tiny sliver of his building that faced Dayton Way and mailed himself a letter. Once received, he used the letter as proof to show a valid address and was able to launch his restaurant. This experience inspired the name of the restaurant, The Grill on the Alley. The restaurant serves classic, mouth-watering prime steaks and chops, jumbo lump crab cakes, traditional dishes including chicken pot pie and meatloaf. In addition to tasting all-American favorites of the past, you can also feel a touch of history from the restaurant's waiters, many of whom have worked there since the restaurant's opening and still wear vintage uniforms paying tribute to the old, glory days of America. The Grill is also frequented by many power players in the entertainment industry, many of whom use the same booths for years on end to enjoy lunch.
---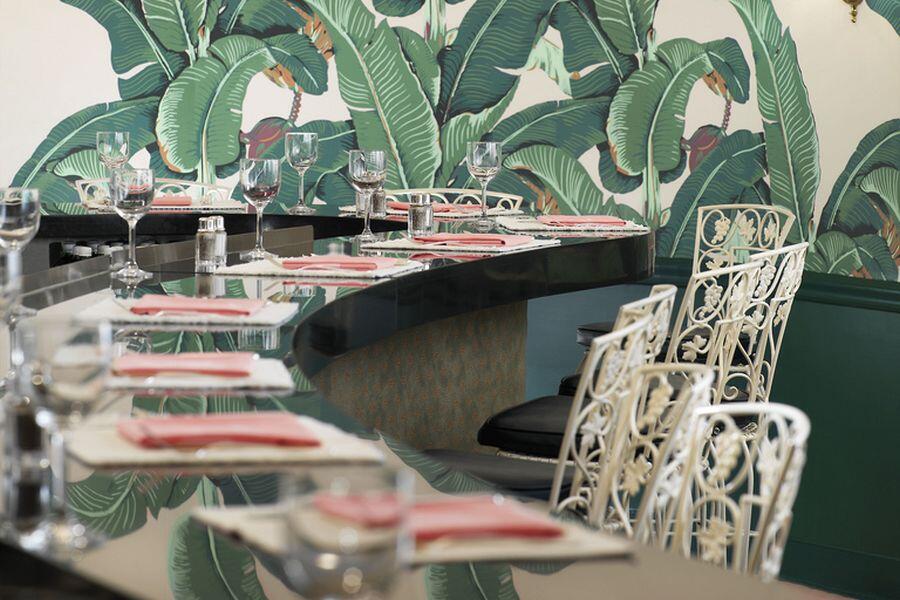 Fountain Coffee Room at The Beverly Hills Hotel & Bungalows
Since 1949, guests have been frequenting the Fountain Coffee Room to enjoy comforting and classic favorites inside a piece of Beverly Hills history, The Beverly Hills Hotel & Bungalows which opened in 1912. The historic coffee shop is a home away from home, transporting visitors back to the past. It is ideal for dining alone or with kids, with a casual atmosphere that delightfully contrasts with the hotel's high-end environment. The hotel's signature banana wallpaper lines the walls of the Paul Williams' designed interior which was renovated to its near original condition in 1995. Its centerpiece is an undulating circular counter which runs the length of the tiny, nineteen seat coffee shop. Fountain Coffee Room specializes in homemade items ranging from ice cream to daily changing pies including the Mary J. Blige pie, a whipped cream, banana and caramel concoction made from Mary J's very own recipe. Just one bite is guaranteed to make you feel as if you were back in the kitchen with grandma.
---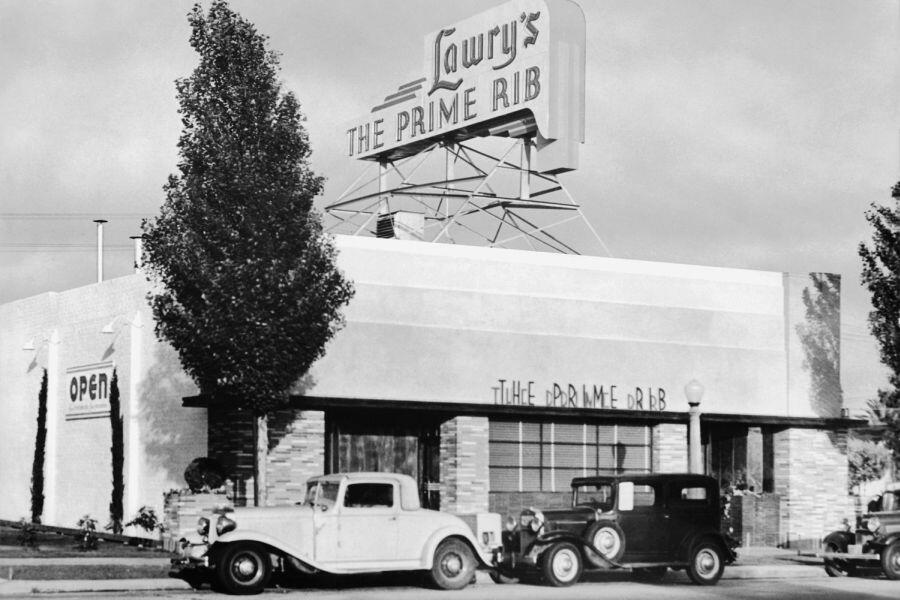 Lawry's The Prime Rib
Lawry's The Prime Rib is a favorite among Beverly Hills locals and visitors alike. Located on La Cienega Boulevard, it's the only original member of the mile-long Restaurant Row in Beverly Hills that is still in business today! For more than 90 years, Lawry's continues to serve loyal and new guests with luxurious comfort food and warm hospitality. Many of its servers have been employed there for over 30 years and still wear the restaurant's original uniform which is affectionately referred to as the "Brown Gown." Lawry's not-to-be missed plates include The Famous Original Spinning Bowl Salad which servers assemble tableside, Prime Rib carved tableside, mashed potatoes and Yorkshire pudding. A place of grand style, incomparable service and bygone grandeur, Lawry's has proven itself as one of the iconic restaurants in Beverly Hills standing the test of time.
---
La Dolce Vita
Founded in 1966 and counting Frank Sinatra and George Raft among its original investors, La Dolce Vita has seen a lot of history over its 50+ years. The restaurant has hosted several sitting presidents and Hollywood royalty such as Dean Martin, Kirk Douglas and many of today's biggest stars. The Frank Sinatra booth is revered as one of the most sought-after tables in Beverly Hills. Decorated by academy award winning set designer Lyle Wheeler (of The Wizard of Oz fame), La Dolce Vita was built to resemble a New York style Italian restaurant. The location was recently restored to its original luster and enjoys a clientele comprised of long-standing Beverly Hills regulars and a newer customer base that enjoys unique craft cocktails and the freshest of ingredients within its traditional northern Italian style menu.
La Dolce Vita remains temporarily closed as of August 4, 2021.
---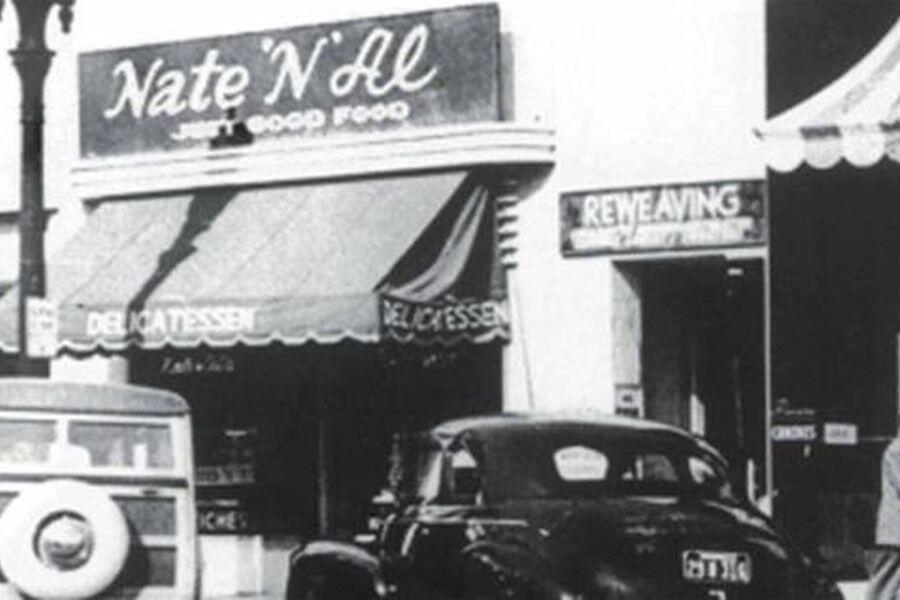 Nate 'n Al of Beverly Hills Delicatessen
Named after founders Al Mendelson and Nate Reimer, Nate 'n Al is a true mom-and-pop restaurant nestled in the heart of Beverly Hills. With classic photos of the restaurant's original look lining the walls and vintage booths, guests feel like as if they are stepping back to 1945 when entering this special restaurant. When Nate 'n Al first opened, the restaurant could only host thirty people, but its popularity skyrocketed as directors, producers and stars made it a Hollywood hideaway. Later the deli expanded to its present size and remains the same today. As "a deli with heart," Nate 'n Al is committed to using certified angus beef and secret spices for their high-quality brisket, short ribs, corn beef and burgers. It even boasts the country's "Best Hot Dog."
---
For more ways to experience your culinary adventure in Beverly Hills, visit our Dining section.
Updated: November 11, 2022