Pooch Pampering: Beverly Hills Has Gone to the Dogs
Beverly Hills is widely known for its world-class shopping, glamorous hotels, lavish spas and stylish amenities. What most don't know is that humans aren't the only ones who can revel in a wide selection of spa, retail, hotel and beauty services. These high-quality services are also available for your furry friends!
Tail Wagging Stays
Beverly Hills hotels are well known for going above and beyond for their guests, but did you know that this world-class service applies to their pets, too?
AKA Beverly Hills, Avalon Hotel, The Beverly Hills Hotel, Beverly Wilshire, A Four Seasons Hotel, The Maybourne Beverly Hills, The Mosaic Hotel, The Peninsula Beverly Hills and Viceroy L'Ermitage Beverly Hills each welcome their four-legged guests with a host of pet-friendly hotel amenities.
AKA Beverly Hills offers a pet-friendly stay for you and your dog. Enjoy plenty of private outdoor space on-site for taking in some fresh air with your dog. Just across the street, Crescent Park boasts additional space and greenery to walk your dog and play outside. Located within close proximity to trusted neighborhood pet stores and groomers. The weekly pet fee is $200, and AKA welcomes larger pups too with no weight limits (service animals with proper paperwork are complimentary).
Avalon Hotel offers plush beds, feeding bowls, doggie treats and the best part of all is a portion of the pet fee is donated to the Best Friends Animal Society whose mission is to eradicate homeless pets. You and your BFF can stay in comfort and style and feel good about giving back and sharing kindness with all animals. The hotel welcomes pups up to 50 pounds with a $100 pet fee per stay.
The Beverly Hills Hotel spoils pups with dog beds, bowls and bone shaped doggie cookies with doggie's name handwritten on each cookie, from the hotel's bakers. Following their afternoon nap and fancy feast, pups can explore the well-manicured grounds and beautiful city with their owners or with a premiere dog walker. The daily pet fee is $35, and the hotel welcomes even their large furry friends with no weight limit.
At Beverly Wilshire, A Four Seasons Hotel, dogs and cats up to 15 pounds are welcome, so you and your furry friend can experience the classic hotel together. Choose from exclusive in-room amenities, including water bowls, piddle pads and a luxurious Beverly Wilshire pet bed. Be sure to stop by the hotel's concierge desk for additional information on the Beverly Hills Community Dog Park, as well as dog walking and grooming services within the city.
The Maybourne Beverly Hills treats your pup (up to 50 pounds) to a luxurious getaway with fluffy dog beds, fancy food bowls, to-go water bottles and a warm welcome! Pet owners can enjoy the lush Beverly Cañon Gardens next door or pups can strut down Rodeo Drive accompanied by a trusted dog walker, hand selected by the hotel's concierge. The daily pet fee is $50.
The Mosaic Hotel is proudly dog-friendly and welcomes beloved canines that weigh up to 40 pounds. Guests with dogs are required to pay a non-refundable $150 deposit per stay.
At The Peninsula Beverly Hills, you and your four-legged friend can be wined and dined in the comfort of your room with doggie room service. Pets can eat gourmet treats from their custom food bowls in addition to receiving specialized canine spa treatments. Schedule a morning walk for your furry friend through the concierge desk and after they can enjoy some beauty rest in the luxurious dog beds provided by the hotel. The daily pet fee is $35, and the hotel welcomes even their large furry friends with no weight limit.
Pooches are happily welcomed, by name, upon arrival at the L'Ermitage Beverly Hills. In-suite, you will find a luxe dog bed, leash, food and water bowls. Additionally, a "Pet in Room" door hanger can be displayed to ensure your four-legged friend is not disturbed. Dog walking services can be arranged through the hotel's concierge to ensure you and your best furry friend can both enjoy a night out on the down while plush pet toys and treats are also available to ensure a tail-wagging stay. The hotel's furry friends must not exceed 40 pounds. Pet stays are subject to a $150 fee with 50% of the pet fee donated to Wags and Walks, a local adoption center and community that works to support and promote shelter dogs.
*Please contact hotels directly for updated pet restrictions and fees (if applicable).
---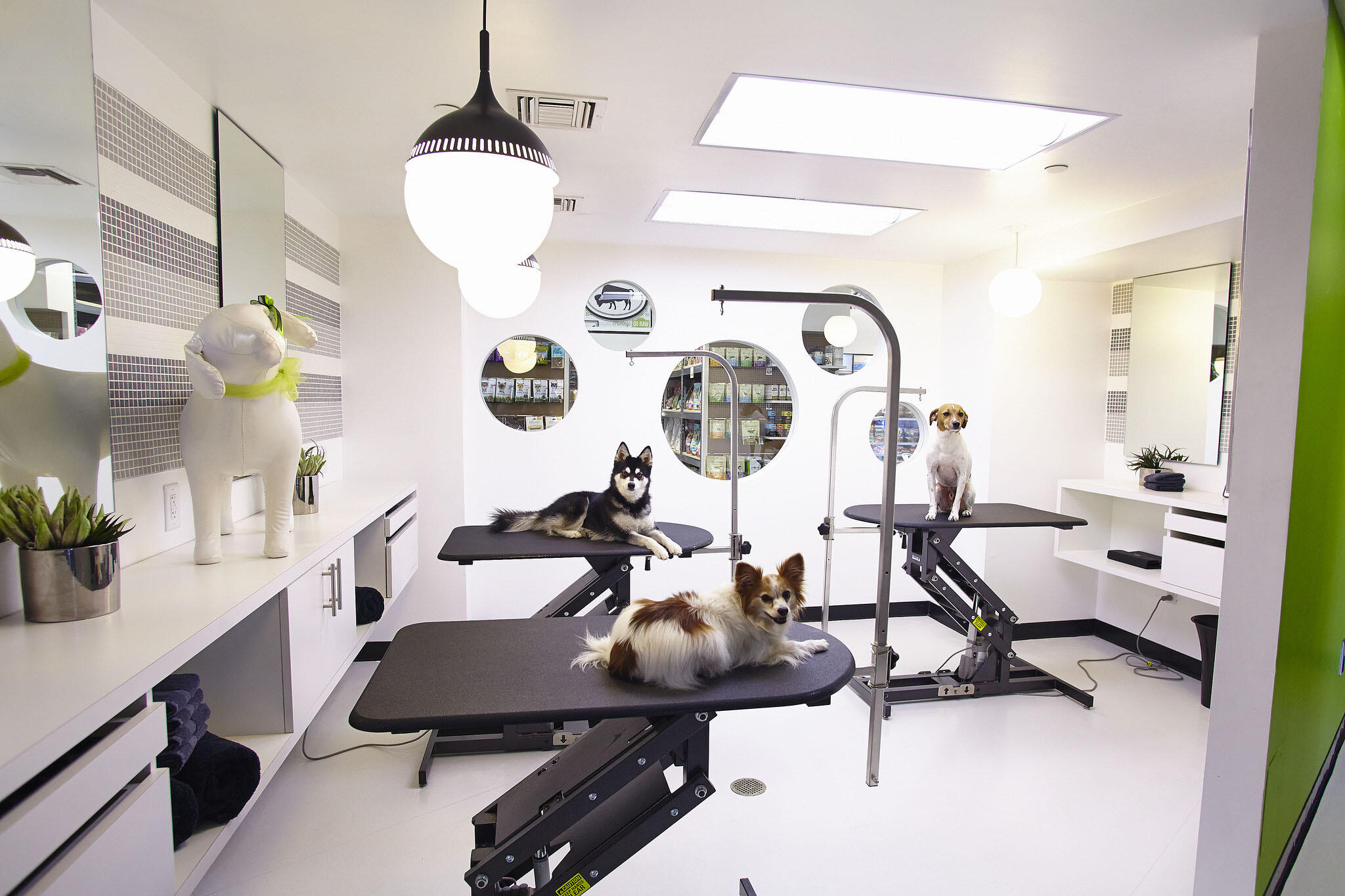 Not Your Ordinary Dog Grooming Salon
While you're out enjoying all Beverly Hills has to offer, make it a day for your dogs as well and drop them off at the salon for a day of pampering.
Take your four-legged friend to Sparky's Pet Salon. The salon offers a wide range of grooming services as well as unique ways to comfort your pet. Pamper your pet any day of the week where professional groomers execute traditional hair cutting, styling, and bathing services with eco-friendly and biodegradable products. There is even a boutique with a fabulous selection of pet clothes and accessories from the ultimate in style to the ultimate in function.
---
Pet-Friendly Treats
Once you're done pampering your pet, top off the day with a delicious treat!
For a sweet experience to share with your pet, head to Sprinkles Cupcakes and step up to their ATM where you can not only pick up cupcakes for yourself, but for your pets as well. Pupcakes are sugar-free, topped with a yogurt frosting, and enjoyed by all breeds!
---
Fashion for Fido
From world-renowned fashion houses to one-of-a-kind local boutiques, Beverly Hills offers a shoppers' paradise – not only for you, but for your furry friend too.
Want your pampered pooch to be red carpet ready? Pawsdeluxe products is for sophisticated animal lovers who want the latest and most exclusive pet accessories. Indulge with luxury pet collars, jewelry, outfits and gear that your furry family members deserve. Some of their most glamourous products can be found at Christophe Salon located on North Beverly Drive.
Legendary fashion house, Louis Vuitton with its flagship store on Rodeo Drive carries many exclusive products, as well as many pet accessories too. The brand offers the finest in dog accessories such as dog carriers, luxe leashes and dog collars.

---
From five-star hotels and pet fashion boutiques to lavish pet spas and pet-friendly eateries, Beverly Hills has given new meaning to the phrase "It's a Dog's Life." Leash up your pup and let them join you in experiencing the luxe life in Beverly Hills.
For more ways to enjoy a day in the city, Discover Beverly Hills.
Revised March 9, 2021.