Beverly Hills Signature Events
Superb dining options, top-notch hotels, the sweetest treats and scores of boutiques from the best brands are just a few things that make Beverly Hills a premier destination, year-round. But what makes the city even more special are its signature events and promotions. From priceless car shows, art festivals and pet parades to holiday celebrations, farmers markets and outdoor concerts, Beverly Hills gives everyone a great reason to visit.
Rodeo Drive Concours d'Elegance
A Father's Day tradition for over 20 years, the Rodeo Drive Concours d'Elegance draws high quality classic automobiles and luxurious new models to Beverly Hills, such as the 2015 Ford Mustang, a 1927 Rolls-Royce Phantom and a McLaren 12C. The coveted automobiles are displayed along Rodeo Drive for auto-enthusiasts of all kinds to admire.
Named one of the "300 Unmissable Events & Festivals Around the World" by top travel publisher Frommer's, The Rodeo Drive Concours d'Elegance follows a different theme each year. Previous themes include, "THE BRITISH ARE COMING!" with Aston Martin as a featured marque and "100 Years of Horse Power," a celebration of Beverly Hills' centennial year in 2014.
In years past, the event welcomed George Barris' 1966 TV Batmobile, launched the all-new Jaguar XJ model and in celebration of Learjet's 50th anniversary, parked a mockup of the new Learjet 85, a private jet, on Rodeo Drive for thousands of people to see up-close.
MORE INFORMATION
---
Concerts on Canon
In the summer months, locals and visitors are invited to attend a series of outdoor concerts produced by the City of Beverly Hills: Concerts on Canon.
Every Thursday evening under the stars, residents and travelers gather to listen to live music in Beverly Cañon Gardens at Concerts on Canon. Musical styles vary from jazz and samba to classic rock-and-roll. Seating is first-come, first-served and guests are encouraged to order their meals to-go from one of the many neighboring restaurants to enjoy at the show.
MORE INFORMATION
---

Woofstock 90210
Once a year, the City of Beverly Hills Department of Community Services invites pets and pet lovers alike to Roxbury Park for Woofstock 90210! This free canine extravaganza features over 35 pet-related vendors, food trucks and live entertainment, including a pet parade and talent show competition, where awards are given to "Best Dressed" and "Most Talented." Woofstock 90210 also has veterinarians and trainers on-site to meet with and collect more information about their services. Though this event is geared more towards the doggies, in the past there have been vendors with products for your feline friends too.
To round out this family-friendly event, there are always on-site pet adoptions for those looking to give a furry friend a new home. Grab your pups, you won't want to miss out on this tail-wagging good time!
MORE INFORMATION
---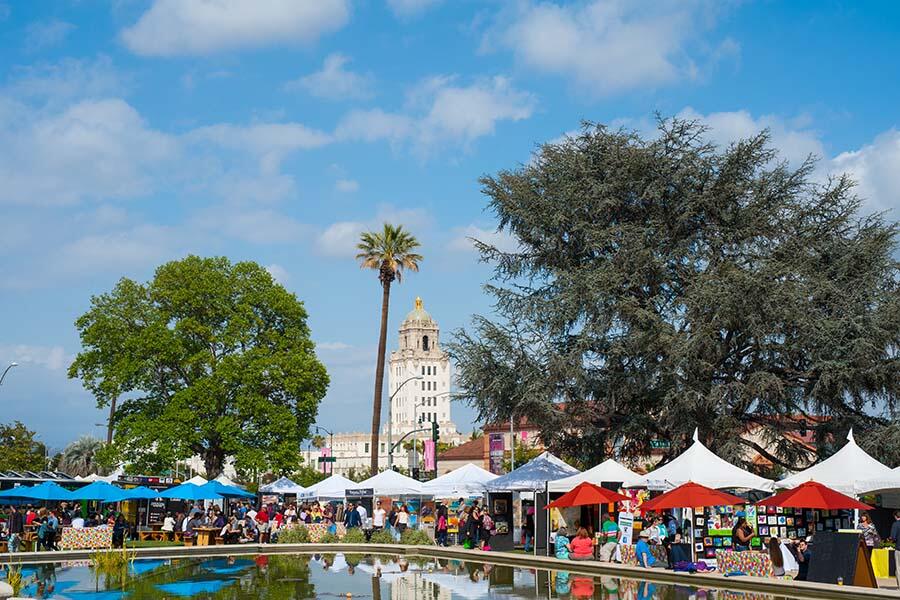 Beverly Hills artSHOW
Each spring and fall, four blocks of historic Beverly Gardens Park become the place to be for art enthusiasts, food truck fans and anyone looking to enjoy the day outside at the Beverly Hills artSHOW. These two-day shows are one of the city's many tributes to arts and culture and attracts over 240 international and domestic artists who showcase and sell their artwork. Art pieces on display and for sale come in various mediums including, watercolor, paint, jewelry, sculpture and pottery. All featured artists staff their booths throughout the weekend so they may provide details on the pieces they create and the inspiration behind them.
The artSHOW attracts as many as 50,000 attendees, including Southern California art dealers searching for new art to add to their collections. The Beverly Hills artSHOW is family-friendly, free to attend and also features food trucks, beer and wine gardens, children's art stations and live music.
MORE INFORMATION
---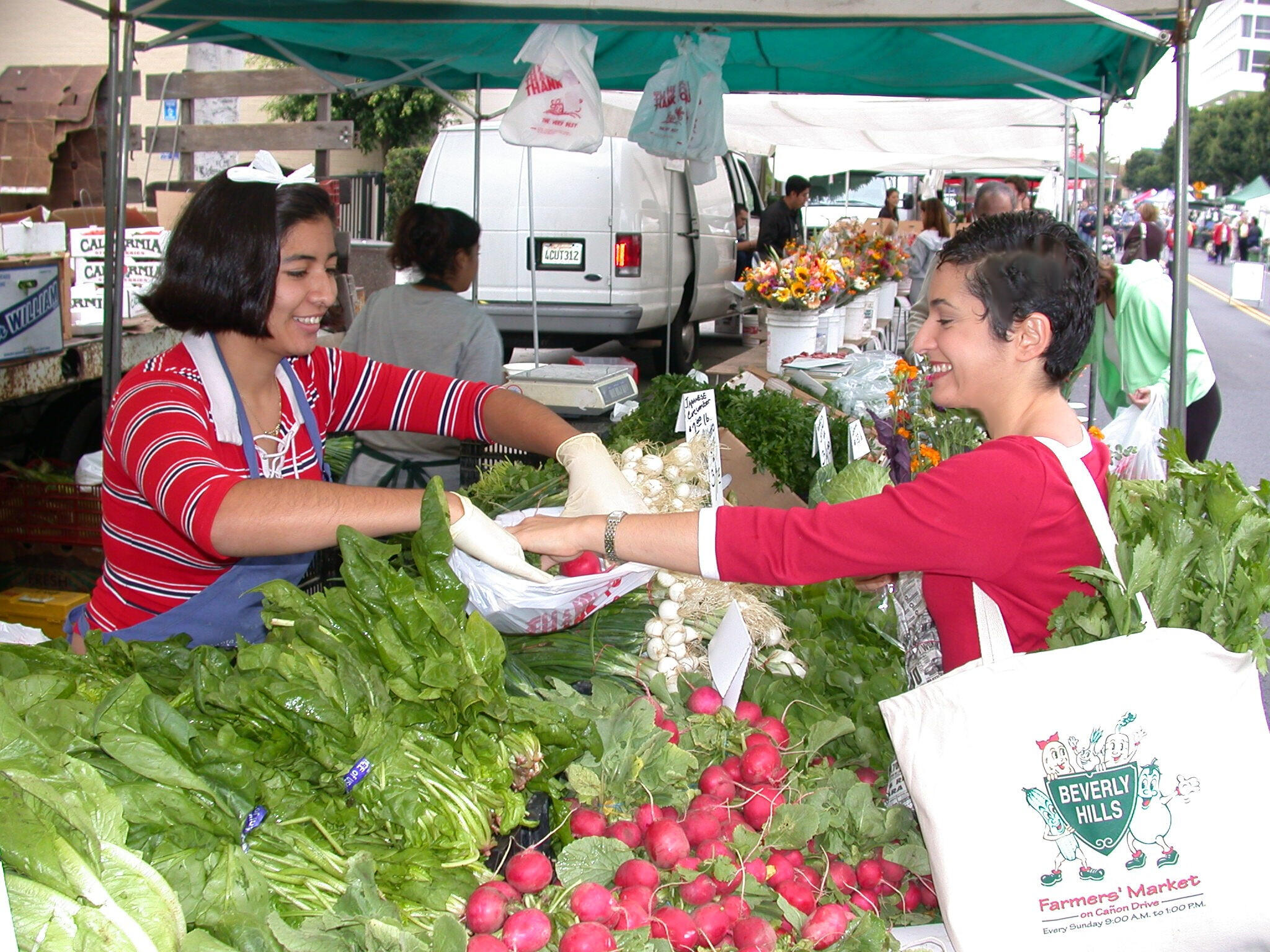 Beverly Hills Farmers' Market
Open every Sunday from 9 A.M. - 1 P.M., rain or shine, the Beverly Hills Farmers' Market offers the finest California-grown seasonal produce, juices, baked goods, specialty items and more in a festive open-air setting. This certified farmers' market showcases more than 60 local farmers and vendors and features a petting zoo, live music and holds special events like an annual Pie Bake in June, PickleFest in August and Cookin' Kids, an educational workshop held on the 2nd Sunday of each month.
MORE INFORMATION
---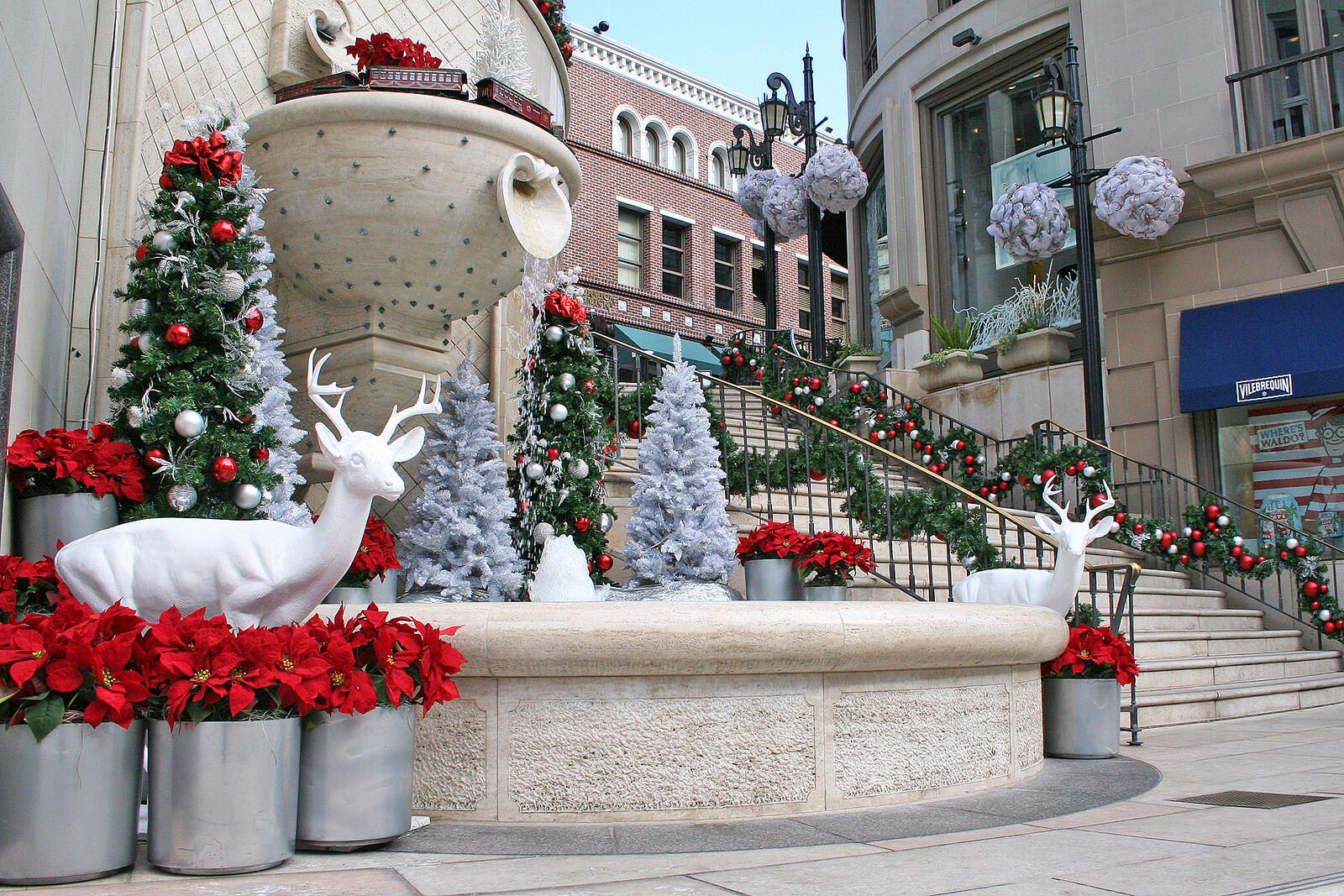 The Holiday Season in Beverly Hills
From November to January, Beverly Hills transforms itself into a winter wonderland in celebration of the holiday season. Store fronts and hotel lobbies become must-see attractions as they update their décor to reflect the colors and spirit of the season. Multiple festivities, from live music to visits with Santa, take place in the Golden Triangle and attract families from near and far.
The season kicks off with the Rodeo Drive Lighting Celebration. This event is free to the public and often includes live music and entertainment. In years prior, the holiday season in Beverly Hills has featured a European-style Holiday Bazaar, the lighting of a 9-foot menorah, visits with Santa and a special tour around town aboard the city's Jolly Trolley with Mrs. Claus as a guide.
MORE INFORMATION
---