World-Renowned Service by the Numbers
With bespoke experiences available to each guest, it is no wonder countless celebrities, VIPs, government officials and royalty look to Beverly Hills to experience a level of personalized luxury not available anywhere else. Explore our list of fun facts these world-renowned properties take to go above and beyond for guests.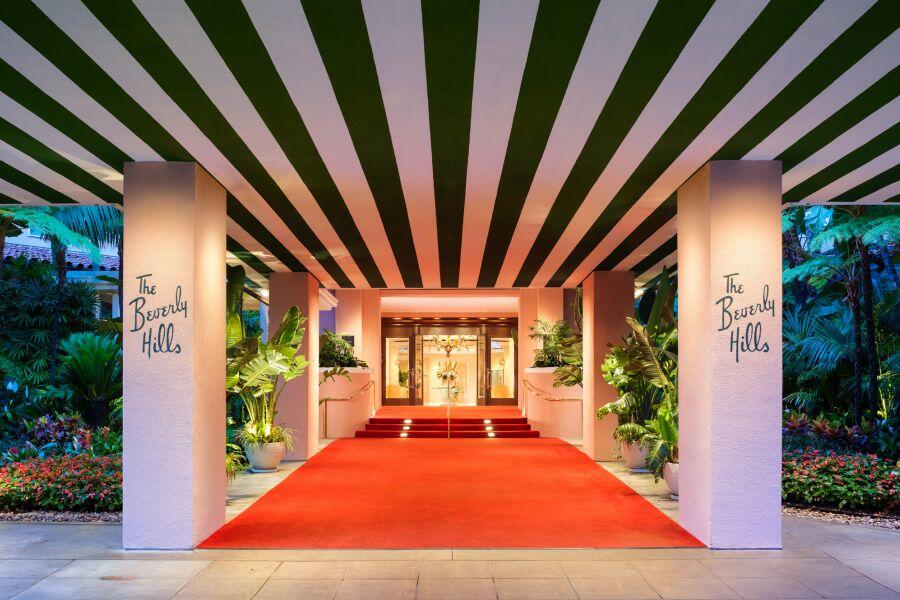 The Beverly Hills Hotel (completed 1912) is the city's first historic landmark.
In the late 1930s, The Beverly Hills Hotel had white sand "imported" from Arizona to fill part of the area surrounding the pool to create a faux beach for the hotel's very popular Sand and Pool Club.
At The Beverly Hills Hotel, the celebrated red carpet entrance is touched up eight times a day and nearly 3,000 times a year to ensure guests receive the legendary welcome they have come to expect.
273,750 lush white towels are used every year to cover the green and pink chaise lounges at the famous pool.
Of the 34,000 signature McCarthy Salads served at the 73-year old Polo Lounge, 13,600 of them are customized to guests' preferences. No cheese, extra beets? No problem.
---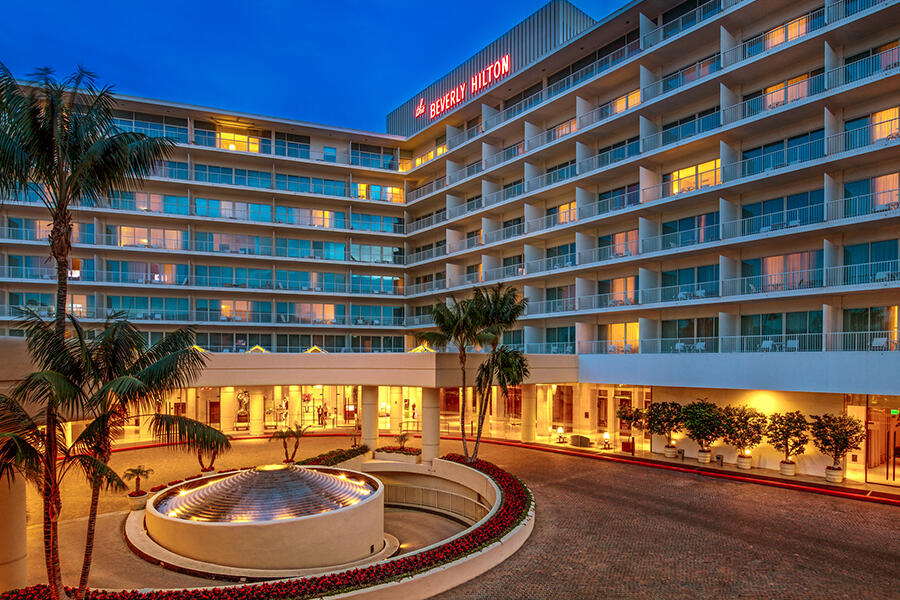 The Beverly Hilton hosts over 150 large red carpet events each year. It takes 30,000 square feet of red carpet to line the driveway and entry for the celebrity and VIP arrivals show.
On the night of the opening gala in 1955, uniformed Harold trumpeters greeted guests with a regal fanfare as pink-painted elephants, escorted by bathing suit beauties, circled the main entrance of the hotel.
The Beverly Hilton has the largest heated pool in Beverly Hills and is kept at a temperature of 82 degrees year-round.
The Beverly Hilton has been the home of the Golden Globe Awards since 1961. On Golden Globes night, The Beverly Hilton becomes a city of nearly 6,000 people. Nearly 1,300 guests will dine and participate in the live telecast of the annual award show. Around 3,000 additional guests will attend viewing and after-parties throughout the hotel. More than 185 media outlets including 58 camera crews, 65 still photographers and over 100 journalists will capture and report the red carpet arrivals and winners to audiences around the globe.
The fifth floor parking structure was once where Jack Kennedy, Inger Stevens, Angie Dickinson and Marilyn Monroe's helicopter used to land.
A year after the opening, when the hotel reached the seventh floor, Conrad Hilton and his team lowered a stainless steel-lined time capsule into a concrete vault below the lobby. Intended to be opened in 2054, the capsule contained a: 1954 Almanac, Beverly Hills phone directory, Sears Roebuck catalogue, copy of Beverly Hills Daily News Life, recordings of the five most popular tunes that week, written history of Beverly Hills and a prayer written by Conrad Hilton.
---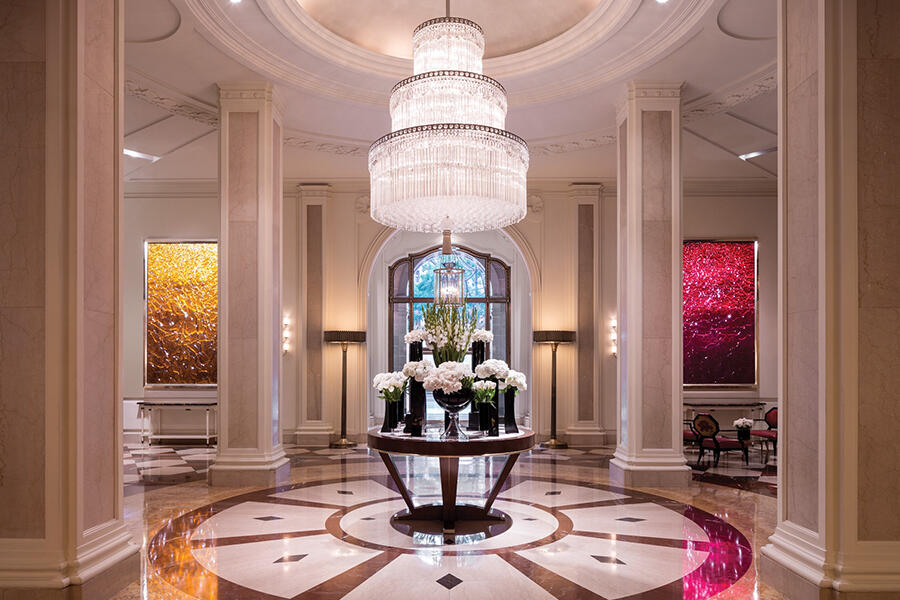 The building of the famous Beverly Wilshire, A Four Seasons Hotel was constructed in 1928 on part of the site of what used to be the Beverly Hills Speedway.
THEBlvd's most popular drink is the Pretty Woman cocktail, selling over 4,000 every year.
The Spa at Beverly Wilshire offers more than 50 unique services from their luxurious Red Carpet Ready facials to manicure and pedicures, massages and their signature 111SKIN customized treatments. The team at the Forbes Five-Star Spa at Beverly Wilshire has combined therapeutic experience of 185 years.
10,606 is the number of combined years of service, amongst over 800 employees at this historic hotel. Over 200 employees worked at Beverly Wilshire, A Four Seasons Hotel for over 20 years and one employee reportedly has worked at the hotel for 50 years!
On a yearly basis, Beverly Wilshire, A Four Seasons Hotel sees over 153,000 guests at its catered events from weddings to bar mitzvahs and red carpet galas.
Beverly Wilshire, A Four Season Hotel's room service department services over 50,000 orders on a yearly basis.
---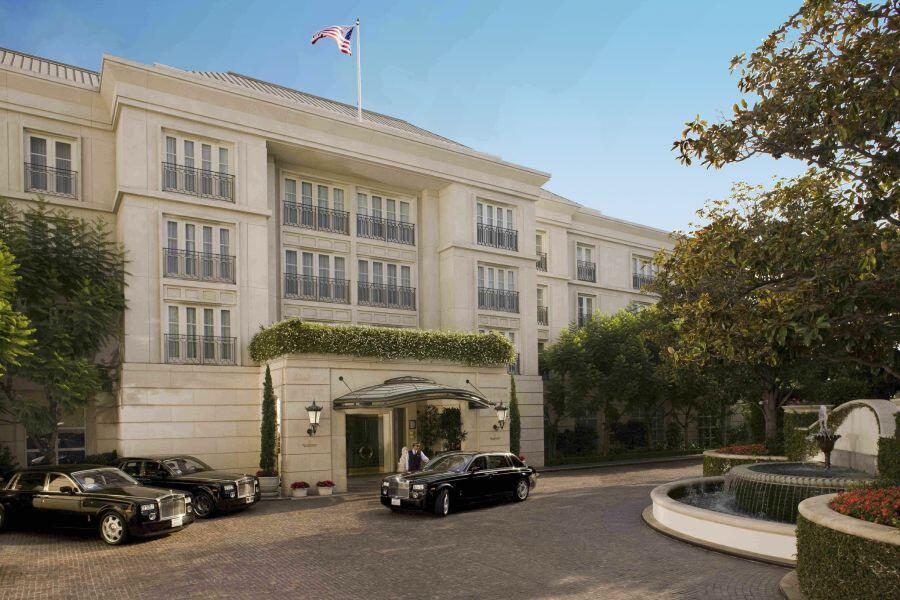 The art collection at The Peninsula Beverly Hills is comprised of almost 500 pieces, including paintings, sculptures and works of photography. Contemporary art lovers will enjoy the collection of American classics from illustrious artists including Andy Warhol, Alex Katz and Robert Indiana, in addition to international artists such as Fabienne Verdier, with her Chinese calligraphy inspiration, and Yayoi Kusama and her wildly colored, psychedelic dots.
The Peninsula Beverly Hills is the only hotel in Beverly Hills with a rooftop garden where the chef picks vegetables, herbs and other items to use on The Belvedere menu, which is recognized as the only Five-Diamond restaurant in Los Angeles by AAA.
At The Peninsula Beverly Hills, the housekeeping AND valet take more than 20,000 steps a day to ensure the property looks pristine at all times.
Each month, approximately 50 four-legged guests are pampered with personalized towels, doggy beds and a menu with treats like "Spot's New York Strip" and the hotel's bellman known as the Peninsula Pages can be found walking these guests around the neighborhood daily.
Resident pianist Antonio Catillo de la Gala can play more than 2,000 tunes by heart.
The Peninsula fields 300+ concierge requests 24-hours-a-day with seven staff – and there is no request that they cannot fulfill with proper notice.
---