30th Annual Garden Tour & Showcase Estate at Virginia Robinson Gardens
May 19, 2018 | 10:00 a.m. - 4:00 p.m.
Virginia Robinson Gardens
1008 Elden Way
Beverly Hills, CA 90210
Tel: (310) 550-2068
PURCHASE TICKETS
For the past thirty years, the Friends of Robinson Gardens has organized the annual "...into the garden" Benefit Garden Tour to raise funds for the Virginia Robinson Gardens historical estate. This event is truly a one-of-a-kind garden party experience as ticket holders get the opportunity to visit selected private home gardens rarely seen by the public. The affair peaks mid-day with a gourmet luncheon catered by The Kitchen for Exploring Foods, at which time the Friends will honor renowned interior and architectural designer, Richard Shapiro, as Grand Marshal. Throughout the estate, ticket holders can view the mansion's historical rooms uniquely embellished by premier interior designers and florists. Guests will also enjoy an exclusive fashion show by Ted Baker London, as well as an opportunity to shop for unique gifts at the grand boutique located on the covered tennis court.
Attendees are encouraged to dress for touring with walking shoes when visiting the gardens. It is recommended that attendees dress in layers, wear sunscreen and bring a hat.
Program Schedule:
Garden Tour | 10:00 a.m. to 4:00 p.m.
Culinary Tastings with Celebrity Chef Timothy Hollingsworth of Otium | 11:00 a.m. to 3:00 p.m.
Luncheon by The Kitchen for Exploring Foods | 11:30 a.m.
Meet & Greet Irene Edwards, Editor-in-Chief of Sunset Magazine | 12:30 p.m. to 2:00 p.m.
Fashion show by Ted Baker on the Great Lawn | 1:15 p.m.
Book signing with Grand Marshal Richard Shapiro | 2:00 p.m.
Opportunity Drawing | 3:30 p.m.
For more information, please dial (310) 550-2068 or email info@robinsongardens.org.
More
Less
Read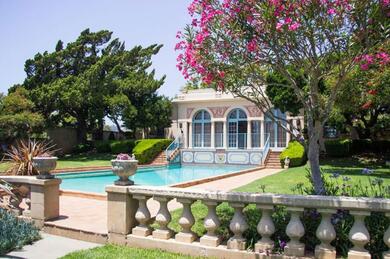 Related Events
9300 block of Civic Center Drive
Beverly Hills, CA 90210
Tel: (310) 285-6830