Things To Do On Rodeo Drive
Beverly Hills is known around the globe as one of the most fashionable places to shop. In the heart of it all sits the crown jewel, Rodeo Drive. With more than 100 world-renowned stores and hotels comprising its three magnificent blocks within the Golden Triangle, it is easy to become lost in the street's unique splendor and charm.
Located at the base of Rodeo Drive on Wilshire Boulevard is one of Beverly Hills' oldest and most luxurious hotels, Beverly Wilshire, A Four Seasons Hotel. Constructed in 1928, the legendary property features 395 rooms and suites and has served as the home to many iconic personalities, including Warren Beatty, John Lennon and Elvis Presley. Today, it is affectionately known as the "Pretty Woman hotel" as it provided the backdrop to exterior scenes from the classic film with Richard Gere and Julia Roberts. Living up to its nickname, the in-house nail salon, The Nail Bar, plays the movie for you to watch as you sip champagne and enjoy your hand or foot treatment.
The hotel offers many dining options for those wanting to spend some extra time admiring the property: THE Blvd, serving local California fare with Mediterranean influences, is open for breakfast, lunch and dinner, and offers weekend brunch. CUT by celebrity chef Wolfgang Puck, serves some of the finest steak and seafood cuts in town, guaranteed to satisfy any appetite. The hotel's two lounges, CUT Lounge and THE Blvd's lounge, feature small plates and a wide selection of wine and cocktails for those looking for a more social atmosphere.
Not to be missed is the Spa at Beverly Wilshire, which is the only hotel in the United States to offer the Diamond Rose collection from Natura Bisse, as well as Evolue and Elemis treatments. If you do not have enough time for a meal or spa treatment, we suggest taking a few minutes to admire the timeless beauty of the hotel's lobby, complete with seasonal floral displays, a massive crystal chandelier and a vintage mailbox which is still in working condition and on display beside the elevators.
---
Just across the street from Beverly Wilshire, A Four Seasons Hotel, sits Two Rodeo Drive, Beverly Hills' own European-style shopping center complete with a cobblestone walkway, street lamps and floral displays. Famous brands like Versace, Jimmy Choo, Lanvin and Tiffany & Co. are found here, as well as 208 Rodeo Restaurant, which offers one of the best patios for alfresco dining in Beverly Hills.
For the perfect photo to add to your collection of Beverly Hills memories, strike a pose in front of the stairs and fountain on the south end of Two Rodeo Drive, as well as the famous Via Rodeo sign on the north end of the cobblestone street.
---
While the Hollywood Walk of Fame honors those in the entertainment industry, fashion superstars have a sidewalk tribute of their own. On Rodeo Drive, from Wilshire Boulevard to South Santa Monica Boulevard, visitors can walk among some of their favorite fashion icons on the Rodeo Drive Walk of Style®. First introduced in 2003 by the City of Beverly Hills and the Rodeo Drive Committee, Walk of Style honors fashion legends for their contributions to the fashion and entertainment industries. Recipients are selected by an independent group of representatives from media, entertainment and fashion, and are honored with a permanent plaque featuring a personal quote and their own signature. These plaques are then embedded into the sidewalk of Rodeo Drive as a lasting tribute to each honoree. Past Walk of Style recipients include Fred Hayman, Tom Ford, Giorgio Armani, Princess Grace of Monaco, Salvatore Ferragamo, Gianni and Donatella Versace and Manolo Blahnik.
---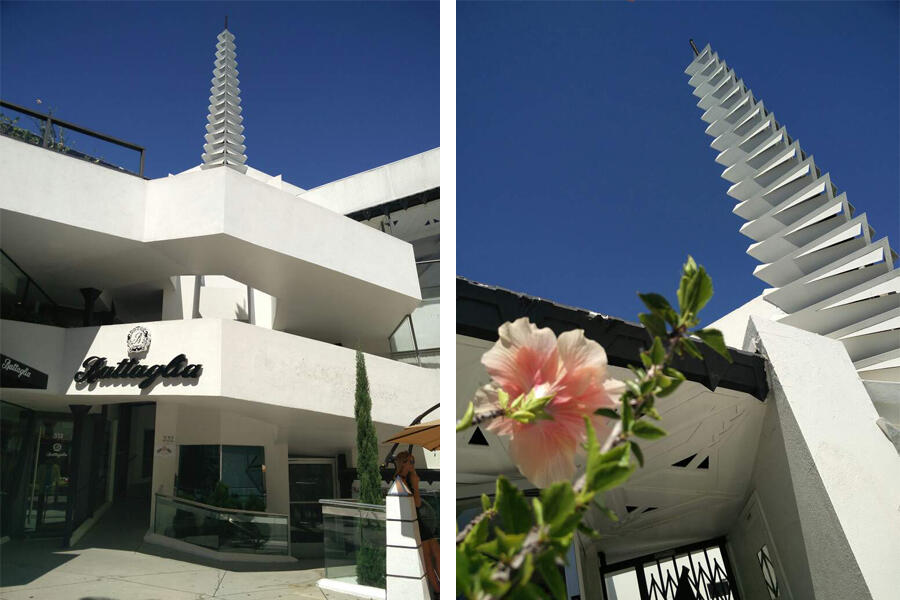 Situated on Rodeo Drive between Dayton Way and Brighton Way, visitors will find one of Frank Lloyd Wright's architectural projects, Anderton Court. The three story building houses six boutiques and is famous for its unique design which is completely devoid of steps and instead relies on a series of ramps to move between floors. Constructed in 1952, it was the iconic architect's final structure in Los Angeles, making it an unofficial and permanent monument to the memory of its maker.
---
Rodeo Drive's unrivaled shopping options have solidified their status as one of the most popular destinations in Los Angeles. With over 100 boutiques offering the finest in fashion apparel, handbags, shoes, home accessories, jewelry and more; shoppers can find almost anything within these three famed blocks. Not to miss is a step inside the flagship stores on Rodeo Drive for brands such as Chanel, Hermes, Cartier, Louis Vuitton and Harry Winston, which carry their full collections, including items exclusive to the Rodeo Drive store.
---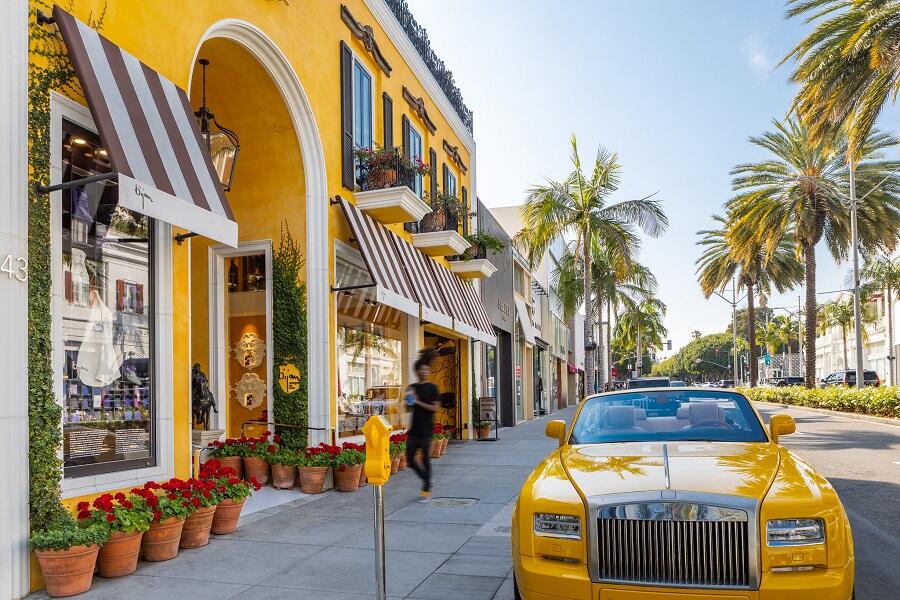 Another treasure that can be found on Rodeo Drive is a collaboration between a fashion designer and an automotive brand. House of Bijan's Bijan Pakzad's custom Rolls-Royce Phantom Drophead Coupe is one of the most popular attractions on Rodeo Drive, with hundreds of tourists snapping photos daily. The yellow Rolls-Royce has become a permanent fixture along the street, earning itself a matching yellow parking meter and sidewalk plaques featuring the brand's logos beside its Rodeo Drive parking spot. Operating on an appointment-only basis, House of Bijan is one of Rodeo Drive's most exclusive men's store catering to royal families, celebrities, athletes, dignitaries and even the last four United States presidents.
---
Revised September 21, 2021