Where to See a Different Kind of Star in Beverly Hills
A look at the four Michelin star restaurants in the city and other nods by the famous dining guide.
While you can see plenty of stars in Beverly Hills, including famous chefs, the dining scene has also been experiencing a renaissance over the past year and the coveted MICHELIN Guide has also taken notice.
by guest author, Carole Dixon
First Star I See Tonight
Gucci Osteria da Massimo Bottura, by world-renowned three-star Italian chef Massimo Bottura, just joined the revered ranks by earning its first Michelin-star in this country for the chef and the brand.
After perusing the fashion downstairs, take the side elevator up to the European patio setting with stunning Rodeo Drive views. The real secret weapon here is Chef Mattia Agazzi who hails from the original Florence location and executes the famous tortellini with creamy parmesan Reggiano sauce - still a star in its own right. Another hit is the Santa Barbara Uni carbonara with burnt lemon or the crispy veal sandwich with balsamic vinegar from Moderna.
"This is a reward for the whole Gucci Osteria Beverly Hills team," said Agazzi. "It has been a very challenging time for the global hospitality industry, and we were forced to close after just a few weeks of opening, re-opening months later. The team, however, has remained focused, united and driven to create dishes of style and substance. We're lucky to have some of the best ingredients in the world on our doorstep. The fact that we can use Californian ingredients to present a contemporary Italian cuisine inspires us, and to be recognized for this is something very special indeed, grazie!"
Photo credit: Gabriele Stabile
---
Star Twist
This also might be a first: Celebrated Chef Curtis Stone and his team at Maude retained their star even though the fine dining restaurant was on a hiatus during the pandemic.
"Recognition from MICHELIN is what chefs in fine dining reach for — it's the ultimate honor," said Stone. "These past 18 months have been the most challenging of my professional career. Pivoting and staying nimble is the name of the game and it's what we do. When all restaurants were forced to close it was heartbreaking but I was never more convicted to re-open Maude. As my first, the restaurant holds such a special place in my heart. We were already working on plans to bring the dining room back to life when we received word, we retained our star. It's humbling, gratifying, and the greatest motivator to keep striving for excellence."
Maude has now reopened fully for the multi-course menu derived from celebrated wine regions.
Photo credit: Ray Kachatorian
---
Best Kept Secret Star
Nozawa Bar is an intimate 10-seat in the know spot tucked-away behind the high-traffic Sugarfish restaurant on Cañon Drive. The locale is just as low-key as their recognition of their MICHELIN star achievements. What they prefer to focus on is the menu which changes daily, so there is always something new to discover and keep you guessing and exploring. Reoccurring hits include the seasonal fish that rotate throughout the year. Here, you want to go with the omakase or 'trust me' menu originated by Chef Nozawa who brought on Master Chef Osamu Fujita to serve as Executive Chef for the sublime tasting experience.
"After being closed for about a year, we are so excited to be serving the community of Beverly Hills once again," said Chef Fujita. "We have a few new dishes on our menu including New Zealand Pink lobster served sashimi style that we think our guests will enjoy."
---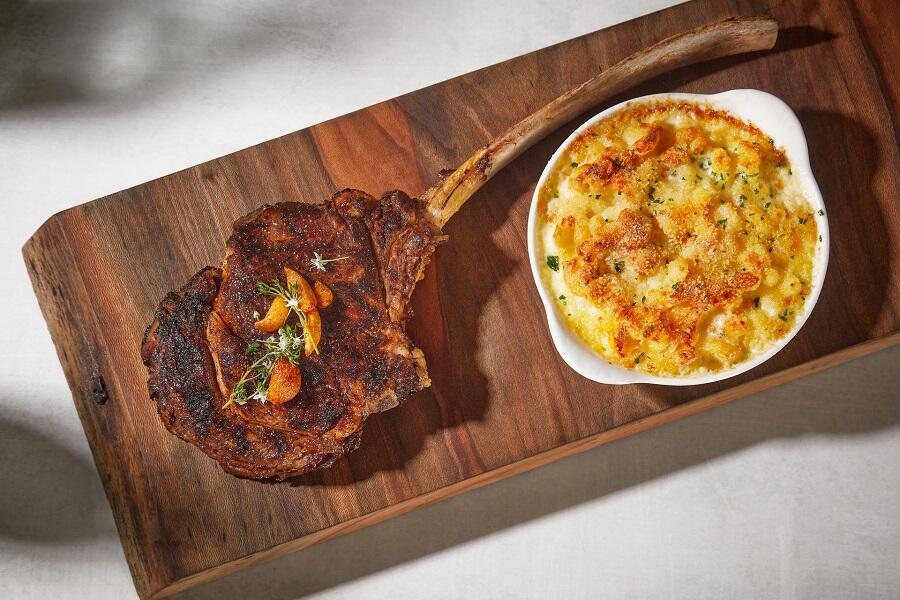 Longtime Favorite Star
Wagyu steak from Kyushu Japan in a Richard Meir-designed space, along with art by John Baldessari, is the perfect mix of architectural and culinary excellence under one roof – and that structure happens to be located at the iconic Beverly Wilshire, A Four Seasons Hotel.
CUT by Wolfgang Puck has been on the MICHELIN radar since the guide has been giving stars in L.A. going back over a decade, and after it was brought back in 2019 and again in 2021. Executive Chef Drew Rosenberg reflected on the accolade. "It is a huge honor to maintain the MICHELIN star, especially during such a trying year. I look forward to working with our team towards achieving a star once again next year by doing what we do best: providing exemplary cuisine and customer service."
To that end, Rosenberg has ushered in a few new standouts to the menu such as a Bistecca Fiorentina – a massive 50 oz USDA prime porterhouse; an apple glazed pork belly and Hawaiian Kampachi with caviar, grapefruit and mint.
---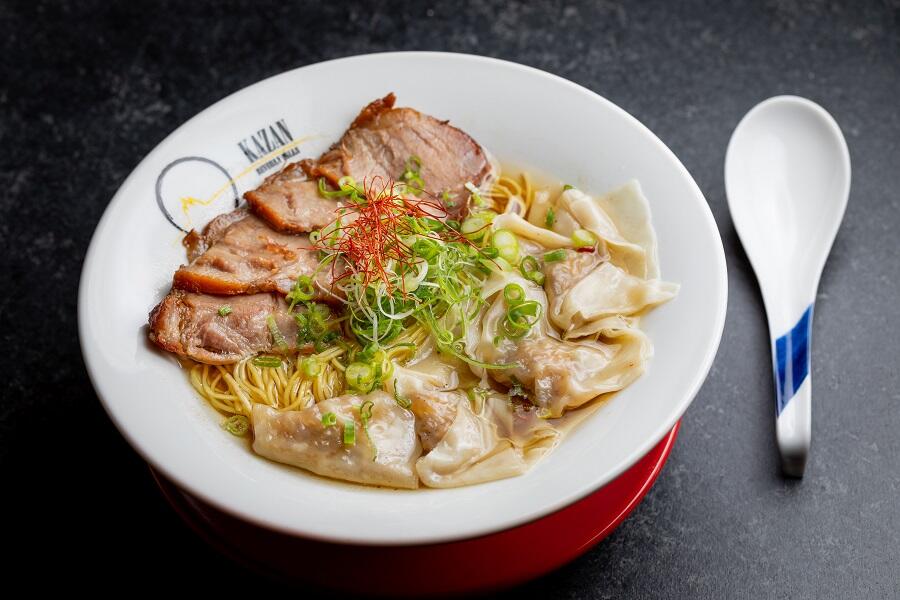 Beverly Hills Bib Gourmand
The Bib Gourmand category of the MICHELIN guide translates to high-quality food with a wallet-friendly price.
When whizzing down La Cienega's "restaurant row" you just might miss this unassuming spot by chef-owner Ryu Isobe but that would be a great loss. Kazan holds a small storefront window showcasing an antique noodle press and the fresh flour flown in from Japan used to make the daily dough that is aged for five days and been dubbed 'The Rolls Royce of ramen'. The result is an ultra-thin, soba noodle that soaks up the signature soy-truffle broth perfectly. The wontons feature hand-ground pork that is dipped into Jidori chicken or Tonkotsu broth that takes 15 hours to boil. The space features an inside counter and outdoor tables where you can sip beer, sake or the rare house chardonnay from Matsuhisa next door (aka Chef Nobu) who has been known to come over after work for a tipple or two when he's in town.
---
Other Beverly Hills Restaurants Recognized in the MICHELIN Guide
With close to 40 restaurants around the world and 3 Michelin stars under his chef's coat spanning Tokyo, Sao Paulo and New York, Chef Jean-Georges Vongerichten's eponymous restaurant at the Waldorf Astoria Beverly Hills, is a top draw for guests and locals alike. The indoor-outdoor space features a multi-course tasting menu in the more formal fine dining ground floor venue - - not to be confused with the more casual Rooftop by JG upstairs.
Executive Chef Steve Benjamin oversees the six and eight-course rotating menus where you will find staples of toasted egg yolk topped with Petrossian caviar or the King crab. By popular demand, the venue has added a breakfast service with everything from fresh juices and Belgian waffles to Snake River skirt steak and eggs, along with a selection of La Colombe coffee.
---
Newer to the mix, MÍRAME has some of the most unique offerings in 90210 with a Oaxacan meets California twist from a previous Michelin-star chef Josh Gil and filmmaker turned restaurateur Matthew Egan. "At Mírame, we're grateful to have been recognized by Michelin not only as a means of shedding a spotlight on what we're doing at the restaurant but to bring more attention to Beverly Hills," said Gil.
The patio offers a celebratory vibe for frothy mezcal and tequila drinks on the with a theatrical tableside presentation for the El Chingon margarita with billowing palo santo smoke that sets the tone for Gil's masterful combinations such as salmon skin chicharrons with fermented garlic aioli or a short rib quesadilla.
---
The Drago brothers have dominated this corner patio scene at the intersection of Cañon Drive and Brighton Way for a quarter of a century. II Pastaio means 'the pasta maker' in Italian and that's exactly what you will want to order – particularly the signature pumpkin ravioli. Co-owner and local, Giacomino Drago, and his brothers are truly a family dynasty sharing their recipes and love of food from Sicily with the community.
---
For a sensory Japanese Kyoto-style gourmet tempura journey, Tempura Endo is a 16-seat restaurant that holds a highly traditional and upscale dining experience. The exception flavor profiles all lie in the details. A key component is the delicately seasoned original dipping sauce, made with a secret recipe and carefully selected salt, that enhances the natural flavors of the tempura using choice seasonal ingredients. Premium quality cottonseed oil, Tieback sesame seed oil, and safflower oil, is a lubricating trifecta made from the finest components to guarantee the amazingly crisp, light, healthy tempura. The evening concludes with an elaborate, ceremonial tea service that feels like a religious experience.
---
You won't be able to resist the airy white indoor-outdoor sprawling space at Avra that evokes a lavish summer house in Greece with imported limestone and fragrant lemon trees dotting the buzzy space. Just like the original New York location owned by Avra Madison Estiatorio, seafood specialties rule the menu and can be picked out by the pound from a marketplace style setting along the back wall that holds prize catches from grouper to branzino. The latter is served tableside after it's grilled over charcoal and basted with a blend of olive oil, fresh lemon juice and saffron, then sprinkled with dry wild oregano from mount Taygetos and Cretan sea salt.
You can also sit at the bar with a glass of wine from the global list and graze on the thinly stacked tower of fried zucchini and eggplant chips with a tzatziki dip, saganaki (fried cheese) and sea bass with souvlaki over roasted peppers. No matter which perch you decide upon, end with galaktoboureko for dessert- a semolina-soaked custard with crispy layers of filo dough.
Photo credit: Frank Wonho
---
Chef Wolfgang Puck's smoked salmon pizza at Spago is a national treasure at this point but now you can experience it under the stars with an expanded patio atrium on Cañon Drive near the Tomokazu Matsuyama mural which will evoke an interesting atmosphere of dining in a museum bubble. On any given night, Chef Puck will also be there to stop by your table to make sure you're having a good time (and, why wouldn't you be?) and probably suggest you try the crispy wienerschnitzel from his homeland of Austria.
---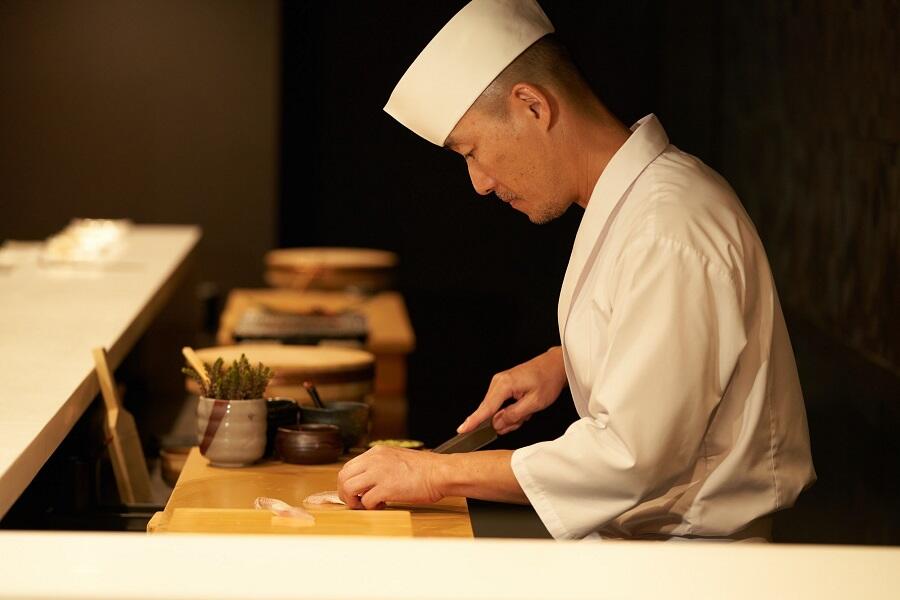 Opened in 2019, the stark exterior in this intimate sushi bar destination on Robertson Boulevard sets the tone for a 17-course sublime omakase meal by Chef Yasuhisa Ouchi 'Yasu' from Osaka. The meticulous and deliberate maneuvers when he's slicing through the fish flown in from Japan, from sea perch to squid and scallop, are mesmerizing. Served in hand-crafted pottery vessels (that they really should consider selling as souvenirs), dining here is truly a peek into a rare Japanese artform.
Any Michelin acknowledgment is an honor for the humble chef Yasu. "Maintaining motivation in this industry is a challenge, especially during the pandemic and the world-class Michelin benchmark has been something that's kept the candle going for me. I feel very grateful that my restaurant was recognized in this industry. My next motivation is to try and acquire a Michelin star." We will be sure to keep you posted.
---
About the Author
Carole Dixon's international career in film, television and publishing has spanned over several continents but holds a long history in Beverly Hills. Dixon worked for the late, legendary talk-show host Merv Griffin's production company based in the city for over a decade when he owned The Beverly Hilton Hotel. Since then, her work has been featured in Architectural Digest, Travel & Leisure, Robb Report, Modern Luxury, AFAR, PureWow, The Hollywood Reporter, Wallpaper and the Beverly Hills Courier, among many others. As a luxury lifestyle expert, she frequently reviews Michelin starred restaurants and chefs, 5-star resorts, wine country regions, spas, interior designers and architects. Favorite projects have included producing "Food for Thought" for Bloomberg in London with legendary A.A. Gill, co-launching "The Feast" for NBC LA and penning the Wallpaper City Guide Books for many years.
---
Explore all dining options in Beverly Hills.
Updated October 26, 2022