Couples Treatment at
Tomoko Spa
141 South Beverly Drive
Beverly Hills, CA 90212
Tel: (310) 205-7300
RESERVE NOW
Indulge in a deeply satisfying experience, starting with The Ashiyu, a detox foot massage, to calm the tension of your feet and body, then your therapist will guide you through the signature "Tomoko Massage."
Once your body is fully at ease, you are invited to further unwind in your Ofuro (Japanese natural Hinoki bath). The whole experience culminates in a decadent en suite sushi meal for two.
The couples treatment includes:
Private suite with private shower and tub, sushi, organic teas and Japanese sweet delicacies.
90/120 minutes including 15 minute Detox Foot Soak.
If you would like to have massage without Ofuro (Japanese bath), then indulge in a 90/120 minute Tomoko couples massage which includes:
15 min detox foot soak.
Private suite, private shower, organic oil, organic teas and fine sweets.
More
Less
Read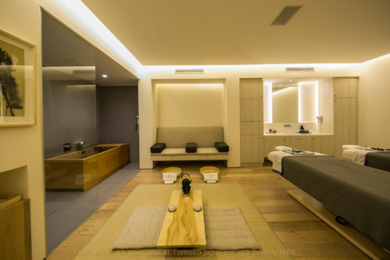 Related Specials & Packages