Beverly Hills Announces its 2020 Chinese New Year Celebration with Two Exciting Performances at The Saban Theatre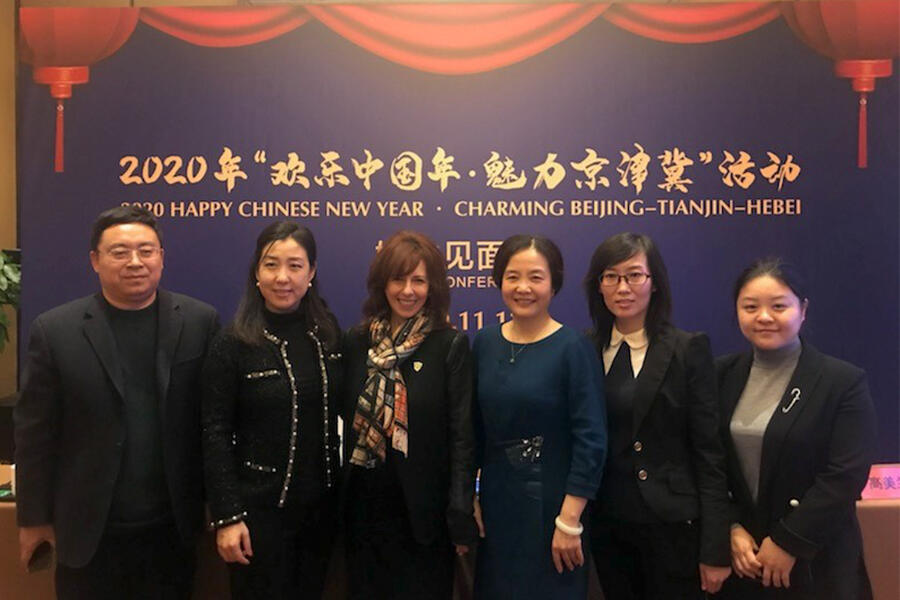 Beverly Hills Conference & Visitors Bureau CEO, Julie Wagner, traveled to Beijing to announce the destination's ninth annual Chinese New Year event
Photo from left to right: Mr. Wu Xiangjun from Hebei, Jennifer Lui (BHCVB), Julie Wagner (BHCVB), Ms. Xiao Junfeng from Beijing, Ms. Gao Meilan from Tianjin and Ms. Xie Yu from Beijing
Credit: Beverly Hills Conference & Visitors Bureau
BEIJING, CHINA – November 12, 2019 – Beverly Hills Conference & Visitors Bureau (BHCVB) held a press conference yesterday in Beijing to announce its partnership with the Information Office of Beijing Municipal Government (IOBMPG), the Information Office of Tianjin Municipal People's Government and the Information Office of the People's Government of Hebei Province to jointly host "Happy Chinese New Year, Charming Jing-Jin-Ji" in Beverly Hills on January 17 for a special VIP performance and January 18 for a public performance. This is the ninth consecutive year Beverly Hills has hosted a Chinese New Year celebratory event.
For the fifth year in a row, Beverly Hills is pleased to have the sponsorship from Two Rodeo Drive.
Many of the city's hotels will create bespoke packages to welcome the Year of the Rat, including: The Beverly Hilton, Luxe Rodeo Drive Hotel and Viceroy L'Ermitage Beverly Hills.
The Beverly Hills Hotel, Diane Kron Chocolatier, Luxe Rodeo Drive Hotel, Montage Beverly Hills, The Spa on Rodeo, The Wallis Annenberg Center for the Performing Arts and others will provide Lucky Draw prizes for the VIP reception.
"We are excited to host another successful Chinese New Year celebration in Beverly Hills that showcases traditional craftsmanship, performing arts and culture from a country who loves to visit our City," states Julie Wagner, CEO of BHCVB.
The 2020 Chinese New Year event will be divided into three parts: a variety show, a "Jing-Jin-Ji" photo exhibition and a cultural heritage crafts display and demonstration. The variety show will feature performance groups from Beijing, Tianjin and Hebei with Chinese acrobatics, martial arts, folk dance, traditional music, Peking opera and more. The cultural heritage crafts display and demonstration will include Chinese culture painting and folk arts. During the VIP reception, guests can engage in a ceremonial tea service and paper cutting demonstration, while enjoying folk music and elaborate Peking Opera costumes.
Media Contact:
Lauren Santillana
Beverly Hills Conference & Visitors Bureau
Senior Manager, Communications
About Two Rodeo Drive
Two Rodeo Drive is home to 27 iconic luxury and fashion boutiques in Beverly Hills' world-renowned shopping district including Tiffany & Co., Jimmy Choo, Versace, Audemars Piguet, Carolina Herrera, Porsche Design, Philipp Plein, Brunello Cucinelli, Stefano Ricci, Breguet, Richard Mille, Lanvin, Persol and more. Two Rodeo Drive is located at the corner of Rodeo Drive and Wilshire Boulevard. For more information, visit 2rodeo.com or contact (310) 247-7040.
About Beverly Hills
Beverly Hills is one of the world's most sought-after locales. Centrally located in greater Los Angeles, Beverly Hills is a premier holiday and business travel destination, with beautiful weather year-round, acclaimed full-service and boutique hotel accommodations, superb dining, and unrivalled shopping. Synonymous with Hollywood glamour, Beverly Hills enjoys an international reputation as the home and playground of A-list movie stars. The city is not only known worldwide for its grand mansions and chic shops along Rodeo Drive, but also for its multitude of art and architecture, spas and salons, and exceptional walkability. Learn more at LoveBeverlyHills.com or on Facebook, Twitter and Instagram.