Beverly Hills Debuts an Interactive Holiday Pop-Up with The Scenario Studio: A Photomusement Experience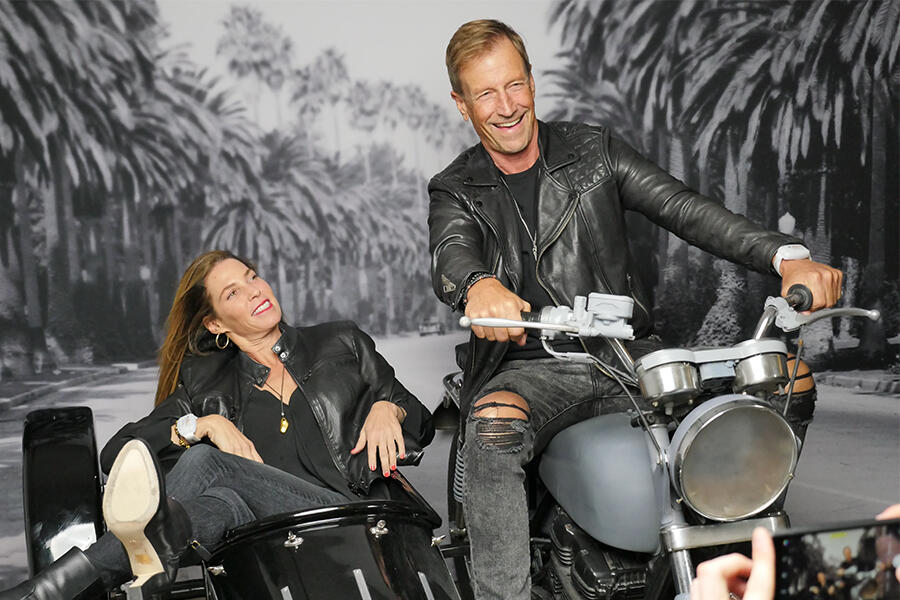 Rodeo Drive Pop-Up Offers a Complimentary Photo Experience as Part of Third Annual BOLD (Beverly Hills Open Later Days) Holidays
The Scenario Studio: A Photomusement Experience
Credit: The Scenario Studio
(BEVERLY HILLS, CA: November 21, 2019) — For the first time ever, the City of Beverly Hills is inviting visitors to make lasting holiday memories at a new interactive photography pop-up where they can take complimentary, professional-quality photos in full-scale sets designed by celebrity photographer, John Ganun. The Scenario Studio: A Photomuseument Experience is part of the third annual BOLD (Beverly Hills Open Later Days) Holidays, a citywide initiative aimed at enlivening the nightlife culture every Friday and Saturday evening with entertainment, holiday art installations and more.
The Scenario Studio is a Photomusement Experience that is open now through Dec. 22 at 262 North Rodeo Drive, where participants can create their own photoshoots on five unique professional photo sets, including Ganun's signature "Upside Down" room and two inspired by holiday cult classics, "Elf" and "It's a Wonderful Life." On set, participants can style their own shoot using a variety of provided costumes and props. Each set is expertly lit with LED lighting, allowing guests to produce high-quality photos using their own smartphone cameras rather than typically required professional cameras.
The experience debuted on Nov. 14, the first day of BOLD Holidays that kicked off with the Rodeo Drive Holiday Lighting Ceremony and a live performance by Tony, Emmy and Golden Globe award-nominated TV actor and Broadway performer, Matthew Morrison. This year, the look and feel of BOLD Holidays was refreshed with the launch of a new visual identity designed by WRAPPED Studios and drawn from the work of its co-founder and renowned Los Angeles artist, Chuck Arnoldi.
"If opening night is any indicator, The Scenario Studio will be bringing countless smiles to Beverly Hills this holiday season," said John Ganun, Co-Founder and Creative Director of The Scenario Studio, who has worked with celebrities such as John Legend, Chrissy Teigen, Katy Perry, Kim Kardashian and many more for their private parties.
"We're honored to offer a holiday experience in Beverly Hills that each one of its diverse visitors can enjoy – from multi-generational families on holiday, to locals shopping on Rodeo Drive. The Scenario Studio experience in Beverly Hills underscores the city's commitment to art and visual culture by offering guests a place where they can embrace creativity."
The Scenario Studio will be open daily (with an exception of Thanksgiving Day) with special appearances by John Ganun on November 30 and December 14 from 5 P.M.-10 P.M. To view hours, visit our website.
BOLD Holidays continues across the City now through December 21 with evening shopping and a series of complimentary activities including: live, seasonal entertainment and musical performances along the length of Rodeo Drive, spectacular holiday light displays, rides aboard The Jolley Trolley with Mrs. Claus, curated art walks and family visits with Santa at The Paley Center for Media. Find a full list and schedule of BOLD Holidays festivities at lovebeverlyhills.com/boldbh.
Share that holiday feeling at @lovebevhills and @rodeodrive
#BOLDBH
Media Contact:
QUINN PR
lovebeverlyhills@quinn.pr
About The Scenario Studio
Often referred to as "the most expensive photo booth in the world," Scenario has catered to celebrities and Fortune 500 companies for the past 12 years, specializing in building elaborate custom photo set in the middle of clients' parties for a single night. Virtually every A-List celebrity has experienced a Scenario photo shoot, including the Kardashians, Kanye West, John Legend, Chrissy Teigen, Katy Perry, Taylor Swift, Drew Barrymore, Chris Pratt, and hundreds of others. #TheScenarioStudio @TheScenarioStudio
About BOLD Holidays
Free and open to the public, the third annual BOLD (Beverly Hills Open Later Days) Holidays features delights for all ages through December 22, 2019. From festive light displays, to hip-hop holiday dancers, elves on stilts and impromptu musicals, Rodeo Drive and Beverly Hills has surprises at every turn. Highlights include entertainment aboard The Jolley Trolley with Mrs. Claus; curated art walks; meet-and-greets with Santa at The Paley Center for Media; a One World Wish Tree that invites guests to pen their holiday wishes; and of course, The Scenario Studio. In honor of the holiday celebration, participating retailers will offer last-minute shoppers special extended store hours and the chance to find one-of-a-kind gifts for friends and family along Rodeo Drive.
About Beverly Hills
Beverly Hills is one of the world's most exclusive locales. Centrally located in greater Los Angeles, Beverly Hills is a premier holiday and business travel destination, with beautiful weather year-round, acclaimed full-service and boutique hotel accommodations, superb dining, and unparalleled shopping. Synonymous with Hollywood glamour, Beverly Hills enjoys an international reputation as the home and playground of A-list movie stars. The City is not only known worldwide for its grand mansions and chic shops along Rodeo Drive, but also for its multitude of art and architectural destinations, spas and salons, and exceptional walkability. Learn more at LoveBeverlyHills.com or on Facebook, Twitter and Instagram.