Beverly Hills' Galerie Michael Celebrates its 40th Anniversary by Launching an Exhibit Featuring Rare Works Never Before Seen by the Public from Artist Marc Chagall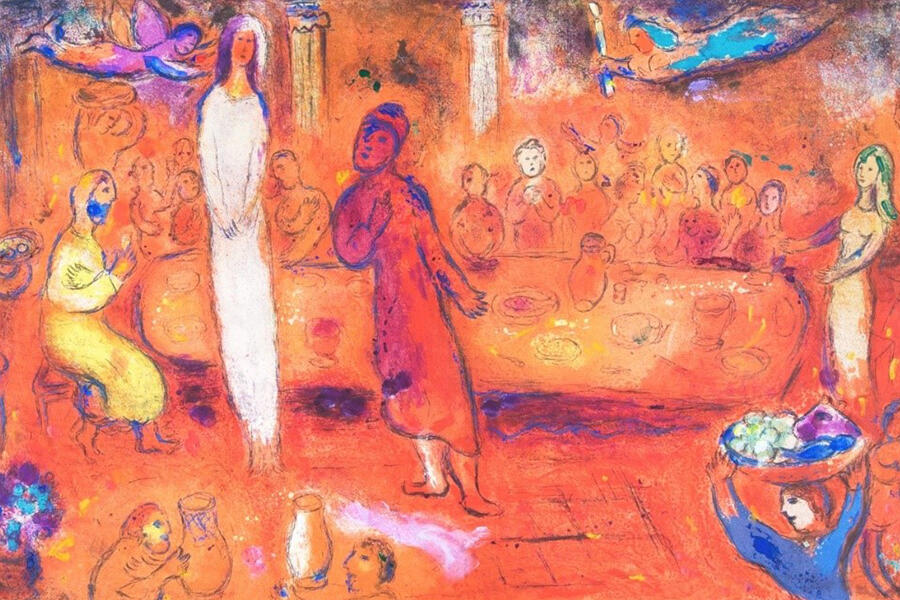 "Daphnis and Chloè: Megacles Recognizes His Daughter During the Feast, 1961"
Color Lithograph, hand-colored by Chagall on Arches paper
Photo Credit: Galerie Michael
(BEVERLY HILLS, CA; AUGUST 23, 2018) – Beginning September 15 through the end of October, Rodeo Drive's Galerie Michael, located on the famous cobblestone section of Two Rodeo Drive, will launch its highly anticipated exhibit that will give art enthusiasts the opportunity to view works on public display for the first time in history (and not seen by anyone in more than 40 years) by Marc Chagall.
"We are very excited to have acquired these works from a vault of the famed French printmaker and Chagall artistic partner and collaborator, Charles Sorlier," says Richard P. van Pelt, General Manager of Galerie Michael, adding: "The works on exhibit are astonishing not only for their exceptionally vibrant colors, but also by the notations by the artist's hand."
Approximately 40 works will be on display and, unlike traditional museum exhibits, the rare pieces will be for sale.
As one of the most recognized modern masters in fine art, Chagall's works project an expansive repertory of imagery from the whimsical scenes of Russian folk art to dreamlike worlds described in literature. Chagall's use of color and form is distinctive—derived partly from Russian expressionists with strong influences from French cubism, suffused with exquisite, poetic inspiration.
To further educate the public about the master artist, Galerie Michael will host a lecture led by Chagall expert, Vivian R. Jacobson, on the September 15 opening at 3 p.m. While Jacobson talks, she will weave in the music of Elvis with the visual art of Chagall through a multi-media presentation. Space is limited at the event; please RSVP by dialing (310) 272-3377 or by email at art@galeriemichael.com.
For more information about the exhibit, please visit our website at lovebeverlyhills.com/chagallfestival.
About Galerie Michael
Galerie Michael has thrived in its four decades by providing its clients with top-tier art, exquisite service and a philosophy of working toward posterity above prosperity—meaning that their goal is to help their clients collect museum-quality collections one work at a time. The gallery focuses on the finest art of the past 400 years.
About Beverly Hills
Beverly Hills is one of the world's most sought-after locales. Centrally located in greater Los Angeles, Beverly Hills is a desirable residence and premier vacation and business travel destination. Within its 5.7 square mile radius, Beverly Hills has approximately 34,000 residents with a business and commercial base that ranks next to cities with a population of several hundred thousand. It boasts beautiful weather year-round, acclaimed full-service and boutique hotel accommodations, sumptuous dining and incomparable shopping. Synonymous with Hollywood glamour, Beverly Hills enjoys an international reputation as the home and playground of A-list movie stars. The city is not only known worldwide for its grand mansions and chic shops along Rodeo Drive, but also for its multitude of art and architecture, spas and salons, and its exceptional walkability. For more information, visit lovebeverlyhills.com.
# # #