Beverly Hills Hosts Annual Celebrate Tourism Breakfast Revealing Global Trends and Its Efforts to Remain Appealing to the Next Generation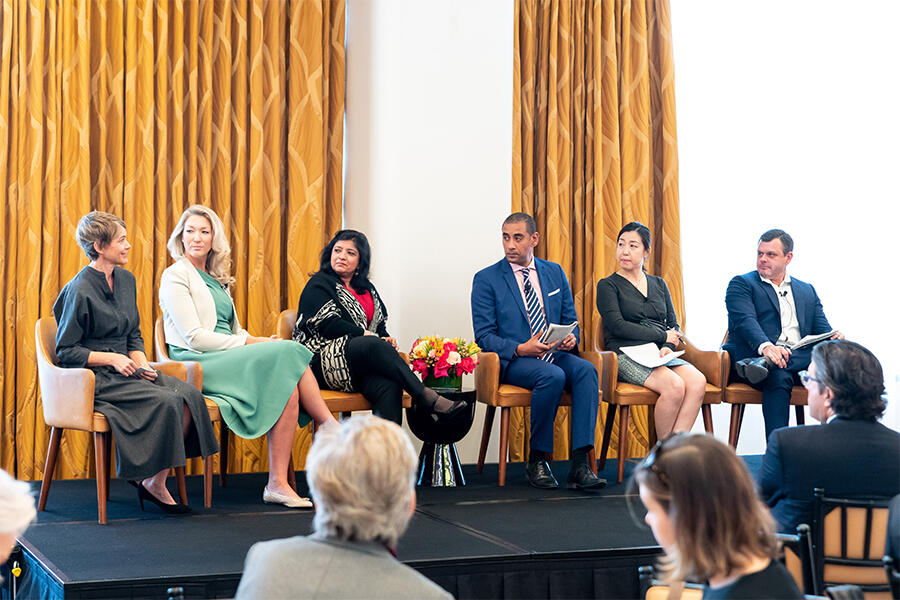 BHCVB's global agencies speak about the trends in their markets
Photo courtesy of Beverly Hills Conference & Visitors Bureau
(BEVERLY HILLS, CA; JANUARY 24, 2019) – Today, Beverly Hills Conference & Visitors Bureau (BHCVB) held a breakfast at the Waldorf Astoria Beverly Hills for City business leaders, hoteliers and local government officials where future trends in luxury were discussed along with how to apply those trends in Beverly Hills. BHCVB invited its global agencies from the following countries: UK, Europe, China, India, Middle East, Australia/New Zealand/South East Asia and the US to take part in a panel discussion outlining the trends evolving within each market. The morning was capped off with a presentation of insights from Clyde McKendrick, US Managing Partner and Chief Innovation Officer at leading research firm, Canvas8.
Efforts to energize art and culture in the city has already been underway; the City has recently completed its fourth BOLD campaign, held each summer and winter season. BHCVB also gave a first look at some early results of their 2018 Visitor Profile/Economic Impact Study:
80% of Beverly Hills' visitors this summer were from international markets and 20% were from domestic markets
Visitors who knew about BOLD and/or later hours actually spent more than those who didn't regardless of time of day interviewed, suggesting that people came to BOLD and perhaps came back to shop
There was an increase in satisfaction rate by 6% over the same period in 2018
50% of visitors interviewed said that their visit was enhanced because of later hours and BOLD
10% of all guests stayed in hotels and 11% stayed in "other paid lodging"
30% were repeat visitors
Average daily spend per person for all visitor groups (including day-trippers and hotel guests) was $217
Average daily spend for hotel guests was $541
Across the board, each global representative agreed that Beverly Hills has a strong presence in their markets and that the city is known for its aspirational nature, celebrity-spotting, oasis-like character and timeless elegance.
Additional trends shared:
In the US millennials are traveling more than ever and family travel continues to change to include multi-generational travel
The UK sees more than half of travelers going on weekend trips and many travelers combine their visits as business and leisure,"bleisure"
Australian travelers want ultra-personalized stays. Additionally, the luxe travelers from the region are younger, more adventurous, travel with family and travel more often
Chinese travelers like to "live like a local" and love to experience things they can share on WeChat
Indian travelers are status hunters – middle class who have acquired new wealth and are looking to spend more on quality and curated local experiences. Social media is very important, but content most interesting is celebrity oriented, although micro-influencers are becoming more popular
Middle Easterners experience growth in small groups traveling; during the holidays, multi-generational travelers. The region is also seeing an increase of millennial travelers who are taking shorter trips between 3 to 4 days
"Today's luxury traveler want less materials and more experiences," says McKendrick, who shared that there is a focus on brands that value sustainability and philanthropy.
"It is important that communicate that Beverly Hills has something for every lifestyle. Whether you are traveling with family, are experiencing Beverly Hills for the first time, or are here for a weekend getaway, the wide variety of choice makes coming to our city an easy choice," stated Julie Wagner, CEO of BHCVB.
Next steps include working hand-in-hand with the Mayor's Strategic Planning Committee and BHCVB's Destination Development Plan which ultimately works on futureproofing Beverly Hills by working with local business leaders representing different verticals such as: hotels, retail, real estate, restaurants and culture organizations.
To view a link of today's photos: https://we.tl/t-4SJpjaKDvP
###
About Canvas8
Canvas8 is the leading behavioral insights practice specializing in uncovering the cognitive and emotional nuances behind consumer behavior. By understanding people and the relationships that matter in their lives, Canvas8 provides actionable insights that underpin clients' strategic decisions. Canvas8's unique approach combines the expertise of a global network with market research, behavioral sciences, data analysis and cultural intelligence.
Beverly Hills
Beverly Hills is one of the world's most sought-after locales. Centrally located in greater Los Angeles, Beverly Hills is a premier vacation and business travel destination, boasting beautiful weather year-round, acclaimed full-service and boutique hotel accommodations, sumptuous dining, and incomparable shopping. Synonymous with Hollywood glamour, Beverly Hills enjoys an international reputation as the home and playground of A-list movie stars. The city is not only known worldwide for its grand mansions and chic shops along Rodeo Drive, but also for its multitude of art and architecture, spas, salons and exceptional walkability. Learn more at www.lovebeverlyhills.com or on Facebook, Instagram and Twitter.
CONTACT:
Lauren Santillana
Communications Manager
Beverly Hills Conference & Visitors Bureau
(310) 248-1015 x 204
santillana@lovebeverlyhills.com