Beverly Hills Kicked Off its Second Annual BOLD Holiday Season With the Premier of Visual Artist Alexa Meade's Pop-Up Exhibition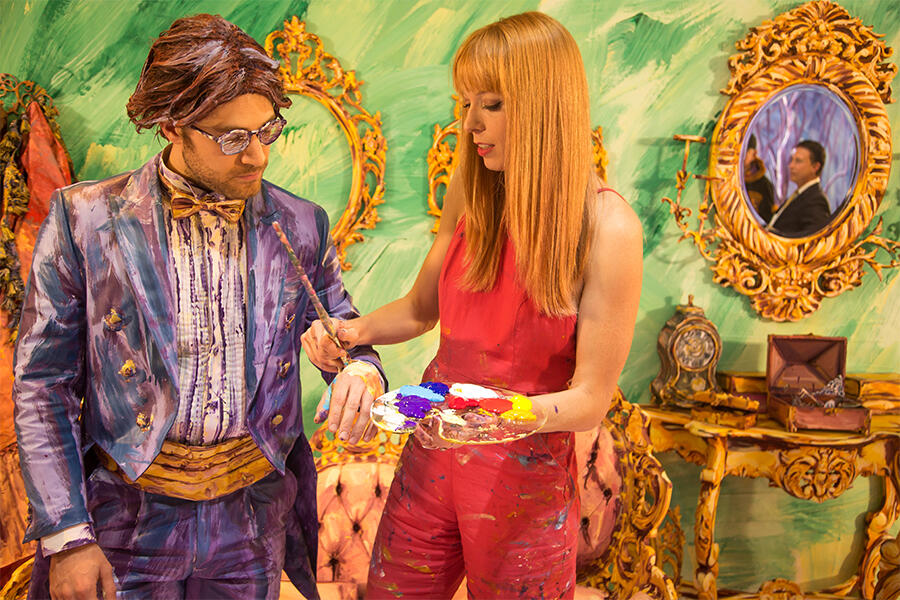 Beverly Hills, CA (November 27, 2018) – Beverly Hills' BOLD Holidays launched its annual programming on Thursday, November 15 with the debut of interactive artist Alexa Meade's whimsical and innovative art exhibition, Immersed in Wonderland.
"We are excited to once again welcome Alexa Meade to Beverly Hills with the launch of her first solo exhibition on the West Coast," said Mayor of Beverly Hills, Dr. Julian Gold. "We are proud to showcase her incredible work as part of our BOLD Holidays offerings."
Meade has transformed nearly 3,000 square feet of space located at 262 North Rodeo Drive into the pop-up, featuring three-dimensional painted holiday vignettes which create the illusion of a two-dimensional painting when photographed. When visitors explore these vignettes, they will encounter magical surprises at every turn and be able to interact, touch and become part of the artwork. Each vignette offers a different color theme and its own matching painted clothing and accessories that can be worn. Immersed in Wonderland fuses these vignettes together, which include a periwinkle enchanted forest, a cozy living room with plush furniture, an emerald green dining space with a tea pot, plates and cups, an electric blue foyer and a ruby red playroom, all pulled together by a grand piano that visitors are invited to play.
On November 30 and December 14, Meade will be at the pop-up space in person, painting live models. When Meade is not present, docents are available to lead engaging tours of the vibrant space.
The art exhibition is free and open to the public for a limited time now through December 23 on Monday-Saturday, 12 p.m. – 8 p.m. and Sundays from 12 p.m. – 6 p.m.
As a self-taught artist, Meade's fascination with space, light, and shadow led her to begin placing shadows on the human body, creating what has become her signature work. She has collaborated with space-time researchers at the Perimeter Institute for Theoretical Physics, created illusions with the world-renowned magician, David Blaine, painted on the body of pop superstar Ariana Grande for her iconic God is a Woman music video and led her inspiring TEDGlobal talk, titled Your Body is My Canvas, which has been viewed over a million times.
In addition to Meade's Immersed in Wonderland art exhibition, BOLD Holidays will feature extended shopping hours and live entertainment every Friday and Saturday evening through December 22. The festive entertainment includes the return of BOLD rides throughout Beverly Hills' Golden Triangle in exotic and luxury cars provided by Midway Car Rental; holiday music in Beverly Canon Gardens; live fashion art and ice sculpting on Rodeo Drive, holiday art walks lead by curatorial professionals as well as plenty of photo opportunities such as Rodeo Drive's Peace Wall. To view a full list of activities, please visit lovebeverlyhills.com/boldbh.
Click here to view Photo Assets.
Follow BOLD Holidays on social with the hashtag: #BOLDBH.
About Alexa Meade
Artist Alexa Meade applies paint to the human body and three-dimensional spaces to create the illusion that our reality is a two-dimensional painting. Her unique approach has gained her worldwide acclaim with exhibitions in renowned locales including the Grand Palais des Champs-Élysées in Paris, Shibuya Crossing in Tokyo and the Smithsonian National Portrait Gallery in Washington, D.C.
About Beverly Hills
Beverly Hills is one of the world's most sought-after locales. Centrally located in greater Los Angeles, Beverly Hills is a desirable residence and premier vacation and business travel destination. Within its 5.7 square mile radius, Beverly Hills has approximately 34,000 residents with a business and commercial base that ranks next to cities with a population of several hundred thousand. It boasts beautiful weather year-round, acclaimed full-service and boutique hotel accommodations, sumptuous dining and incomparable shopping. Synonymous with Hollywood glamour, Beverly Hills enjoys an international reputation as the home and playground of A-list movie stars. The city is not only known worldwide for its grand mansions and chic shops along Rodeo Drive, but also for its multitude of art and architecture, spas and salons, and its exceptional walkability. For more information, visit http://lovebeverlyhills.com/.
# # #