Beverly Hills Restaurants Receive Michelin Awards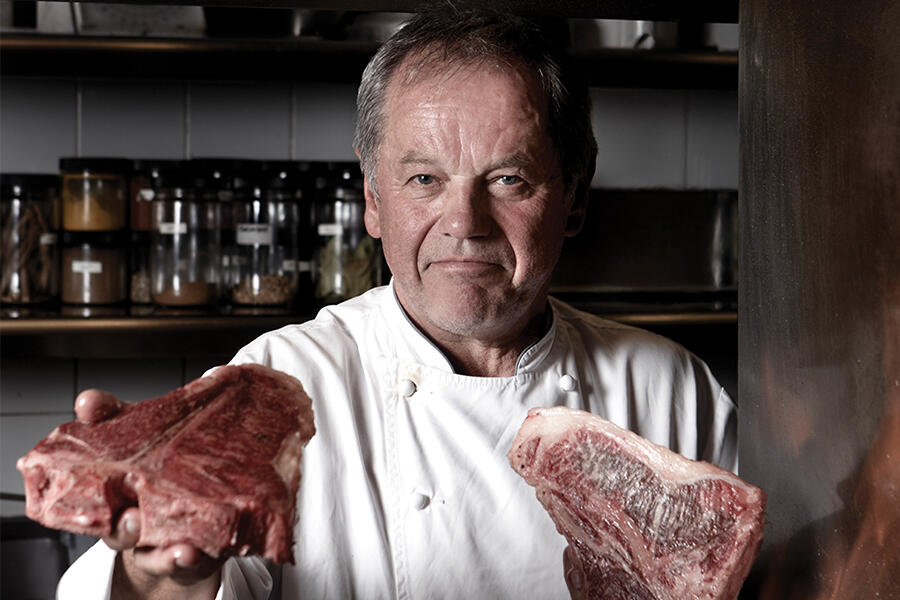 Caption: Wolfgang Puck at CUT
Photo credit: Beverly Wilshire, A Four Seasons Hotel
(BEVERLY HILLS, CA; JUNE 4, 2019) – Last night, four Beverly Hills restaurants were recognized in the newly revealed 2019 MICHELIN Guide California, the first ever statewide MICHELIN Guide in the U.S. Beverly Hills' exclusive sushi restaurant, Urasawa, by famed chef Hiroyuki Urasawa, received the highly-coveted two-star award while Wolfgang Puck's CUT, Curtis Stone's Maude and Nozawa Bar by Kazunori Nozawa, were all awarded a one-star accolade.
"We are honored to have four restaurants in our city be part of this year's Guide," says Julie Wagner, CEO of Beverly Hills Conference & Visitors Bureau. "Beverly Hills continues to cultivate a diverse and innovative culinary scene, recognized around the globe for its strong celebrity chef presence and dedication to deliver the highest quality cuisine."
While the MICHELIN Guide has evolved since its introduction in the 20th century, the criteria used to determine the star selection by inspectors have remained the same.
Urasawa offers an intimate atmosphere that often comes with a high price tag; however, Urasawa himself hand-selects each fish and morsel that is presented to guests with world-class skill. Tucked discreetly on Two Rodeo Drive, the restaurant only takes reservations and menus can include up to 29 courses.
The original location of CUT by Wolfgang Puck is at Beverly Wilshire, A Four Seasons Hotel and consistently ranks as one of the most sought-after steak restaurants in the U.S. Offering a contemporary twist on the classic steakhouse, the menu highlights various cuts of the finest beef from regions across the globe, as well as shellfish, seafood and an extensive international wine list. The best of culinary, architecture and art are on full display at CUT, where Wolfgang's world-famous cuisine is served in a sleek and serenely modern environment, designed by internationally acclaimed architect Richard Meier.
Since opening Maude in 2014, Curtis Stone has garnered numerous accolades from the James Beard Foundation to making it on Travel & Leisure's list as one of the best restaurants in the world. Located on South Beverly Drive, the restaurant offers a tasting menu that changes quarterly based on a single wine region. Ahead of each menu debut, the Maude team travels to each territory to conduct research and experience firsthand the culture, history and cuisine in which they bring back to dining guests in Beverly Hills.
Nozawa Bar, is known as the "secret" sushi bar hidden in the back of SUGARFISH in Beverly Hills. Known for their omakase sushi meal, the multi-course menu — primarily nigiri sushi as well as sashimi and hand rolls—features many of the more adventurous sushi items that dedicated sushi eaters have come to appreciate.
Earlier in the month, Michelin also revealed its selection of Bib Gourmand restaurants, which highlights recognized establishments that serve high-quality meals which includes two courses and a glass of wine or dessert for $40 or less. On the list, Beverly Hills' Il Pastaio was named, a favorite among locals and celebrities for its mouthwatering pasta and risotto.
To view a full list of the 2019 MICHELIN Guide California, visit their website here.
###
About Beverly Hills
Beverly Hills is one of the world's most sought-after locales. Centrally located in greater Los Angeles, Beverly Hills is a premier vacation and business travel destination, boasting beautiful weather year-round, acclaimed full-service and boutique hotel accommodations, sumptuous dining, and incomparable shopping. Synonymous with Hollywood glamour, Beverly Hills enjoys an international reputation as the home and playground of A-list movie stars. The city is not only known worldwide for its grand mansions and chic shops along Rodeo Drive, but also for its multitude of art and architecture, spas, salons and exceptional walkability. Learn more at www.lovebeverlyhills.com or on Facebook, Instagram and Twitter.
CONTACT:
Lauren Santillana
Communications Manager
Beverly Hills Conference & Visitors Bureau
(310) 248-1015 x 204
santillana@lovebeverlyhills.com