"BOLD" – Beverly Hills Open Later Days – Kicked Off Its 2nd Annual Summer Campaign Over The Weekend With A Rodeo Drive Kick-Off Party, Street Performances And An Impressive Live Painting Exhibit By Alexa Meade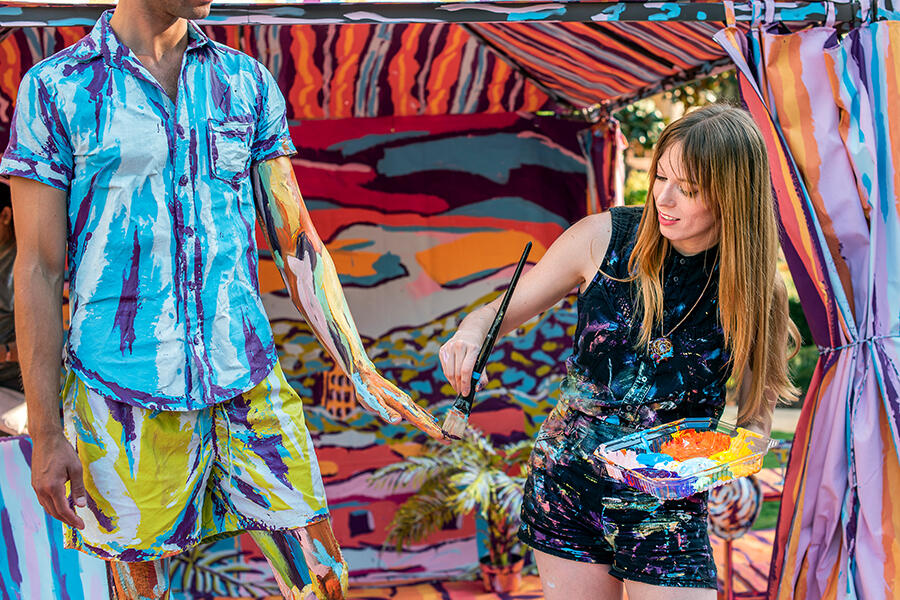 A model posing in front of a #BOLDBH social art installation in Beverly Hills, painted by artist Alexa Meade; she will return to the city August 18 at The Paley Center for Media from 5 – 8 p.m.
Photo Credit: The Light Record
(BEVERLY HILLS, CA; AUGUST 6, 2018) – On Thursday, August 2, BOLD officially kicked off on Rodeo Drive with a live performance by artist Project M and the jazz group, Amanda Castro Band, the reveal of the five #BOLDBH social art installations on Rodeo Drive and throughout the city, as well as a spectacular fireworks show.
Predominantly featured during the first weekend of activities, artist Alexa Meade provided a live painting experience that took place in Beverly Canon Gardens on August 4. Meade most recently painted music superstar Ariana Grande in her latest music video, "God is a Woman."
A crowd watched in amazement as a painted couple, lounging beneath a cabana showcasing Beverly Hills' iconic rooftop pool culture, were brought to life with the female model walking out of the painting down the city's streets.
A self-taught artist, Meade's fascination with space, light and shadow began with an assignment from a professor in her college art class who instructed her to create a sculpture that "felt like a landscape, but was not a sculpture of a landscape." From this, Meade began placing shadows on the human body, creating what has become her signature work.
"Just by creating a mask of [shadow and] light with paint, it completely transformed the space," Meade explains.
Meade has been a TED Talk speaker, featured on national broadcast stations and has appeared around the globe creating special installations. When asked why Beverly Hills is such an attractive destination to work in, she emphasizes the city's cosmopolitan atmosphere, year-round sunshine and picturesque gardens and greenspace.
Meade will return to Beverly Hills on August 18, this time painting at The Paley Center for Media from 5 – 8 p.m. To see images and videos of Alexa's work, click here.
The city plans to keep the momentum going with more exciting street entertainment throughout the month on BOLD evenings from 5 – 8 p.m. with events such as: a kids dance party featuring DJ Luxxury in Beverly Canon Gardens on August 11, two art walks visiting some of the city's most prestigious galleries on August 10 and 24, performances by soul, jazz and blues singer, Serafia on August 10 and 17, restaurant specials throughout the city, floral pop-ups on Rodeo Drive every Thursday evening, photo opportunities in front of the new BOLD sign in Beverly Gardens Park and more. View the full calendar of events here.
The BOLD festivities will end with the Next Night Block Party on South Beverly Drive, hosted by actor Rob Valletta and former Miss California, Crystal Lee, on August 25 from 6 p.m.-10 p.m. The block party will feature a live performance by electric violin group, Nuclassica, starring lead violist and former soloist for Trans-Siberian Orchestra, Jordan Allen Broder; an interactive art installation; photo opportunities and a kid's arts and crafts station.
Lastly, for those seeking the ease of a car-free night at BOLD, Beverly Hills has partnered with Lyft for a $10 Lyft discount by applying the code BOLDSUMMER before scheduling a ride to/from Beverly Hills. Specific pick-up and drop-off locations apply and discount is only valid on BOLD evenings from 5:30 – 8:00 p.m. Quantities are limited and restrictions apply. Visit lovebeverlyhills.com/bhopenlate for additional details.
About Beverly Hills
Beverly Hills is one of the world's most sought-after locales. Centrally located in greater Los Angeles, Beverly Hills is a desirable residence and premier vacation and business travel destination. Within its 5.7 square mile radius, Beverly Hills has approximately 34,000 residents with a business and commercial base that ranks next to cities with a population of several hundred thousand. It boasts beautiful weather year-round, acclaimed full-service and boutique hotel accommodations, sumptuous dining and incomparable shopping. Synonymous with Hollywood glamour, Beverly Hills enjoys an international reputation as the home and playground of A-list movie stars. The city is not only known worldwide for its grand mansions and chic shops along Rodeo Drive, but also for its multitude of art and architecture, spas and salons, and its exceptional walkability. For more information, visit lovebeverlyhills.com.
# # #