BOLD Summer Returns to Beverly Hills in August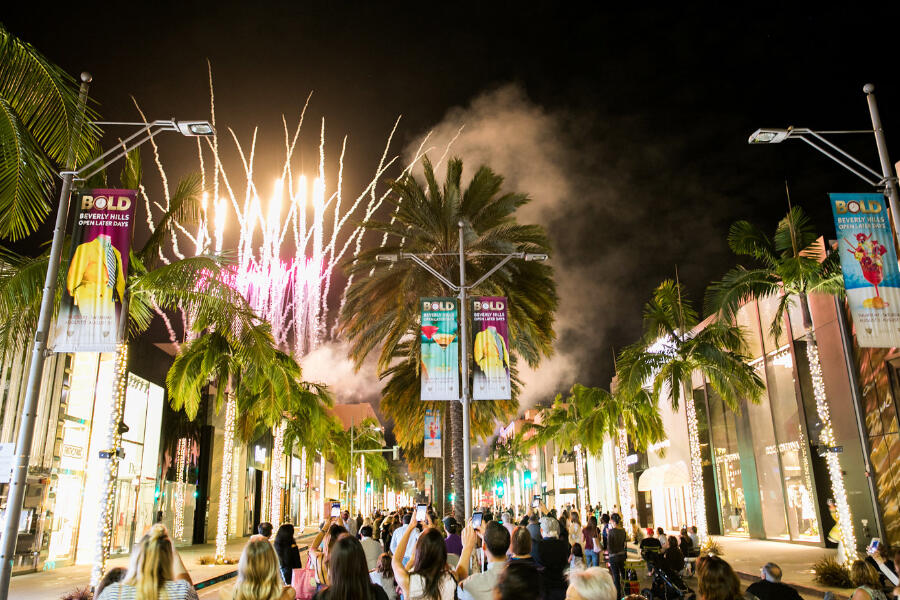 Beverly Hills kicks off a month of BOLD summer activities in 2017 on Rodeo Drive with a firework show, live performances and more.
(Photo Credit: Rodeo Drive Committee | Photo by: Scott Clark Photo)
(BEVERLY HILLS, CA; June 21, 2018) - Beverly Hills energizes its nightlife with shopping and festivities until 8 p.m. on BOLD evenings ─ every Thursday, Friday and Saturday from August 2 through August 25. Enjoy live entertainment, art installations, restaurant specials and more on Rodeo Drive and throughout the Golden Triangle.
BOLD Summer Kick-Off on Rodeo Drive
Rodeo Drive will kick off its second annual BOLD Summer on August 2 from 6 p.m. – 9 p.m. Experience live music, fireworks, delicious food and more. Step into a world where flash floral installations take over Rodeo Drive, monogramming booths leave you with a personalized take-home memory and live painting performances bring art to the forefront on the iconic street. These are just a few of the surprises Rodeo Drive has in store this summer. Stop by and experience everything that happens #OnlyOnRodeo and make sure to use #BHOpenLate when sharing your Rodeo Drive encounters! For the full calendar of events, visit lovebeverlyhills.com/bhopenlate.
Highlights include:
Living Art
On Saturday, August 4 and 18, paintings by Alexa Meade will come to life in Beverly Hills. Paints are directly applied to models and the surrounding scene creating a living painting that merges 2D and 3D together.
Kid's Dance Society
Families come together to dance, inspire, create and share positive vibes on Saturday, August 11 in Beverly Canon Gardens.
Dining Offers
Enjoy special offers at select restaurants when patrons present a receipt from a local Beverly Hills retailer for a same-day sale transacted after 6 p.m. on any BOLD evening.
Chauffeured Vintage Cars
Visitors and locals can take a ride in a classic convertible to experience a short tour around the Golden Triangle on Saturday, August 4, 11, 18 and 25.
BOLD Instagrammable Sign
Large-scale, colorful BOLD letters will offer a picture-perfect backdrop both day and night that serve as fun, keepsake photos.
Street Entertainment
Enjoy lively and energetic street entertainment throughout the Golden Triangle.
$10 LYFT Promo
Visitors can take advantage of a $10 Lyft discount by applying the code BOLDSUMMER before scheduling a ride to/from Beverly Hills. Specific pick-up and drop-off locations apply and discount is only valid on BOLD evenings from 5:30 p.m. – 8:00 p.m. Quantities are limited and restrictions apply. Visit lovebeverlyhills.com/bhopenlate for additional details.
Flash Floral
Every Thursday, Rodeo Drive will come to life with vibrant and intricate, guerrilla style floral installations that will take place in various locations on the street. You won't want to miss this stunning photo moment as it will be gone in a flash!
Video Install
Taking the BizBash Award Winning Social Art Installation to the next level, Rodeo Drive will unveil its first-ever Video Installation where guests can stand in front of the CFDA inspired backdrop as a slow motion video is taken of them posing.
Monogramming Moment
During BOLD evenings, shoppers who make purchases more than $500 will be offered customized monogramming. Shoppers will need to show their receipt and can choose from a large selection of designs to enhance their gifts.
Art Walk
Choose to take either a guided tour with an Art Curator or self-guided tour of some of the city's most prestigious galleries on Friday, August 10 and 17.
Next Night Block Party on South Beverly Drive
The BOLD Summer festivities will conclude on August 25 with the annual 'Next Night Block Party.'
###