City of Beverly Hills Recognizes National Travel and Tourism Week as New Visitor Profile and Economic Impact Results are Revealed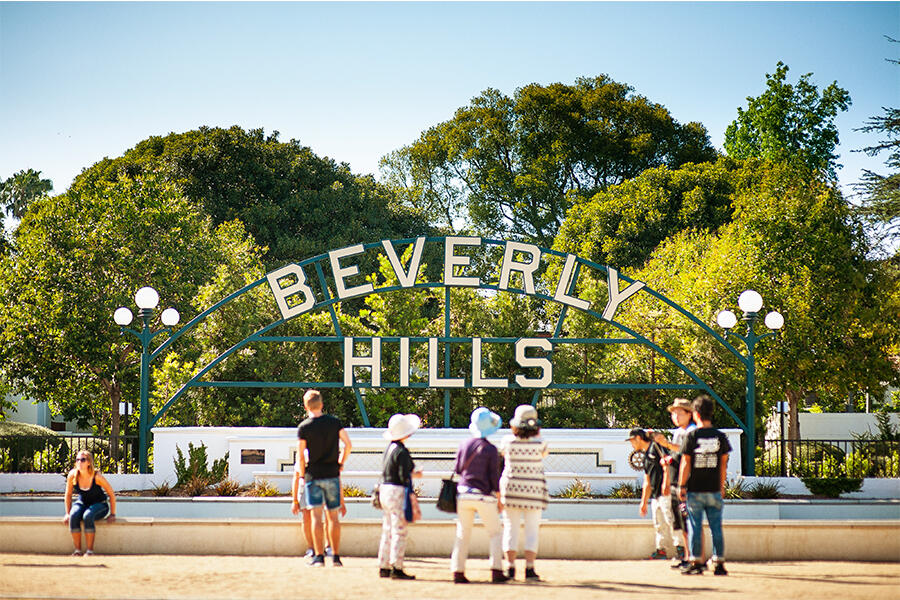 Growth Increased in 2018, with Beverly Hills Annual Visitor Volume Rising to More Than 7.5 Million and More than $2.27 Billion in Direct Spending in the City by Visitors
Credit: Beverly Hills Conference & Visitors Bureau
BEVERLY HILLS, Calif. (May 8, 2019) – Yesterday, the City of Beverly Hills presented a proclamation to Beverly Hills Conference & Visitors Bureau (BHCVB) recognizing U.S. Travel Association's 36th annual National Travel & Tourism Week (NTTW) which began on May 5 and ends May 11. Established in 1983 by President Reagan, NTTW unites destinations across the nation to take part in the weeklong initiative that spotlights the travel industry's contributions to the economy and American jobs. For the City of Beverly Hills, the travel industry plays an important role to the economic vitality of its businesses and hotels, a message BHCVB is passionate about communicating.
Released today, the most recent visitor profile and economic impact study*, which focuses on visitor** activity for 2018 and also compares results and trends to 2016 when the study was last conducted, reveals that more than 7.5 million visitors ventured to Beverly Hills in 2018, versus the 7.4 million visitors in 2016, an increase of just over 2 percent.
Consistent with national trends, the city's international visitation increased from 2018, now accounting for 80 percent of the city's total visitors versus 50 percent in 2016, while domestic travel decreased to 20 percent in 2018 versus 50 percent in 2016.
The main purpose of the study is to assess the economic contribution that travel makes to the city. In 2018, more than $2 billion was generated in direct and indirect revenue from visitors, with $64 million in lodging and sales tax dollars, 25 percent of the city's general fund revenue.*** Visitor activity also supports nearly 13,000 Beverly Hills jobs and saves each resident household $3,300 in equivalent city services.
"Visitors continue to make a great financial impact on our city each year and we are committed to providing an experience synonymous with our brand's reputation each time they visit to ensure they keep coming back," states Julie Wagner, Chief Executive Officer, CDME, at Beverly Hills Conference & Visitors Bureau.
"We are thankful to our city council for approving initiatives such as BOLD as well as the support they provide for our visiting international feeder markets to continue to build awareness of and demand for the experiences that we offer."
The comprehensive Beverly Hills Visitor Profile and Economic Impact Study reports detailed statistics and growth across a range of tourism indicators for 2018 compared to 2016, including:
Total annual visitor days in Beverly Hills were consistent with 2016 at 8.85 million.
Beverly Hills hotels generated close to $48,000,000 million in Transient Occupancy Tax (TOT), a 17 percent increase over 2016.
Visitor spending in Beverly Hills generated retail sales tax to the city of more than $16 million, 4 percent increase from 2016.
Of visitors' major spending categories, retail (i.e., shopping/gifts) totaled $1.3 billion, accounting for a 59 percent share of total visitor spend (including taxes).
Visitor spending generate an average of $4,300 per Beverly Hills household in equivalent services provided by the City.
BHCVB conducted the visitor profile and economic impact study with Lauren Schlau Consulting, a Los Angeles market research firm specializing in the travel and tourism industry. The firm conducted similar studies for BHCVB that analyzed the same visitor numbers and trends in 2004, 2007, 2014 and 2016 so as to track visitor trends and growth in the market over time.
To learn more about tourism and travel trends in Beverly Hills, visit www.lovebeverlyhills.com or follow on Facebook, Instagram and Twitter.
*Lauren Schlau Consulting; for calendar year 2018
**Visitors are considered anyone who resides outside of Los Angeles County
*** The percentage is based on the City's published FY2019 total general fund budget
About Beverly Hills
Beverly Hills is one of the world's most sought-after locales. Centrally located in greater Los Angeles, Beverly Hills is a premier vacation and business travel destination, boasting beautiful weather year-round, acclaimed full-service and boutique hotel accommodations, sumptuous dining, and incomparable shopping. Synonymous with Hollywood glamour, Beverly Hills enjoys an international reputation as the home and playground of A-list movie stars. The city is not only known worldwide for its grand mansions and chic shops along Rodeo Drive, but also for its multitude of art and architecture, spas and salons, and exceptional walkability. Learn more at www.lovebeverlyhills.com or on Facebook, Instagram and Twitter.
# # #
CONTACT:
Lauren Santillana
Communications Manager
Beverly Hills Conference & Visitors Bureau
(310) 248-1015 x 204
santillana@lovebeverlyhills.com