Most Instagrammable Restaurants in Beverly Hills
Beverly Hills offers an array of unique restaurants that not only cater to tourists and locals, but also the Insta-famous. From trendy coffee shops and cafés to prestigious restaurants housed in many of the city's iconic hotels, there's no shortage of colorful dishes, drinks and jaw-dropping décor.
Alfred Beverly Hills
With 11 locations spread across Los Angeles and Japan, the trendy shop, Alfred Coffee, offers an eclectic beverage menu featuring Stumptown Coffee, pressed juices from Raw Juicery and kombucha on tap. The café also has a large selection of sweet and savory pastry options and to-go salads. After fueling up, visitors are encouraged to snap a photo in front of the shop's iconic neon green "But First, Coffee" sign located inside or walk outside to pose in front of its colorful #LoveWall adorned with multicolor hearts. The artwork is by artist JGoldcrown, known for his Bleeding Hearts/Lovewall series that can be seen throughout the world.
Photo courtesy of @mr.johnmarino.
---
Avec Nous
The camera always eats first at Avec Nous, the bright and airy French bistro inside Viceroy L'Ermitage Beverly Hills. Vibrant dishes, hand-crafted cocktails and a chic interior reminiscent of Old Hollywood present the perfect opportunity to serve plenty of followers some serious lunch envy. Visit for breakfast, lunch and dinner or from 4 to 7 P.M. for a daily cocktail hour and indulge your Insta-feed with classic French bistro dishes such as seasonal flatbreads, Loup de Mer, bouillabaisse and more served with a contemporary twist. Tucked away from the bustling downtown Beverly Hills, the hotel has also been the writing spot for Hollywood scripts such as Good Will Hunting, The Godfather and The Graduate.
Photo courtesy of @joseacheco.
---
THEBlvd
With Rodeo Drive as your backdrop, there's no better place to enjoy a picture-perfect dining experience than at THEBlvd restaurant and lounge tucked inside the historic Beverly Wilshire, A Four Seasons Hotel. Executive Pastry Chef Chris Ford's dainty, artful and intricate pastries are almost too beautiful to eat like "The Beverly Bar," a flourless chocolate cake complemented by cassis, chocolate mousse and 23 karat gold flakes, or his crackable chocolate confections that are beloved by celebrities including Kim Kardashian West, Paris Hilton and Chrissy Tiegen. When he's not busy in the kitchen, Chef Ford enjoys snapping photos and videos of his sweet creations to post on his Instagram account and blog, Butter Love & Hardwork.
Photo courtesy of @butterloveandhardwork.
---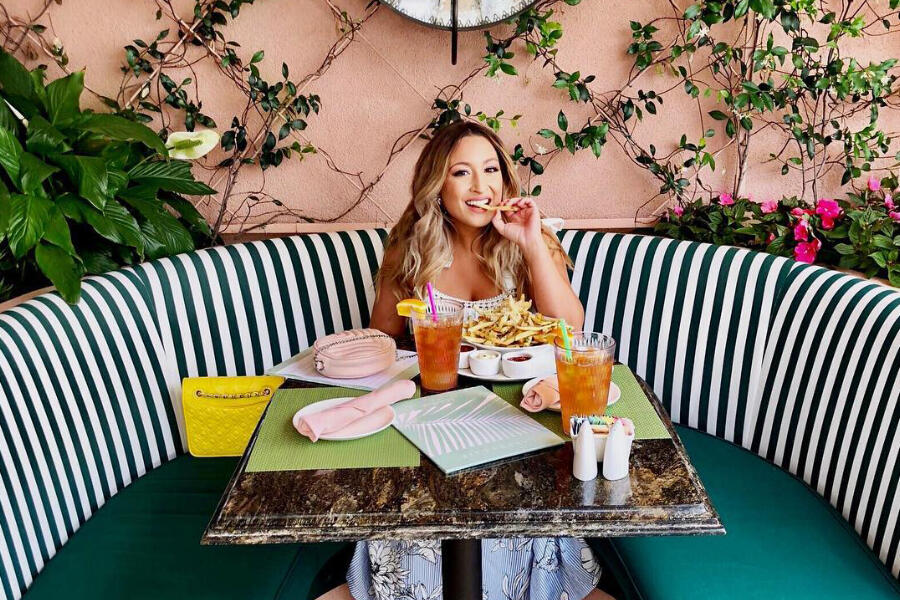 The Cabana Café
Located inside The Beverly Hills Hotel, which has earned its fame by housing some of the most glamorous celebrities and public figures of all time, is the iconic Cabana Café. From wood-fired pizza to the hotel's legendary McCarthy Salad, this poolside eatery offers the perfect menu and setting to enjoy a casual lunch, cool breakfast or exclusive private party. The hotel's classic green stripes and pink décor adorn the restaurant, where social influencers flock to the large, cozy booths that offer plenty of tablespace for artful food photography.
Photo courtesy of @bellagerard.
---
Il Cielo
Considered to be one of the "Most Romantic Restaurant in Los Angeles" by both The New York Times and Los Angeles Magazine, Il Cielo has gotten plenty of camera love for not only its stunning plated dishes but also its patio with twinkling lights and ivy-adorned walls. No matter the occasion, the restaurant can accommodate spectacular floral arrangements, elegant multi-tiered wedding cakes and elaborate lighting displays that truly give meaning behind the phrase: pictures speak louder than words.
Photo courtesy of @ilcielobh.
---
Ladurée Beverly Hills
The Parisan café and pastry shop, Ladurée, is situated in the heart of Beverly Hills and is filled with pastel colored macarons, lime green couches, white lattice walls and large flower accents. Aside from sweet treats, the café also offers a full lunch and dinner menu, or for a lighter appetite, small petit fours. Pink oversized chairs act as the perfect accessory for photos and bite size miniature works of art steal the spotlight.
Photo courtesy of @cestlavie_amar.
---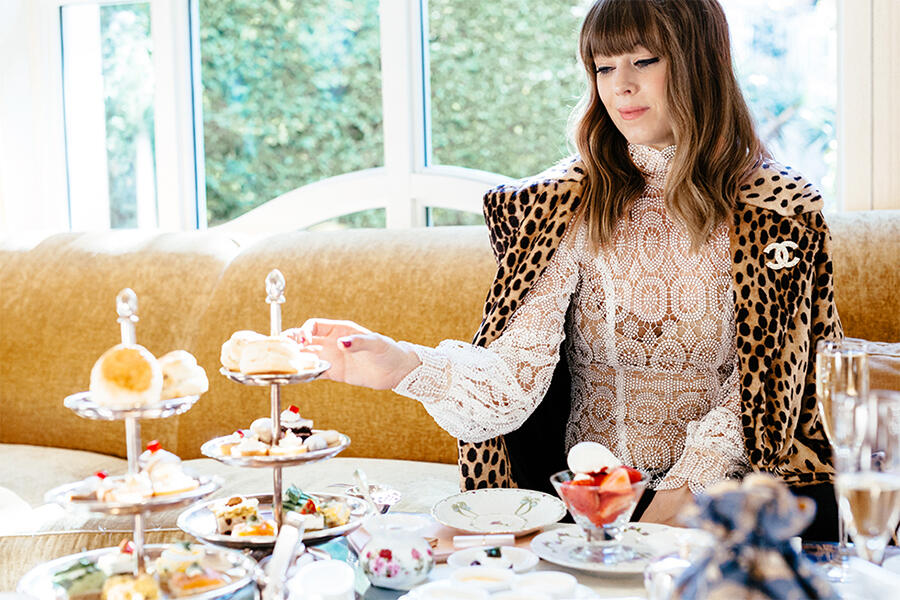 The Living Room
One step into The Living Room at The Peninsula Beverly Hills and you'll feel as if you entered a teatime wonderland. The restaurant's traditional Afternoon Tea is available daily and offers a selection of delectable bite-size sandwiches, scones and pastries along with 19 blends of loose leaf tea leaves, custom blended for the five-star hotel. While visitors enjoy the service, they can also take in the elegant surroundings, soft natural lighting and soothing live harp.
Photo courtesy of @MargoandMe.
---
The Rooftop by JG
No matter what time of day, The Rooftop by JG at Waldorf Astoria Beverly Hills is packed with style enthusiasts posing near the restaurant's clear, glass perimeter that offers one of the most stunning panoramic views of Beverly Hills and Hollywood from 12 stories high. Open to the public, diners can sip on refreshing cocktails and try some of its sharable dishes like the Hamachi sashimi with chili tapioca and tropical fruit while sitting beneath umbrellas, or during the evening, sit and dine near the fire pit situated in an alcove of a lush, living wall.
Photo courtesy of @joeleshelman.
---
Spago
Treat yourself to the finer things in life at Wolfgang Puck's flagship restaurant, Spago Beverly Hills, where you can expect savory dishes from wood oven pizza to an eight-course chef's tasting menu that boasts expertly sourced elements of California-fresh ingredients. A must-stop for diners hoping to spot a celebrity (including the renowned chef himself), Spago Beverly Hills offers an experience that is equal parts beautiful, delicious and unique.
Photo courtesy of @loveandloathingla.
---
Whichever restaurant you choose to visit for the quintessential Beverly Hills foodie photo, remember to tag #LoveBevHills on Instagram and Twitter. For a full listing of restaurants in Beverly Hills, visit our Restaurants page.
Updated February 10, 2021