Most Romantic Restaurants in Beverly Hills
Beverly Hills is the perfect setting to celebrate special occasions with your loved one. Whether you're looking for quaint, secluded eateries or an elegant fine dining experience, the city offers a variety of options for your perfect night out, with candlelit rooms, live music and more.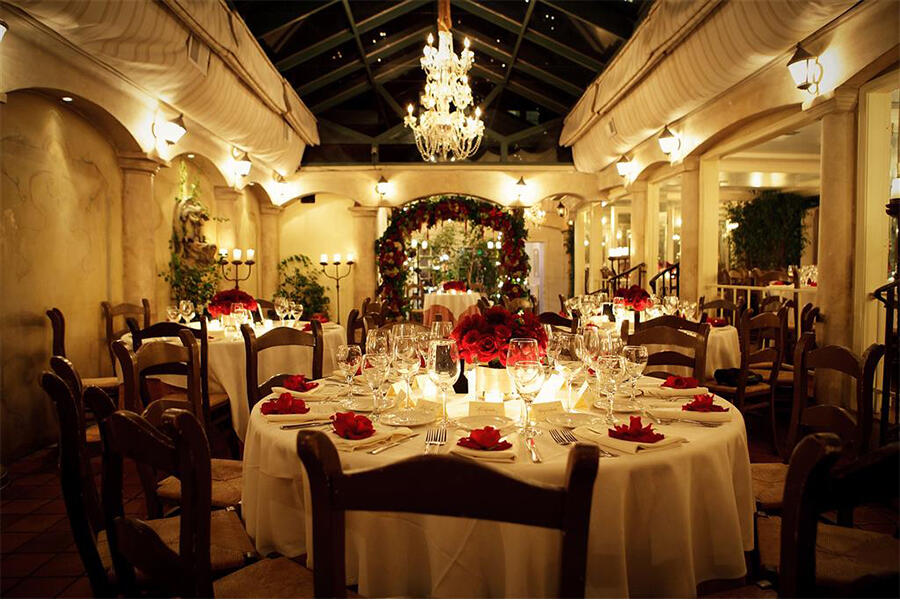 Il Cielo
Il Cielo has long been known as one of the most romantic restaurants in Los Angeles, compliments of its candlelit tables and dreamy dining space under the stars.
The restaurant offers two romantic packages, which can be added on to any dining reservation, ranging in price from $20 to $75. Surprise someone special with a half bottle of Piper Heidsieck Champagne and a heart-shaped flourless chocolate cake with a special message of your choice written across the plate in chocolate script. For a more intimate dining space, Il Cielo's private dining rooms can be customized to fit any occasion. Enjoy authentic Italian dishes like tagliatelle alla bolognese and tortelli di porcini, paired with a glass of fine Italian wine.
---
La Dolce Vita
La Dolce Vita has been described as "throwback Italian," with its dark red circular booths, brick walls, white clothed tables and authentic Northern Italian cuisine. The restaurant truly sets the stage for a romantic night out, serving dishes such as braised osso bucco, baked lasagna and pan-seared branzino, while also offering an enticing dessert menu with sweets like gelato, cannoli, tiramisu and many more Italian favorites.
Guests can ask for a seat at Frank Sinatra's favorite booth, which the restaurant dedicated to his name in 2012. Then, order a bottle of red Sassicaia which Mr. Sinatra often shared with his wife. For light bites and specialty cocktails, the bar offers dishes, such as crispy calamari, arancini and beef carpaccio. For those looking for an intimate dining experience or a quick drink with that special someone, La Dolce Vita's charming ambiance will create a memorable evening.
---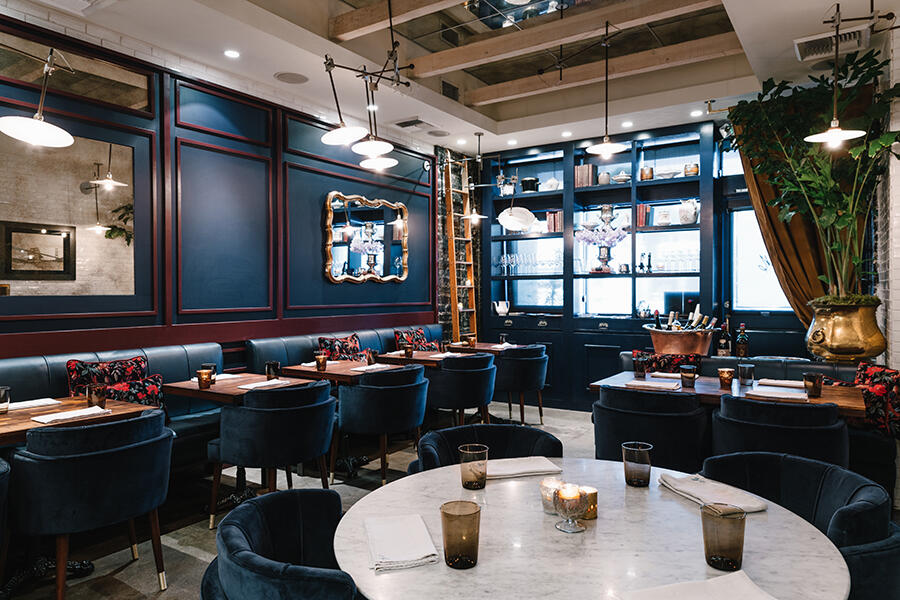 Maude
Newly reopened with an updated dining room and reimagined tasting menu inspired by different wine regions around the world, celebrity chef Curtis Stone's Maude houses seven tables so that each diner can receive personalized service throughout the evening. The environment is described as equal parts luxurious and comfortable, serving menus that vary in course numbers depending on the region. Menus rotate every three months throughout the year. The small, intimate restaurant is one of the toughest reservations to land in Beverly Hills and it is advised to call at least one month in advance.
---
Tagine Beverly Hills
Tagine, a Moroccan hideaway in Beverly Hills with jazz music and candlelit tables, brings an enchanting twist to the cuisine's exotic tastes.
Chef Ben Benameur and his co-owner, Hollywood actor Ryan Gosling, wanted to create a place where the food is made with love and leaves guests feeling warm and satisfied. Together they brought this idea to life by offering a modern take on Moroccan cuisine and mixing in a bit of traditional Moroccan décor.
The menu pays homage to centuries-old Moroccan cooking recipes including a hummus recipe from Chef Benameur's mother, served with marinated olives and Berbere bread. Tagine is an ideal location for date night as the lighting is low, cushions are plush and with only nine tables filling the room for an intimate dining experience.
---
Villa Blanca
With spectacular floral displays, white pillars and crystal covered accents, Villa Blanca offers a beautiful setting for couples to share a meal together. The elegant monochromatic white design will transport diners to an exotic locale in the heart of Beverly Hills. It isn't unusual to spot A-list stars, such as Kim Kardashian, Kaley Cuoco, Gerald Butler, John Legend or Nick Jonas dining at a table nearby.
From a beet and avocado tartare to black truffle buccatini, Villa Blanca's menu has something for everyone. Remember to ask for a dessert menu and indulge in desserts, such as molten chocolate cake, English sticky toffee pudding or panna cotta with dulce de leche for a sweet end to the evening.
---
From candlelit dinners on rose petal tables to the finest wines and sweetest desserts, those seeking a romantic experience will be pleased when they dine in Beverly Hills.
For more information on these romantic restaurants and more, visit lovebeverlyhills.com/restaurants.
Updated: February 6, 2019