50 North La Cienega Boulevard, Suite 120
Beverly Hills, CA 90211
Tel: (310) 400-6800
More information
Welcome to Spice Affair Indian Restaurant, where we celebrate the wedding of traditional Indian spices with organic food & the highest quality of locally sourced ingredients.
Located in the heart of Beverly Hills' famous "Restaurant Row", Spice Affair invites you to discover a fine dining experience like no other.
Exotic Indian spices accentuate an award-winning menu, which features a number of vegetarian, vegan and gluten-free dishes. Beautiful dishes and fresh ingredients are all part of the experience. Come for the food, and stay for the relationship.
More
Less
Read
Make a Reservation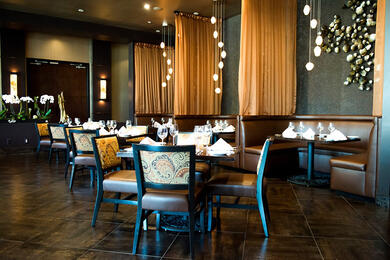 Related Restaurants
8690 Wilshire Boulevard
Beverly Hills, CA 90211
Tel: (310) 659-9944
8689 Wilshire Bouelvard
Beverly Hills, CA 90211
Tel: (310) 657-5040
138 South Beverly Drive
Beverly Hills, CA 90210
Tel: (310) 888-4011