The Best Hotel Suites in Beverly Hills
Beverly Hills has more than 2,200 hotel rooms and is home to one of the largest concentrations of 5-star hotels in the U.S., second only to New York City. Whether it's for a weekend of relaxation or an evening of entertaining, here are some of the best and most extravagant suites to book during your stay in Beverly Hills.
Villa Suites at Waldorf Astoria Beverly Hills
Each of the 170 guest rooms at Waldorf Astoria Beverly Hills, is truly a 'room with a view.' The hotel offers unrivalled vistas of the Hollywood Hills, Century City and beyond. Guests can experience Rodeo Drive, the Beverly Hills shopping mecca just to the east, or explore nearby tree-lined streets filled with restaurants and urban parks within walking distance from the Waldorf Astoria. On the hotel's third level, spacious Villa Suites feature floor-to-ceiling windows and private oversized circular garden terraces, perfect for entertaining friends for cocktails or having a quiet breakfast as the day begins.
---
The Penthouse Suite at Beverly Wilshire, A Four Seasons Hotel
For those who seek the very best, the Penthouse Suite at Beverly Wilshire, A Four Seasons Hotel, is one of the most impressive hotel suites in Los Angeles County. Located on the private, key-accessed 14th floor of the Beverly Wing, this three-bedroom suite offers 5,000 square feet with panoramic views from the spacious terrace. With its beautiful open floor plan and state-of-the-art kitchen, this suite was designed for hosting private parties as guests can easily move among the media room and dining area. The master bedroom includes an expansive walk-in closet, ensuite marble bathroom, glass-enclosed shower and a deep-soaking tub.
---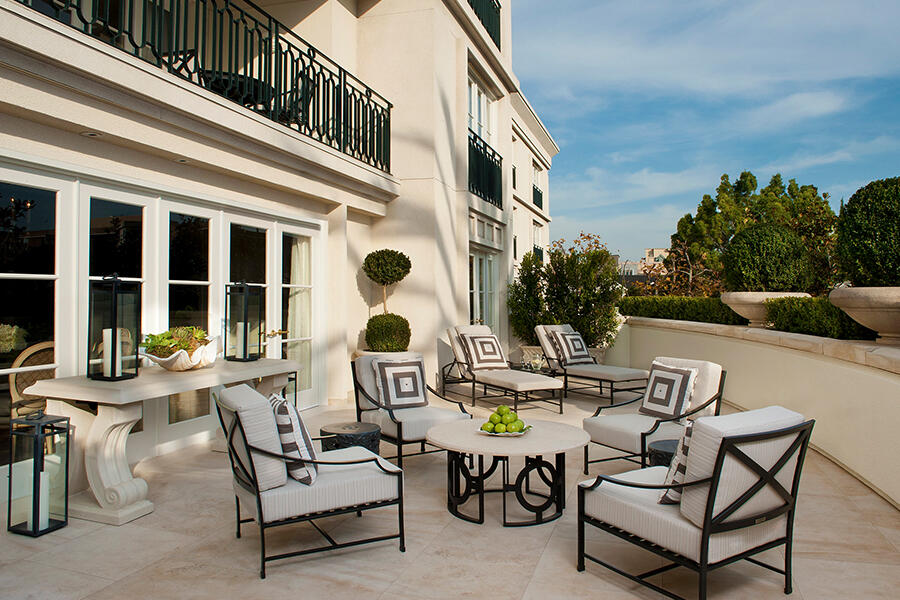 Royal Patio Suite at The Peninsula Beverly Hills
The Royal Patio Suite at The Peninsula Beverly Hills features elegant cream-toned backgrounds and upholstery accented with gilded and hand-painted finishes. The creamy-white linen drapery frames views of the sweeping terrace, hotel gardens and the Century City skyline. At 2,250 square feet, this extravagant suite also features several seating areas, contemporary artwork and a dining table that expands to seat eight beneath a crystal chandelier. French doors lead out to the private terrace, perfect for outdoor entertaining.
---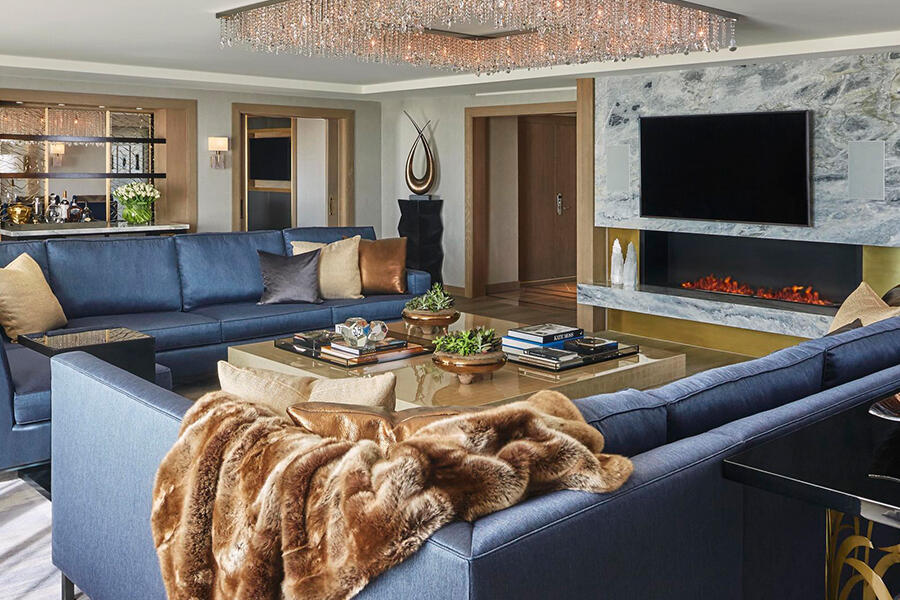 The Presidential Suite at Viceroy L'Ermitage Beverly Hills
Step inside a showcase of modern glamour and exclusivity. The impressive Presidential Suite at Viceroy L'Ermitage Beverly Hills is the ultimate residential enclave, perfect for longer term stays, families, and very special occasions. With five balconies that increase the sense of light and spaciousness, a fully equipped kitchen and stocked refrigerator makes this suite feel like home. Measuring up to 4,400 square feet, the Presidential Suite features a separate dining room and media room perfect for entertaining, as well as a living space to relax with a plush seating area and writing desk. The Master Bedroom features a king-sized bed with Sferra linens, a master bath with white onyx marble, and separate luxury powder room for guests. Prepare for a red carpet evening out in a modern, runway-like dressing room reminiscent of Old Hollywood. Outfitted with a walk-in closet, a sophisticated vanity area, an oversized tri-panel mirror with customized lighting, these dressing rooms are perfect for preparing for a night out on the town.
---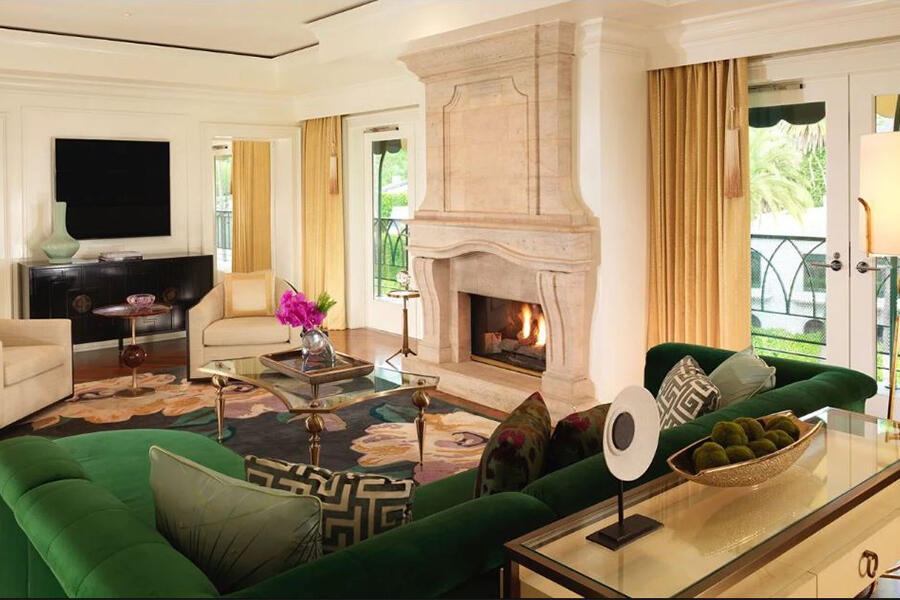 Presidential Suite at The Beverly Hills Hotel
As one of LA's finest places to stay, the Presidential Suite at The Beverly Hills Hotel is a perfect spot for high-level entertaining. With a spacious living room and large balcony overlooking Beverly Hills, this truly beautiful suite will be a spectacular version of your own celebrity-style getaway to an iconic setting in a legendary building. The Presidential Suite also includes a den area, dining room and full kitchen for entertaining, in addition to a luxurious marble bathroom with a deep bathtub and powder room. This suite is surrounded by 12 acres of tropical gardens and exotic flowers.
---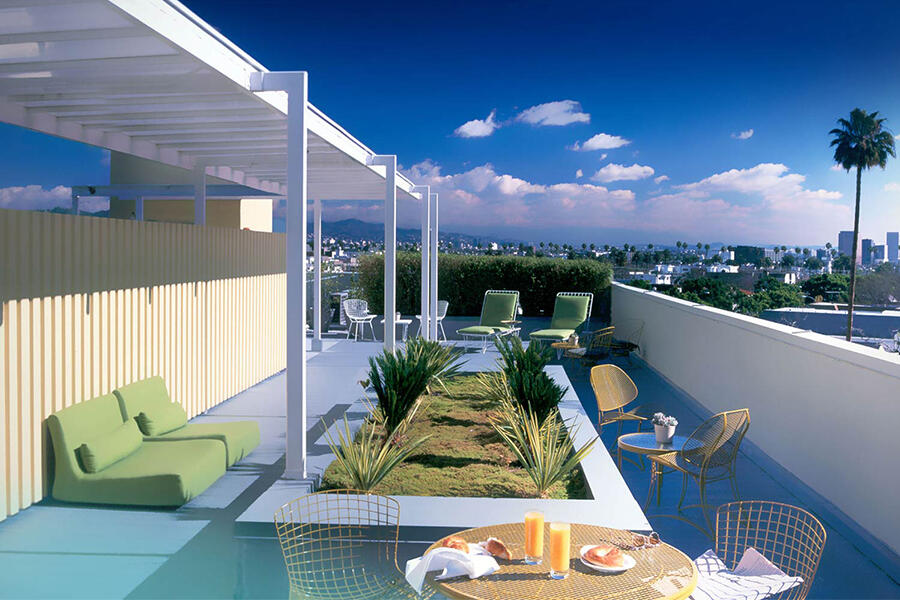 Penthouse at Avalon Hotel Beverly Hills
Looking for a more boutique hotel experience? The Penthouse Avalon Beverly Hills is truly the private Beverly Hills residence experience with iconic palm tree views. The design of this suite traverses 885 square feet, including two private balconies, two full bathrooms, a separate living room with Murphy bed, and luxurious master bedroom. Perfect for celebrating, the fully dressed 1,000 square feet patio is entertainment ready with lush landscaping, lounge seating, outdoor lighting and endless views of Beverly Hills.
---