Culture & Art Galleries in Beverly Hills
While Beverly Hills is most known for shopping, dining and the celebrities who regularly enjoy the two, many are pleased to learn the city is also overflowing with art, architecture and cultural attractions.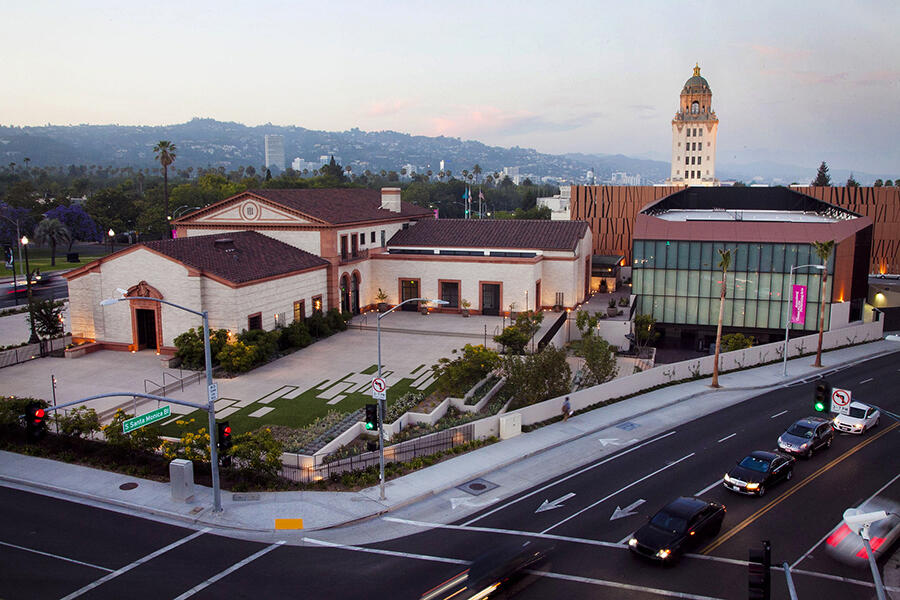 Wallis Annenberg Center for the Performing Arts
The Wallis Annenberg Center for the Performing Arts is located within the historic Beverly Hills Post Office, an award-winning architectural gem designed by Ralph C. Frewelling in the Italian Renaissance Revival style with WPA project murals by Charles Kessler, which was in operation from 1934 to 1998. The campus that once delivered the mail, now delivers the performing arts. Since opening its doors in October 2013, The Wallis has produced or presented hundreds of dance, music and theater programs that are local, national and international in scope, creating robust and distinctive presentations and education programs curated with both creativity and social impact in mind. The Wallis campus includes the 150-seat Lovelace Studio Theater, the 500-seat Bram Goldsmith Theater, the Promenade Terrace (featuring Dance Sundays with Debbie Allen and Friends, and other free public programming) and GRoW @ The Wallis: A Space for Arts Education and outreach classrooms. With a national reputation as a vibrant cultural hub and performing arts campus, The Wallis remains a central part of the Beverly Hills community.
---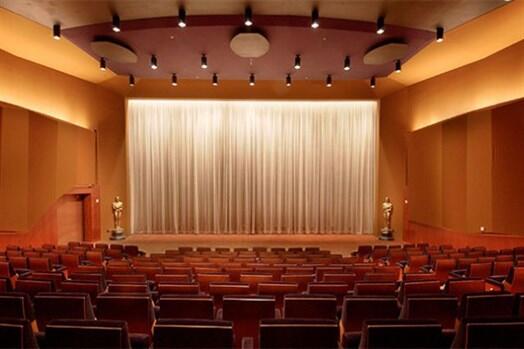 Academy of Motion Picture Arts and Sciences
Located on Wilshire Boulevard, the Academy of Motion Picture Arts and Sciences headquarter features a Grand Lobby Gallery which is free and open to the public. Visit the lobby to view rotating art exhibits such as collections of rare, vintage movie posters. This Academy building is where the nominations for the Academy Awards are announced each year. Screenings happen throughout the year for members and their guests in the building's 1,012-seat, state-of the-art Samuel Goldwyn Theater and its 67-seat screening room.
---
Art Galleries
Some of the biggest names in contemporary and fine art in the world can be found in Beverly Hills. Top-tier galleries in the city include everything from UTA Artist Space and Gagosian Gallery to Christie's Los Angeles and Winn Slavin Fine Art. World-renowned artists like Pierre-Auguste Renoir, Andy Warhol, Pablo Picasso and Salvador Dalí have works that can be found on gallery walls around the city. Legends of the art world such as Richard Serra, Richard Prince, Jeff Koons and Frank Gehry have all been shown at Gagosian Gallery, all in one year alone.
---
Public Art
More than 80 public art pieces can be seen throughout the city with works from internationally renowned artists whose pieces have been shown in some of the globe's most prominent museums. Their notable works in Beverly Hills include "Peace and Love" by Ringo Starr and The Swan by Jack Zajac on Camden Drive. The City's collection also includes Iron Root by Ai Weiwei and IO by Carol Bove.
Take a pleasant jaunt through Beverly Gardens Park, between Rodeo and Rexford Drives, to see many significant pieces up close, such as Erratic and Endless V. Erratic, a 15-foot wide stainless steel sculpture by Roxy Paine, which symbolizes a glacier's path as it is carried hundreds of miles from its origin over time, while Endless V by Jaume Plensa was created by fusing together steel letters from eight different languages and molding the piece into the shape of a seated human.
Explore more with the Interactive Map of Public Art in Beverly Hills.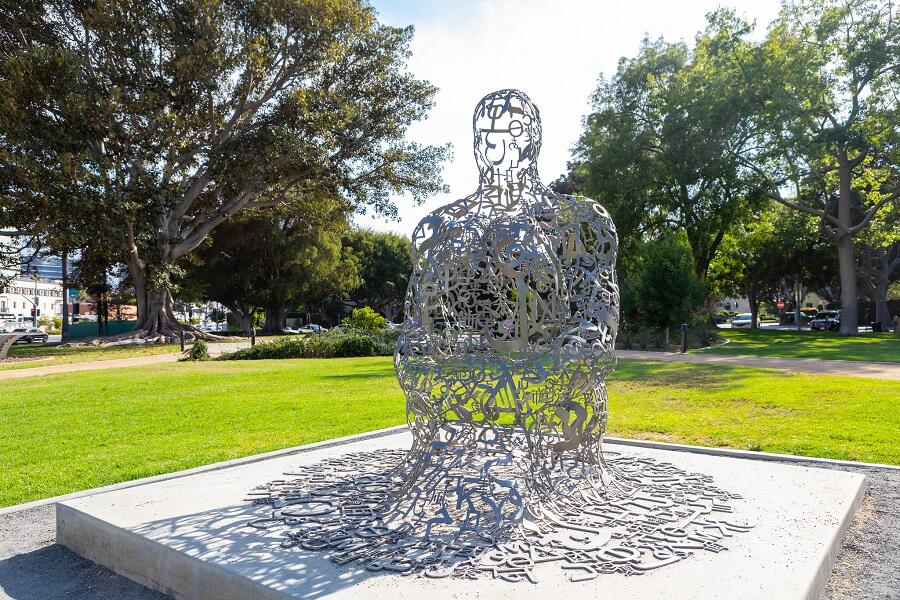 ---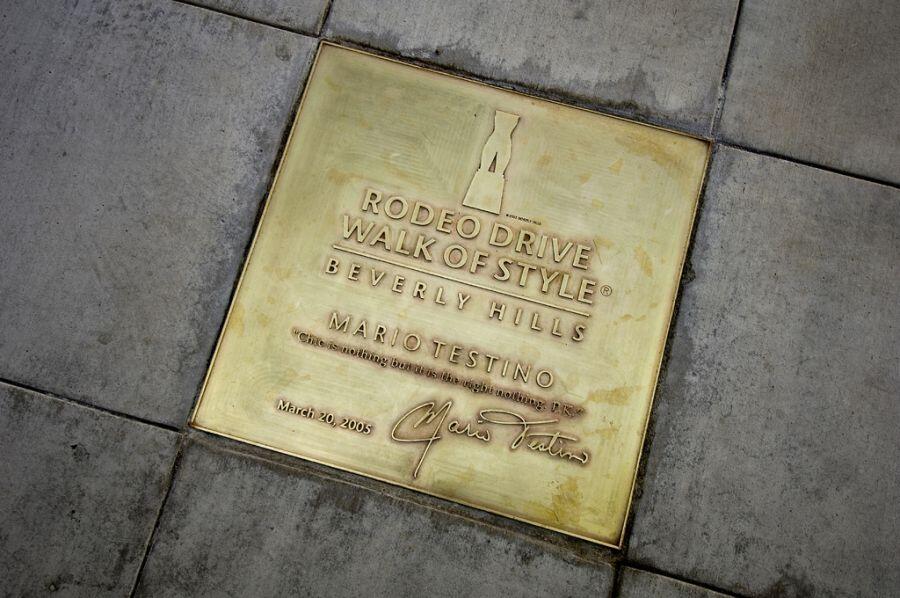 Rodeo Drive Walk of Style
Introduced in 2003, the Rodeo Drive Walk of Style honors style icons for their legendary contributions to the worlds of fashion and entertainment. Walk of Style inductees receive a lasting tribute with permanent plaques featuring their signatures, which are embedded into the sidewalks along Rodeo Drive. Recipients of the Rodeo Drive Walk of Style Award have included everyone from Giorgio Armani, Bvlgari and Missoni to Diana Vreeland and Burberry.
Tour the Walk of Style starting at the intersection of Rodeo Drive and Dayton Way and head north to view plaques along both sides of Rodeo Drive's 300 and 400 blocks.
---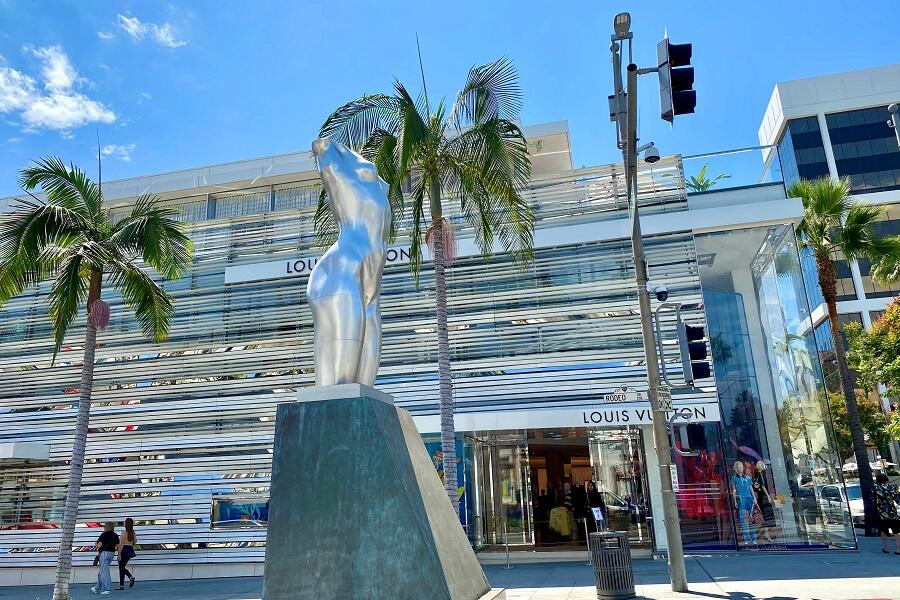 Torso by Robert Graham
Standing 14-feet tall at the intersection of Rodeo Drive and Dayton Way stands the symbol for the Rodeo Drive Walk of Style®, a sculpture entitled Torso. Created by world-renowned artist Robert Graham, who was best known for his ability to crystallize his observations of the human form into iconic and emotive representations of the figure, this sculpture has become a focal point of the famed street otherwise known for its high-end fashion boutiques. In addition to receiving a plaque on Rodeo Drive, each recipient inducted into the Rodeo Drive Walk of Style received a maquette of Torso, also designed by Graham himself.
---