More Hidden Gems of Beverly Hills
Journey beyond the famous designer flagship stores along Rodeo Drive, celebrity hot spots and exquisite hotels to find the hidden gems of Beverly Hills. The city offers a variety of local jewels to explore including gourmet shops, lush parks and gardens, specialty boutiques and lounges. Don't miss these local favorites!
Beverly Hills artSHOW
The semi-annual Beverly Hills artSHOW is just one of the city's many tributes to arts and culture. While strolling through historic Beverly Gardens Park, visitors experience custom works from hundreds of artists in May and October. Enjoy artwork in various mediums including watercolor, paint, jewelry, sculpture and pottery. Providing an insider's chance to learn the inspiration behind their works, all featured artists staff their booths throughout the weekend so they can provide details on the pieces they create.
The show takes place along four blocks of North Santa Monica Boulevard, between Rodeo Drive and Rexford Drive.
The October 2021 Beverly Hills artSHOW will be held the weekend of October 16 & 17, 2021.
---
SUGARFISH by Sushi Nozawa
Calling all sushi lovers! Famous for his Trust Me menu, chef Nozawa offers a variety of menu options that can be ordered a la carte. Enjoy the warm white rice with crispy seaweed toro roll, or the green tea that is so saturated with matcha that you feel like you've had your antioxidant dose for the year after just one glass. Or for a one-of-a kind experience, make a reservation for the intimate Nozawa Bar just off the main restaurant. The multi-course omakase (chef's choice) menu is changed daily based on the freshest catch of the day. The perfect treat for a special occasion, be sure to make reservations well in advance for the Nozawa Bar as space at this exclusive hideaway is limited.
SUGARFISH by Sushi Nozawa | 212 North Canon Drive, Beverly Hills, CA 90210
---
Beverly Hills Farmers' Market
Not only does the Beverly Hills Farmers' Market offer the freshest organic produce and specialty items from more than 60 vendors, it also provides fun for the whole family. A feature truly unique to Beverly Hills, the market offers the ever popular "Kid Zone," where children can indulge in cooking classes, educational games and pony rides. Next up, don't let your child miss the opportunity to make new furry friends at the petting zoo. After experiencing a fun filled day of activities here, your little one will be begging to return for weekends to come! The market is open every Sunday from 9am - 1pm.
Beverly Hills Farmers' Market | 9300 Civic Center Drive, Beverly Hills, CA 90210
---
Il Cielo
White twinkle lights adorn every corner and candlelight highlights your loved one's features. Sumptuous food made especially for you. Il Cielo has long been known to locals as one of the most romantic dining experiences in the Los Angeles area. Celebrate an anniversary with rose petals sprinkled on your table and a glass of the finest champagne or seal your next business deal in a quiet corner over linguini with clams. Whether you're enjoying a special occasion or you just want a one-of-a-kind dining experience, Il Cielo offers traditional Italian fare for lunch and dinner.
Il Cielo | 9018 Burton Way, Beverly Hills, CA 90211
---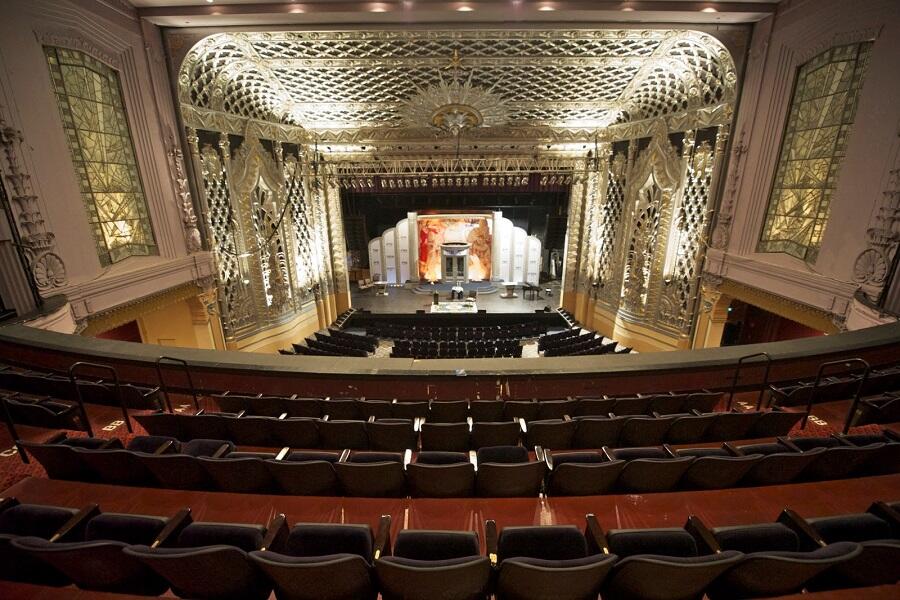 The Saban Theatre
Originally opening in 1930 as the Fox Wilshire, The Saban Theatre is still one of the most popular theaters in Beverly Hills. It is an Art Deco structure designed by architect S. Charles Lee and is considered a classic Los Angeles landmark.
The Saban Theatre | 8440 Wilshire Boulevard, Beverly Hills, California 90211
---