Beverly Hills for the Art Aficionado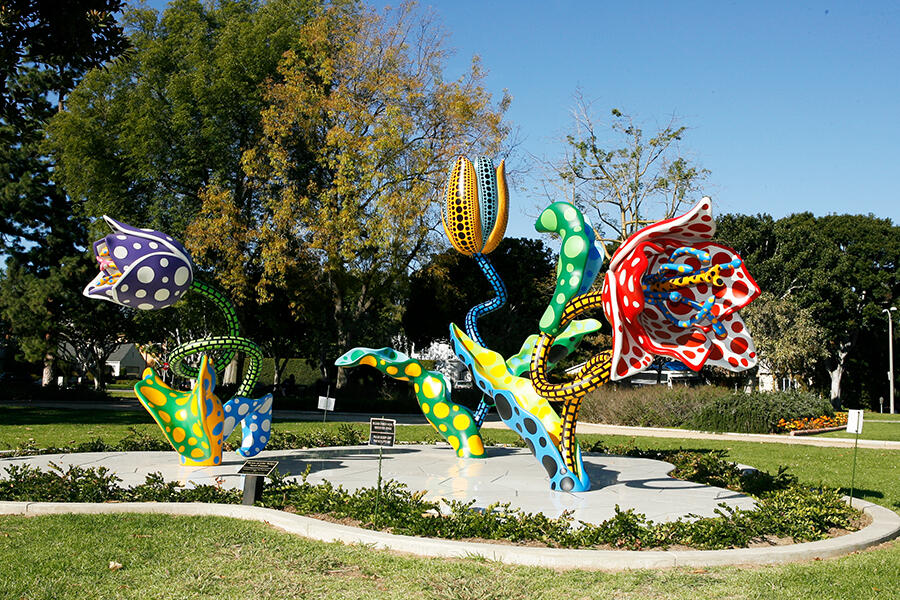 Hymn of Life Tulips by Yayoi Kusama in Beverly Gardens Park
Credit: Beverly Hills Conference & Visitors Bureau
(BEVERLY HILLS, CA; SEPTEMBER 12, 2019) - Beverly Hills is well-known for unparalleled shopping, Michelin-starred and celebrity chef restaurants, luxurious Five-Star accommodations and destination spas. Many are surprised to learn that the iconic city is also home to a collection of public art, globally renowned galleries, impressive live art activations and festivals and art-infused hotel and dining experiences.
Today, over 70 pieces of must-see art adorn the city landscape. Each of these works of art were hand-selected by the city's Arts and Culture Commission, whose members accept and acquire fine art to enrich the daily Beverly Hills destination experience.
The city's historic Beverly Hills Sign and Lily Pond features impressive installations by world-renowned artists such as Japan's Yayoi Kusama, whose colorful work titled Hymn of Life: Tulips, consists of giant fiberglass ceramic flowers. The park's latest installation is Tom Friedman's Takeaway, a playful 14-foot tall stainless steel sculpture of a man with takeaway boxes balanced on his head. At the intersection of Dayton Way and Rodeo Drive, visitors can spot Robert Graham's Torso. Carved from solid aluminum blocks, the monumental human figure is mounted onto a bronze pedestal.
Beverly Hills also brings art to their events and activities throughout the year. This past summer, the bi-annual BOLD (Beverly Hills Open Later Days) initiative included a larger-than-life floating aerial sculpture by Janet Echelman, as well as, three unique art installations by famed street artist and Banksy protégée, Mr. Brainwash. Mr. Brainwash's installations are currently on display at the following locations:
"Life is Beautiful" – Rodeo Drive at Dayton Way
"Beverly Hills is Beautiful" – Beverly Cañon Gardens *
"Beverly Hills is Life" – South Santa Monica Boulevard at Camden Drive
* location subject to change
Every May and October, the City hosts its annual two-day artSHOW in which over 245 international and domestic artists showcase their work in Beverly Gardens Park. The show attracts nearly 50,000 visitors and features food trucks, a beer and wine garden and live music. Admission to the event is free and more information can be found by visiting our website.
Art lovers are also steps away from internationally recognized art galleries and an incredible display of some of the biggest names in contemporary and fine art, such as Renoir, Warhol, Picasso and Dali. Some of Beverly Hills most prestigious galleries include:
To discover a list of additional galleries in Beverly Hills, download our self-guided gallery guide.
Finally, some of the city's premier hotels have teamed up with artists to present unique experiences.
At The Beverly Hills Hotel, guests and non-guests can capture a colorful photo opportunity with Marc Ange's pink daybed Le Refuge. First unveiled during Milan Design Week, the piece is a permanent art installation where one can find comfort and peace, much like the expansive gardens and elegant appointments of the "Pink Palace."
At Wolfgang Puck's CUT, located within Beverly Wilshire, A Four Seasons Hotel, diners can enjoy the best in culinary, architecture and art, where Wolfgang's world famous cuisine is served alongside one-of-a-kind art on display by celebrated artist John Baldessary and award-winning photos by photographer, Martin Schoeller.
The art collection at The Peninsula Beverly Hills is comprised of almost 500 pieces, including paintings, sculptures and works of photography. Contemporary art lovers will delight in The Belvedere restaurant's collection of American classics from illustrious artists Robert Indiana, Alex Katz and Andy Warhol, in addition to international artists such as Fabienne Verdier and Yayoi Kusama.
High-resolution photos: http://bit.ly/2lQOE6g
###
About Beverly Hills
Beverly Hills is one of the world's most sought-after locales. Centrally located in greater Los Angeles, Beverly Hills is a premier vacation and business travel destination, boasting beautiful weather year-round, acclaimed full-service and boutique hotel accommodations, sumptuous dining, and incomparable shopping. Synonymous with Hollywood glamour, Beverly Hills enjoys an international reputation as the home and playground of A-list movie stars. The city is not only known worldwide for its grand mansions and chic shops along Rodeo Drive, but also for its multitude of art and architecture, spas, salons and exceptional walkability. Learn more at LoveBeverlyHills.com or on Facebook, Instagram and Twitter.
About Beverly Hills' Arts and Culture Commission
City of Beverly Hills' Arts and Culture Commission is one of 11 commissions appointed by the City Council of Beverly Hills. The Fine Art Program was designed to acquire and/or accept Fine Art, to promote the City's cultural image, reflecting a diversity of artists and works of art, to enhance the everyday experiences of its citizens, and to assure it's accessibility to everyone. Learn more by visiting the City's website, here.
Contact
Lauren Santillana
Senior Communications Manager
Beverly Hills Conference & Visitors Bureau