What's New in Beverly Hills This Spring and Summer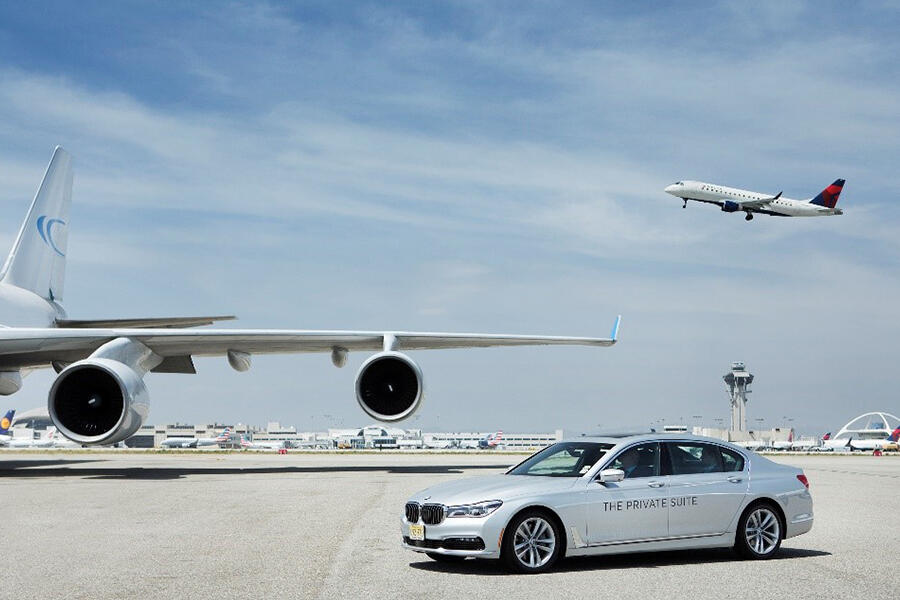 Both the Waldorf Astoria Beverly Hills and Montage Beverly Hills have partnered with The Private Suite at LAX and Waldorf Astoria Beverly Hills will launch its own LAX branded suite later this month.
(Photo credit: Waldorf Astoria Beverly Hills)
(BEVERLY HILLS, CA; May 14, 2018) In the breathtaking city of Beverly Hills, visitors will find streets lined with gleaming palms, blue skies and a host of new happenings for spring and summer.
Hotel News
The Montage Beverly Hills offers the ultimate airport experience package with its partnership with The Private Suite at LAX.
After hotel checkout, guests are transported to a secret terminal at LAX featuring new luxury suites, private TSA Screening and on-site Customs and Immigrations processing. Pre-flight time is spent in a private suite with ample relaxation space, exclusive bathroom, a two-person daybed, a food-service pantry and a dedicated team that will cater to every need. When it's time to board, guests are driven across the tarmac to their aircraft via a BMW 7 Series sedan. For more information, visit their site.
Waldorf Astoria Beverly Hills' launches its own branded LAX Suite
Like Montage's offering which includes private TSA Screenings on-site Customs and Immigration processing, a dedicated team and luxury car service, Waldorf Astoria Beverly Hills has partnered with LAX's private terminal to have its own branded suite at the terminal, the first of its kind. The decor of the exclusive suite will mimic the art deco ambiance of the Waldorf Astoria Beverly Hills.
Take "A Suite Ride" at The Peninsula Beverly Hills.
Guests who reserve one of the hotel's elegant suites are offered the complimentary use of a luxury BMW (the latest BMW 7 Series, BMW 5 Series and BMW X5 models) for the length of their stay. The complimentary luxury BMW vehicle must be requested when making a reservation and is based upon availability. Proof of insurance and a valid US driver's license are required. For more information, visit our site.
Vacation like a Royal at Viceroy L'Ermitage Beverly Hills.
Celebrate the Royal Wedding in British style at the Viceroy in their luxury Presidential Suite. The package includes accommodations in the Presidential Suite, Mercedes Maybach hotel transfer from airport, Dom Perignon welcome, 24-Carat gold facials, head-to-toe ruby gemstone couples massage, butler service, British Afternoon Tea and more.
Retail & Shopping Debuts
Visitors can now check out the new West Coast home of Paris-headquarter fashion brand, Ba&Sh, as they make their debut on the corner of Brighton Way and Beverly Drive. Ba&Sh , which stands for the first names of founders Barbara Boccara and Sharon Krief who have been friends since childhood in France, sells women's bohemian clothing with a Parisian flair.
Royalty fragrance shop, Creed, will make Beverly Hills the home of the brand's first West Coast flagship storefront expected to open this summer.
Creed is known for its A-list clientele over the last 250 years including everyone from King George III and Queen Victoria, to JFK and Sir Winston Churchill.
Restaurant News
The 20 year-old celebrity hot spot, Crustacean Beverly Hills, recently re-emerged from its six-month makeover.
The "new" Crustacean now offers two restaurants: one downstairs which still offers Chef An's famous Garlic Noodles and Garlic Roasted Crab and includes an updated indoor/outdoor patio and upstairs, the ultra-private, invite-only restaurant, Da Lat Rose, featuring a menu by Chef Tony Nguyen. Da Lat Rose, named after the city in Southern Vietnam where An grew up, is scheduled to open in May.
New York City's favorite power dining spot makes its West Coast debut with AVRA Beverly Hills.
The popular high-end Greek restaurant takes overs the former Hakkasan space in the Golden Triangle and has been designed to create an atmosphere similar to that of an open-air villa in Greece, with fresh lemon trees, imported limestone and stone washed walls. The cuisine features traditional Greek dishes with an emphasis on fresh seafood. The restaurant is currently dinner only, but will be serve lunch and brunch in the upcoming summer months.
Attractions & Events
The Paley Center for Media in Beverly Hills will be hosting "The Crown: Imagining a Royal World," an exploration behind the scenes of Netflix's Golden Globe and Emmy award-winning series. The exhibit begins May 12 through July 29 and will feature costumes, art work and photography from the show.
Virginia Robinson Gardens celebrates the 30th anniversary of their annual Garden Tour and Showcase House on Saturday, May 19 from 10 a.m. to 4 p.m. This year's event "Here's to you Mrs. Robinson, the Art of Living" includes a complete tour of the first estate of Beverly Hills. All ten rooms will be decorated by top interior designers and florists, and there will be a sit down lunch and fashion show on the Great Lawn. For tickets and more information, visit our website.
Beverly Hills Sizzle Reel: https://www.dropbox.com/s/jkcddbyqxwpp36f/BHCVB_Sizzle_2018_v12.mp4?dl=0
About Beverly Hills
Beverly Hills is one of the world's most sought-after locales. Centrally located in greater Los Angeles, Beverly Hills is a premier holiday and business travel destination, with beautiful weather year-round, acclaimed full-service and boutique hotel accommodations, superb dining, and unrivalled shopping. Synonymous with Hollywood glamour, Beverly Hills enjoys an international reputation as the home and playground of A-list movie stars. The city is not only known worldwide for its grand mansions and chic shops along Rodeo Drive, but also for its multitude of art and architecture, spas, salons and exceptional walkability. Learn more at www.lovebeverlyhills.com or on Facebook, Twitter and Instagram.
###